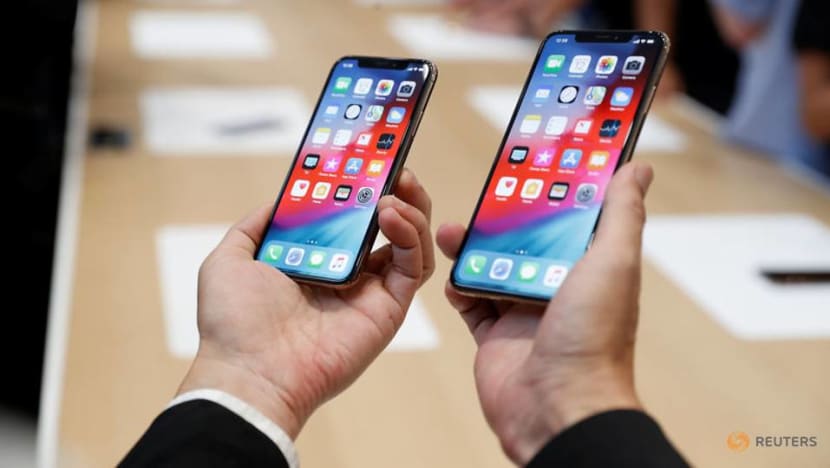 SAN FRANCISCO: Apple on Thursday (Nov 1) delivered blockbuster earnings, but saw shares punished after a disappointing holiday season forecast and word it will stop reporting how many iPhones it sells.

The California-based technology giant makes most of its money from iPhones, and sales numbers have been seen as a bellwether of the company's fortunes.

Apple shares dove 6.4 per cent to US$207.87 in after-market trades that followed release of earnings figures for a record-setting September quarter.
The firm said net profit climbed 32 per cent to US$14.13 billion on revenue that was up 20 per cent to US$62.9 billion with help from growing sales of digital content and services to of users and other Apple gadgetry.

"We're thrilled to report another record-breaking quarter that caps a tremendous fiscal 2018, the year in which we shipped our two billionth iOS device, celebrated the 10th anniversary of the App Store and achieved the strongest revenue and earnings in Apple's history," said Apple chief executive Tim Cook.
However, the market was disappointed that Apple fell short of expectations with iPhone sales of 46.9 million iPhones and its forecast for the key holiday season was not as robust as anticipated.

The average selling price for iPhones in the freshly updated product line was US$793, indicating that Apple was able to deliver more of its priciest handsets.
Apple offered no detailed breakdown of iPhone sales, but Cook said "the response has been powerful" to the new iPhone 10S models that sell for US$1,000 and up.
During an earnings call, Apple executives said that starting with this quarter its earnings reports would no longer specify numbers of iPhones or other products sold. Instead it would focus on revenue, margins, and cost of sales.
Apple chief financial officer Luca Maestri said the change stemmed from growing diversity of the company's product line.
Cook compared focusing on numbers of iPhones sold to a cashier in a market asking someone checking out how many units are in their shopping cart.
"It doesn't matter how many units there are in there when it comes to the full value of the shopping cart," Cook said.
"Our install base is growing at double digits; that is probably a much more significant metric for us from an ecosystem point of view - and customer loyalty."
Maestri assured analysts on the call that Apple remained devoted to selling as many iPhones as possible.
The results closed out Apple's fiscal fourth quarter ending Sep 29 and set the stage for the crucial holiday period.
Maestri said it was the company's best September quarter on record, with revenue growing double digits everywhere it does business around the world.
"We set September quarter revenue records for iPhone and wearables and all-time quarterly records for Services and Mac," Maestri said.
The world's most valuable company saw its stock market value briefly dip below a dizzying US$1 trillion based on share price.
CHALLENGES AHEAD
Apple forecast that it would bring in between US$89 billion and US$93 billion in the current quarter. Some analysts thought the estimate may have been conservative, with Apple being cautious about expectations as it works to balance supply and demand for a slew of freshly introduced products.
"This is a great set of results from Apple which underlines all of the innovation the company has put into its suite of products over the past year," said GlobalData Retail managing director Neil Saunders.
The latest report offers some positive news for Apple in growing its services such as streaming music and Apple Pay, allowing the company to diversify its revenue stream in a saturated smartphone market.
However, the iPhone has been the key driver of revenue and profit for Apple, and also helps bring more consumers into the company's ecosystem for apps and services.
Apple holds around 12 per cent of the global smartphone market, with most of the rest sold by makers of Android-powered software.
Analyst Ben Bajarin of Creative Strategies said it is possible Apple failed to anticipate consumer demand and did not have the right mix of devices in the past quarter.
Another possibility, Bajarin said on Twitter, is that "Apple may be intentionally setting lower expectations for holiday."
Apple this week unveiled a new version of its MacBook Air laptop, this time made of recycled aluminium, as well as a new Mac Mini and an iPad Pro, all pricier than their predecessors.
Apple also unveiled a new version of its iPad Pro tablet with a screen that looks nearly edge-to-edge and boasts a faster processor. It includes features from the latest iPhones.
The changes are part of an effort to overhaul a product that has seen sliding sales in recent years.