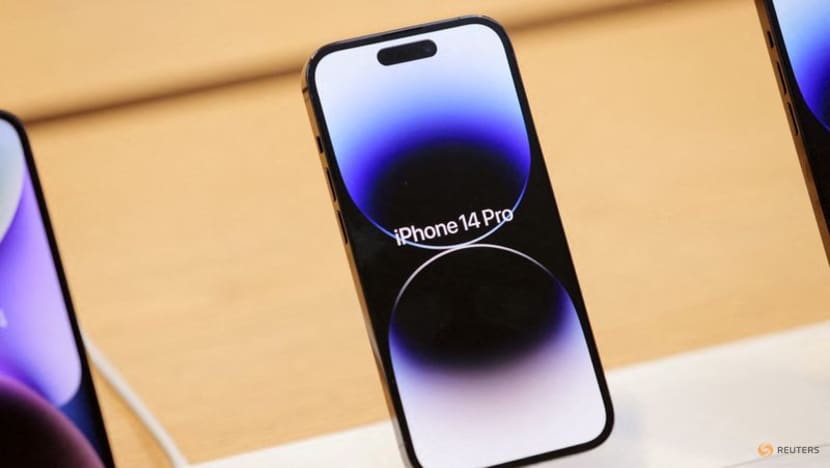 Apple on Thursday (Feb 2) said revenue in the start of the year would be similar to the 5 per cent drop it posted for the holiday quarter but that iPhone sales were likely to improve.
For the just-ended quarter, Apple's sales and profits missed Wall Street expectations driven by lower iPhone sales, sending shares down after hours.
But the losses lessened after Chief Financial Officer Luca Maestri said that iPhone sales were likely to improve compared with the quarter that ended Dec 31.
Amazon.com and Alphabet also fell about 4 per cent after reporting results. All had gained during regular trade.
Apple sales fell 5 per cent to US$117.2 billion and were down in every part of the world in the quarter. Sales from each product category dropped, except for gains in services and iPads. Earnings per share were US$1.88, Apple's first miss of Wall Street's profits expectations since 2016.
Analysts had expected sales of US$121.1 billion and profits of US$1.94 per share, according to IBES data from Refinitiv. Apple Chief Executive Tim Cook told Reuters that the production disruptions that plagued Apple's key quarter were now over.
During its fiscal first quarter ended Dec 31, Apple faced a wave of challenges that left Wall Street expecting lower sales. Chief among those were supply chain pressures when COVID-19 lockdowns at a production facility in Zhengzhou, China, slowed production of iPhone 14 Pro and Pro Max devices, both premium priced models that would traditionally help drive Apple's margins higher.
In an interview with Reuters, Cook said that production disruptions "lasted through most of December" but that "production is now back where we want it to be". Cook said the lockdowns in China created a dual challenge where both supply and demand were constrained, with greater China sales falling 7 per cent to US$23.9 billion.
"When things started to reopen in December (in China), we did see an increase in traffic to our stores as compared to November and an increase in demand as December rolled around," Cook told Reuters.
The strong US dollar also hurt Apple, which derives more than half its sales from outside the Americas, but the effect was less than anticipated as the dollar eased from last year's highs. Apple had warned investors that such foreign-exchange issues would put a 10 per cent on drag on sales but said on Thursday that the actual effect was 8 per cent. Apple expects a 5 per cent impact for foreign exchange rates in the fiscal second quarter.
"I would point out that 8 per cent is still a very severe headwind," Cook told Reuters. "I wouldn't want to underestimate that. We would have grown on a constant currency basis."
On top of supply chain problems for the iPhone, Wall Street analysts had expected iPhone sales to fall this year as part of a larger pattern in which the iPhone 14 family released last year sells more slowly after two straight years of strong sales of iPhone 12 and 13 models. Apple said iPhone sales were US$65.8 billion, down 8 per cent from the year before and the first fall since 2020.
The company's services segment, which includes content businesses such as Apple TV+ and software business like the App Store, rose 6 per cent to $20.8 billion in revenue, in line with analyst expectations, according to Refinitiv data.
Cook told Reuters that the company now has a base of 2 billion active devices, up from 1.8 billion a year ago. The company now has 935 million paid subscriptions, up from 900 million the quarter before, and that services sales set a record in several markets, including China, he said.
Sales of the company's Mac computers, which had boomed during the wave of working from home during the pandemic, declined 29 per cent year over year to US$7.7 billion, compared with expectations of $9.6 billion, according to Refinitiv data.
Apple executives had warned last year that Mac sales were likely to decline year over year because the previous year's results included a burst of sales associated with the release of new MacBook Pro computers with Apple's house-designed processors.
Sales of the iPad, which also saw a pandemic-related boost, grew 30 per cent to $9.4 billion, compared with analyst expectations of US$7.8 billion, according to Refinitiv data. The wearable and accessories segment, which includes the Apple Watch and AirPods, fell 8 per cent to US$13.5 billion compared with analyst estimates of $15.2 billion, according to Refinitiv data.
Cook told Reuters the iPad's strong performance stemmed from the launch of new models and the absence of supply constraints that had hindered sales of the device a year earlier. 
Apple investors are waiting to see whether the company dives into new markets this year. Technology publication The Information has reported that Apple plans to launch a mixed-reality headset that could retail for around US$3,000 this year and is also working on a more affordable follow-up device.
Apple is one of the few large technology firms that has not announced major layoffs, though its ranks never grew as rapidly as that of its peers. In late 2022 it said it had 164,000 employees, up less than 20 per cent from its 2019 headcount. By contrast, other companies such as Meta Platforms, which is laying off about 11,000 employees, had roughly doubled its headcount between 2019 and 2022.