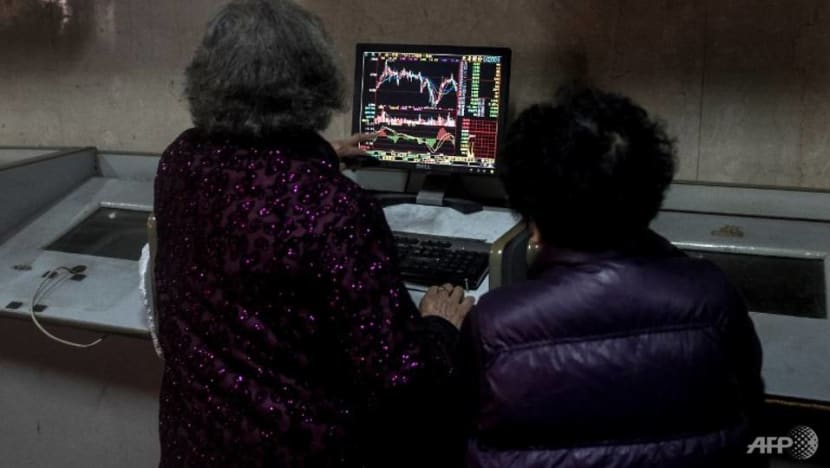 HONG KONG: Asia struggled on Thursday (Aug 30) to ride the wave of optimism that swept Wall Street to another record close, with investors taking a breather after a strong week across most markets.
New York's indexes powered ahead as news that Canada and the United States were close to a fresh trade deal that would revive NAFTA coincided with better-than-expected US growth and a possible breakthrough in Brexit talks.
The pound and euro were also holding up after surging after the European Union's top negotiator said it was open to a unique deal with Britain, which raised hopes the country will leave with a working relationship with the bloc.
For most of this year world markets have been under pressure as China and the US have threatened and imposed tit-for-tat tariffs that fuelled fears of a global trade war, while Washington has also picked fights with allies including the EU, Canada and Mexico.
However, optimism has picked up recently. On Monday Donald Trump and his Mexican counterpart Enrique Pena Nieto announced a new trade agreement, which was followed Wednesday by news that Canada was close to a deal fuelling hopes for a NAFTA 2.0.
Trump and Canadian Prime Minister Justin Trudeau expressed optimism a deal is close and the White House plans to notify Congress on Friday of its intention to enter into a new free-trade agreement.
Also on Wednesday the Commerce Department said the US economy expanded more than initially reported in the second quarter thanks to a pick-up in business investment.
"If you think about the handbrake on sentiment over the past six months or so, it's mostly about the handbrake on growth and the uncertainty that the trade wars have caused with a little added worry about what Brexit might look like," said Greg McKenna, chief market strategist at AxiTrader.
"So, news overnight that we could have Canada in a new NAFTA deal by the end of this week and that the EU is ready to offer the UK an unprecedented deal is good news for markets. And for the global economy."
"WE ARE READY"
The S&P 500 and Nasdaq chalked up a fourth straight day of records but Asia was mixed.
Tokyo went into the break 0.2 percent higher and Sydney and Seoul each added 0.2 per cent.
However, Hong Kong slipped 0.2 per cent and Shanghai eased 0.1 per cent while Singapore and Wellington were 0.2 per cent off.
Taipei was flat while Manila and Jakarta enjoyed small gains.
On currency markets the pound and euro held gains against the dollar after jolting higher on comments from EU negotiator Michel Barnier hinting at a possible Brexit deal.
"We are ready... to propose a partnership like there has never been before with any other third country," he told a Berlin press conference alongside German Foreign Minister Heiko Maas Wednesday.
He added the pact could include "an ambitious free-trade agreement" and cooperation in aviation, security and foreign policy.
The pound shot above US$1.30 for the first time since the start of August, while the euro maintained its strength around US$1.17.
The Mexican peso and Canadian dollar were also higher thanks to the trade hopes.
However, the Turkish was wallowing around 6.47 to the dollar as traders brushed off Ankara's attempts to reassure investors after Moody's downgraded its credit ratings on 20 Turkish financial institutions.
The unit, hammered by a financial crisis at home made worse by US sanctions, has tumbled from about six to the dollar since Turkish markets reopened Monday after a week-long break.
KEY FIGURES AROUND 0230 GMT
Tokyo - Nikkei 225: UP 0.2 per cent at 22,883.64 (break)
Hong Kong - Hang Seng: DOWN 0.2 per cent at 28,351.30
Shanghai - Composite: DOWN 0.1 per cent at 2,766.19
Euro/dollar: DOWN at US$1.1708 from US$1.1709 at 2100 GMT
Pound/dollar: UP at US$1.3031 from US$1.3028
Dollar/yen: UP at 111.71 yen from 111.68 yen
Oil - West Texas Intermediate: UP 13 cents at US$69.64
Oil - Brent Crude: UP six cents at US$77.20 per barrel
New York - Dow Jones: UP 0.2 per cent at 26,124.57 (close)
London - FTSE 100: DOWN 0.7 perc ent at 7,563.21 (close)