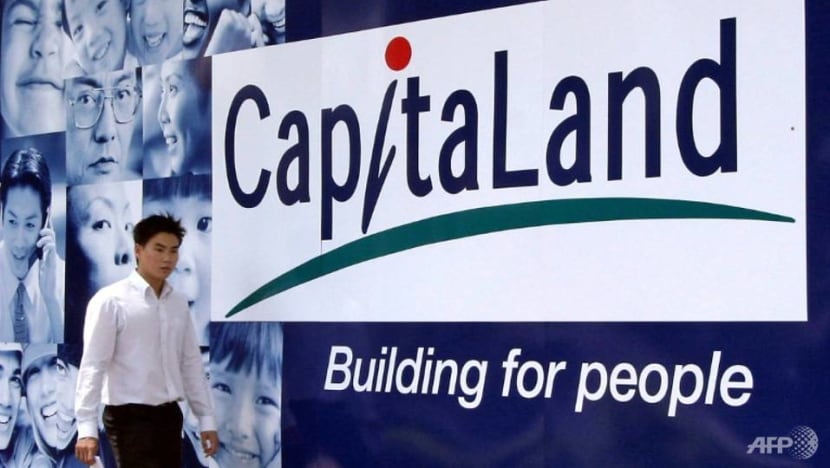 SINGAPORE: CapitaLand, majority-owned by Singapore state investor Temasek, announced on Monday (Mar 22) plans to split itself into two in a strategy aimed at pursuing growth as an asset-light company.
It is proposing to inject its real estate investment trusts and investment management unit into a separate listed Singapore entity and place its real estate development business under a Temasek unit.
The restructuring move by CapitaLand comes after it posted its first annual loss in nearly two decades in 2020, and like rival property developers, faces a tough outlook due to the coronavirus pandemic. It is one of Asia's largest real estate firms by assets with operations in Singapore, China, India and other markets.
CapitaLand plans to merge its investment management platform and lodging business into a separate listed entity called CapitaLand Investment Management (CLIM).
The company will also place its real estate development business under private ownership of CLA Real Estate Holdings, an indirect fully owned unit of Temasek Holdings, which owns 52 per cent of CapitaLand.
CLIM, which will be listed on the Singapore Exchange, is expected to become Asia's largest real estate investment manager (REIM) with assets under management of about S$115 billion (US$85.7 billion). It will also hold stakes in CapitaLand's listed real estate investment trusts and business trusts.
"IMPORTANT MILESTONE"

Speaking at a media and analyst briefing on Monday afternoon, Mr Lee Chee Koon, CapitaLand group chief executive officer, described the announcement as "another important milestone" in the company's transformation journey.

In 2019, CapitaLand completed an S$11 billion cash-and-stock deal to acquire Temasek's shares in Ascendas-Singbridge, which owns logistics and industrial assets.

"Ever since the merger with Ascendas-Singbridge, I think what we have done is we have articulated a very clear strategy of what we wanted to be. We want to be a globally competitive real estate developer and asset manager," he said.

The latest move to split into "two distinct entities" will fit into this longer-term objective and help "to sharpen (the company's) focus". It also gives the company flexibility to be able to "match the right level of capital to the business objectives", he added.

Asked about the outlook amid the ongoing COVID-19 pandemic, Mr Lee said: "With the vaccination rollout, my own sense is that the worst of COVID-19 is behind us and we should be in a phase of recovery.
"That's why we also think that it is right to accelerate our transformation and time to propose this restructuring exercise."

WHAT THE RESTRUCTURING ENTAILS

CLIM will be a "fully integrated REIM with funds and property management capabilities across multiple asset classes and a spectrum of private and listed funds", the company said in its press release.

The managers of all the listed real estate investment trusts (REITs) and business trusts, as well as selected unlisted funds currently managed by CapitaLand, will be held under CLIM. These funds have assets under management of about S$78 billion as of Dec 31, 2020.

CapitaLand's lodging management business, which includes serviced residence firm The Ascott Limited, will also fall under CLIM.
The company described this as "a distinctive growth engine" for fee-related earnings, on top of a "proven track record" of further expansion into other adjacent long-stay sectors such as multifamily properties.

CLIM will also have within its investment portfolio over S$10.1 billion worth of "high-quality, income-generating properties".
"Most of these properties can be recycled and serve as potential pipeline to grow FUM for CLIM fund vehicles over an expected monetisation period of approximately three years. In addition, the recycling will generate financial resources for further growth," it said in its press release.

CLIM's investment management business will be a "scalable and global business" focused on fee-related earnings and growth of its assets under management, it added.

Meanwhile, the remaining real estate development-related business and assets under CapitaLand, with a pro forma net asset value of about S$6.1 billion, will be held privately by CLA.

Mr Lee explained that the privatisation move comes on the back of consideration that the business of real estate development is "long gestation and requires patient capital".

"We believe by organising it in these two different ways will get the right level of capital to support the growth of two different businesses," he said, although he was quick to stress that the proposed restructuring will not change the current "ecosystem" within the company.

"We want to be able to preserve the ecosystem that CapitaLand currently enjoys so that CLIM will be able to enjoy development pipeline of assets that are stabilised and can continue to feed the growth of the AUM (assets under management) business. We think this will be a unique and distinct advantage for CLIM."

Mr Lee is set to take the helm of CLIM as group CEO following the restructuring, while Mr Jason Leow, who is currently president of Singapore and International of CapitaLand Group, will be chief executive officer of CapitaLand Development.

WHAT IT MEANS FOR SHAREHOLDERS

As part of the proposed restructuring, CapitaLand will distribute about 48 per cent of shares in CLIM to all its shareholders, excluding CLA. CapitaLand will own 52 per cent of CLIM upon listing.

It will also distribute in specie 388.2 million units, or 6 per cent, in CapitaLand Integrated Commercial Trust (CICT), which will bring its current stake CICT to 22.9 per cent.

CLA will not participate in the distribution of the CICT units and its entitlement to the CICT units will be distributed to shareholders as part of the scheme of arrangement, the company said in its press release.

For every one share of CapitaLand, shareholders will receive one CLIM share, between 0.155 and 0.143 CICT units and cash of S$0.951.

This means that CapitaLand shareholders will receive an implied consideration of S$4.102 per share in cash and scrip. This is 24 per cent above the last traded price of CapitaLand and represents a premium of 27 per cent to the one-month volume-weighted average price.
Shares in CapitaLand last traded at S$3.31 on Mar 19 before the company called for a trading halt on Monday morning.

"There's immediate unlocking of value for existing shareholders and shareholders will also get to participate in the growth of CLIM that will be separately listed by way of introduction on the Singapore stock exchange," said Mr Lee.

The scheme is subject to regulatory conditions, the approval of the High Court and CapitaLand's independent shareholders at an extraordinary general meeting and a scheme meeting.

A scheme document is expected to be issued to shareholders "in and around the third quarter", the company said, with hopes to complete the proposed restructuring by the fourth quarter this year.

"This is really only step one. It is not a magic or silver bullet that's going to get us to the end point … It takes time to get there but we are totally committed to make sure we build the team and execute well," said Mr Lee.

With additional reporting by Tang See Kit.