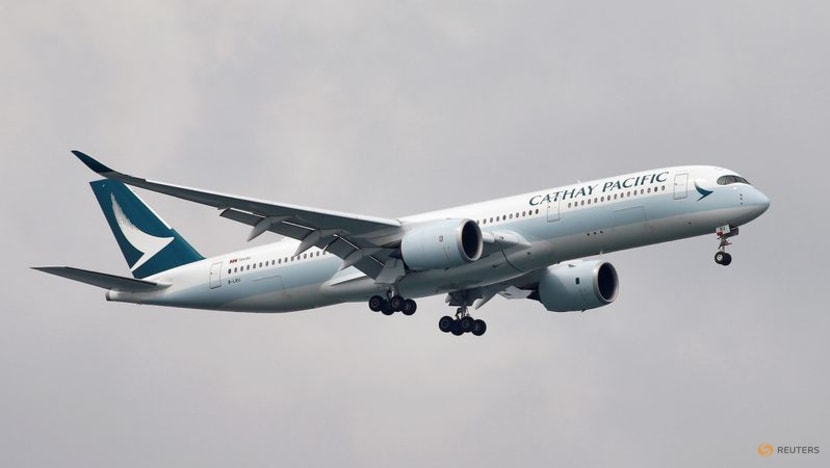 HONG KONG: Hong Kong's Cathay Pacific Airways reported on Wednesday (Mar 8) an annual loss of HK$6.55 billion (US$834.42 million) for 2022, wider than the previous year's HK$5.53 billion loss, but was positive about the outlook now that quarantine is no longer required.
In January, the airline forecast a loss of between HK$6.4 billion and HK$7 billion for the 12 months ended Dec 31 after facing tough rules related to the COVID-19 pandemic during the period.
Analysts had expected an average annual loss of HK$4.4 billion, according to Refinitiv data. They forecast a HK$3.9 billion profit for this year now that Hong Kong and mainland China have ended border restrictions.
"We were very encouraged to see a bright light at the end of the tunnel in the second half of 2022, and the positive momentum has continued into 2023," CEO Ronald Lam said in a statement.
"After three brutal years of the COVID-19 pandemic, we have finally entered into a new exciting phase in which we will rebuild Cathay Pacific for Hong Kong," Lam added.
Cathay was badly hit by COVID-related flight cancellations, border closures and strict quarantine measures for crew during the pandemic, resulting in drastic headcount reductions.
Cathay said that it was operating about one-third of pre-pandemic passenger flight capacity by December and ended the year operating passenger flights to 58 destinations, double the 29 destinations the airline flew to in January 2022.