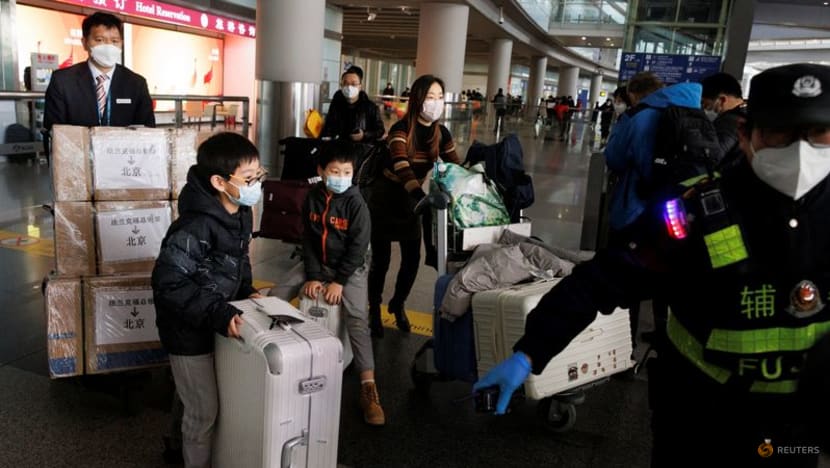 US and European airlines will benefit from pent-up demand for travel to China after its recent border reopening, but route approvals, fresh COVID-19 testing rules and not enough large aircraft remain barriers to rising sales, analysts and industry officials said.
Travel is returning to China, the world's largest outbound tourism market worth US$255 billion in 2019, after the country ended mandatory quarantines on Jan 8. Airfares from China are now 160 per cent higher than before the pandemic, data from travel firm ForwardKeys shows, due to limited supply.
Iowa-based lawyer Jinying Zhan, 50, said he paid US$1,600 for a one-way ticket in December to fly via Chicago and Dubai to Guangzhou.
"I haven't visited my family in three years, so I will go to the spring festival with my sisters," he said. "Flights were very expensive."
Before the pandemic, he used to pay US$1,000 to US$1,500 for a round-trip direct flight from Chicago.
A round-trip fare from San Francisco to Shanghai on United Airlines for a week-long trip in early March costs US$3,852 in economy class and US$18,369 in business class, according to a Reuters search on the airline's website.
Global airlines are running only 11 per cent of 2019 capacity levels to and from China in January, Cirium data shows, but the figure is expected to hit 25 per cent by April.
Booking website Expedia said it saw US-China and Europe-China searches double after the reopening announcement.
Chinese airlines, with ample staff and widebody planes, and a cost and time advantage of roughly two hours from flying a more direct route using Russian airspace, are expected to be early winners.
But US and European airlines, which have focused traditionally on the strong business travel market to China, and often cater more to the preferences of Western passengers, are poised to benefit from companies willing to pay a premium to rekindle face-to-face ties.
Trips to China "are already on the books for many companies and travellers as they kick off a new business year", said Suzanne Neufang, chief executive of the Global Business Travel Association.
APPROVALS NEEDED
China's reopening comes as surging COVID-19 infections have led the United States, Japan and others to require negative coronavirus tests from Chinese arrivals, discouraging travel.
Since regulatory approval from both countries is required to add flights, at a time of US-China trade tensions, short-term capacity could be limited, industry sources said.
United Airlines, which had 584 flights to and from China in January 2019 according to Cirium, can now fly four times weekly from the US to China. United said it could add services pending government authorisations.
Since Jan 4, Air China, Hainan Airlines and China Southern Airlines have filed schedules with the US Department of Transportation proposing to increase flights to as much as daily on some routes.
"There are some things brewing," said US Deputy Transportation Secretary Polly Trottenberg, but gave no further details on US carriers adding more Chinese flights.
Foreign carriers seeking to add flights to China require approvals from the Civil Aviation Administration of China, which did not respond to a request for comment.
American Airlines said this week it would fly non-stop from Dallas to Shanghai twice weekly from March, dropping a current stop in Seoul. However, other flights were paused as it assessed market demand and government regulations.
Delta Air Lines expects to cautiously "rebuild capacity to China in line with demand starting later this year", President Glen Hauenstein said when the company reported quarterly results.
China, which accounted for about 5 per cent to 6 per cent of long-haul travel from Europe in 2019, is also a key market for some European carriers including Germany's Lufthansa, Bernstein analyst Alex Irving said.
But European and US carriers may prioritise their widebody planes for lucrative transatlantic travel this summer, leaving them stretched to accommodate fresh demand for China, said George Dimitroff, an analyst with Cirium.
Many Western airlines parked large planes when international traffic plunged and production of new twin-aisle jets has been limited.