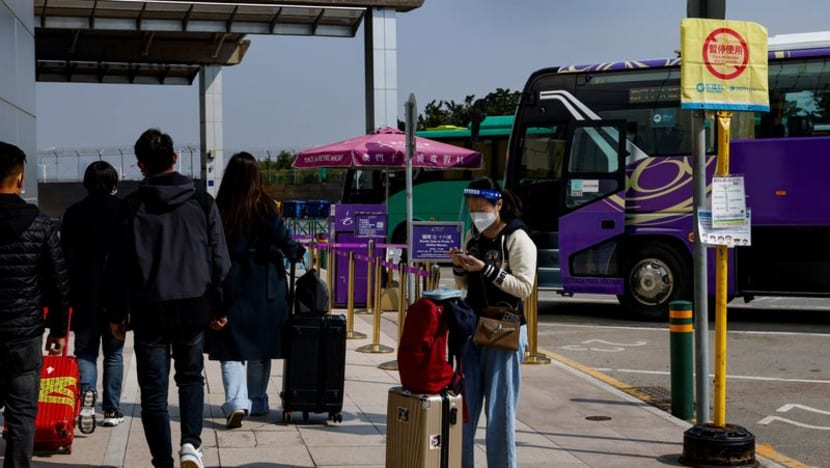 BEIJING: After three years of dealing with some of the world's toughest COVID-19 curbs, there are early signs that Chinese consumers are gearing up to go out and spend again, particularly in major cities and tourist hot spots.
Over the three-day New Year's Day holiday, businesses and consumers caught their first glimpse of a return to post-pandemic life - holiday-makers flocked to beaches, flight numbers ticked up, and hotels turned some guests away because they were fully booked.
While the Caixin/S&P Global services purchasing managers' index (PMI) on Thursday (Jan 5) showed that the services sector continued to struggle in December, businesses are now hoping that the busy long weekend was a sign that a rebound is on the cards, even if a full recovery will take some time.
Looking ahead to the Chinese New Year festival in late January, cinemas are expecting their busiest single day of the year, while the catering industry should manage to take in revenues matching those from 2019.
"I think the most difficult time for China's tourism industry is behind us, and what didn't kill us will only make us stronger," said Haiqing Lu, chief corporate affairs and strategic relations officer at InterContinental Hotels Group Greater China.
"Although it's hard to quantify the recovery in the coming months at this point, we firmly believe, 'once the gate is open, the trend is irreversible.'"
Some economists, however, are cautiously optimistic.
"If there are no new COVID-19 strains, based on the experience of other countries, confidence will increase in the coming months after the fading of fear amid the exit wave, as will consumer's willingness to spend," said Bruce Pang, chief economist at Jones Lang Lasalle.
However, any such recovery will initially be focused on the country's first-tier cities, he added, noting that if travellers take the virus home to rural areas during the upcoming holiday the resulting rise in infections will hurt consumption in third and fourth-tier cities.
While COVID-19 cases have risen sharply since the government lifted most of its pandemic controls in December, infections in the most populous cities such as Beijing, Tianjin and Chengdu have peaked, China's chief epidemiologist Wu Zunyou told a news briefing on Dec 29 in Beijing.
AIR TRAVEL BUZZ
On Dec 30, Chinese airlines operated 8,126 passenger flights in mainland China, jumping 190 per cent from a month earlier, according to Reuters calculations based on data from VariFlight, an aviation information provider. Flight numbers on the last working day ahead of the holiday only recovered 70 per cent compared with pre-pandemic levels, however.
CINEMA REVIVAL
China's cinemas also look set to benefit as customers return to the big screens, as the COVID-19 lockdowns that forced many to intermittently shut down are now supposed to be a thing of the past.
For four of the past six years, the first day of the Chinese New Year has been the busiest single day at the box office, including 2021 and 2022, according to China's movie ticketing platform Maoyan Entertainment.
BOON FOR RESTAURANTS
Many businesses have been forced to adapt how they reach customers over the course of the pandemic.
While contact-intensive dining services were hit hard by stringent lockdowns, over the first 11 months of 2022 the catering sector as a whole recovered nearly 95 per cent of the revenues seen in the same period in 2019 thanks to online orders, according to Reuters' calculations based on official data.
"Consumer spending, especially on services, will likely see a nonlinear snapback when the pent-up demand is released," Citi analysts wrote in a 2023 China outlook report, forecasting retail sales to grow around 11 per cent this year.
As the Chinese New Year rolls in, Chinese officials also expect a significant uptick in activity.
Xu Chengguang, vice minister for transport, announced on Friday that from Jan 7 to Feb 15, some 2 billion people are expected to travel, an increase of 99.5 per cent over the same period last year but recovering to just 70.3 per cent when compared with 2019.