China ready for US talks on 'acceptable' trade solution for both: Vice-president Wang Qishan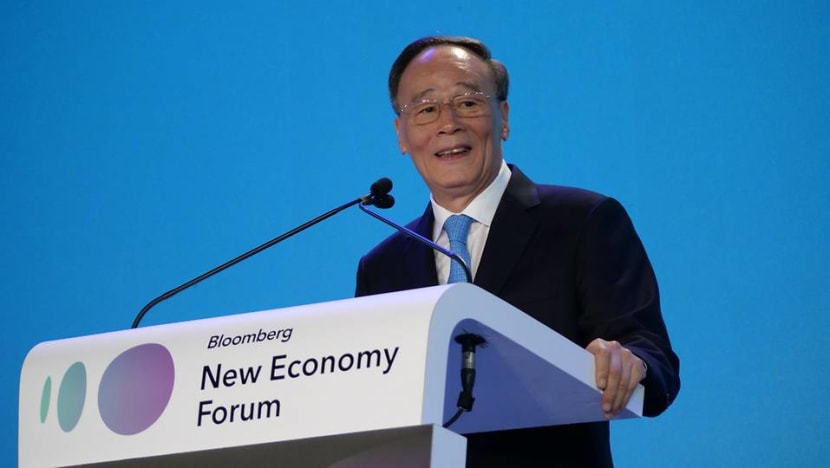 SINGAPORE: China is ready to have discussions with the United States on "issues of mutual concern" and work towards a trade solution that will be "acceptable to both sides", said the country's vice-president Wang Qishan on Tuesday (Nov 6) at a high-profile business forum held in Singapore. 
Speaking at the inaugural Bloomberg New Economy Forum, Mr Wang stressed that trade and economic cooperation remain the "anchor and propeller of a steady and healthy relationship" between the US and China – one that will have a direct impact on stability and development around the world.
It remains China's "firm belief" that both countries will "gain from cooperation and lose from confrontation", he added in his 20-minute long keynote speech delivered to a crowd of more than 400 business and political leaders at Capella Singapore.
Over the past months, the world's two biggest economies have been embroiled in a trade spat that have seen tariffs being slapped on billions of dollars of goods, stoking fears of how a protracted conflict between the two economic superpowers could derail the global economy. 
"We are facing the challenge of rising populism and unilateralism," said Mr Wang, often referred to as China's former anti-corruption czar and one of the country's best-known economic reformers. 
Rapid changes that come with economic globalisation have "split some countries and societies", with "right-leaning populism" manifesting in politics and leading to "unilateral policies" against globalisation.
Yet, negativity and anger are not the way to address problems, said Mr Wang. Instead of resolving problems, "barriers or disputes … would only exacerbate global market turbulence", he added.
In a speech that reiterated China's call for principles including mutual respect and openness, Mr Wang noted that the country "rejects Cold War mentality and power politics", and that economic globalization "is not a zero sum game. 
"In the face of disagreements and challenges, it is essential to step up equal consultation and cooperation by upholding the rules-based international order." 
As such, China will stay committed to the policy of opening up its economy and let "the market work its charm", he added.
It will continue work on its Belt and Road Initiative, implement trade and investment liberalisation, as well as support reforms at the World Trade Organisation, said the vice-president. 
Mr Wang, in his speech, also mentioned other challenges facing the world, such as the challenge of sustaining global growth, evolving demographics and the acceleration of urbanisation in developing countries, climate change, technological advances as well as "insufficient governance". 
"The global political and economic landscape is undergoing the most profound changes since the end of the Cold War," he said, citing the rise of many "destabilising factors and uncertainties". 
"As both opportunities and challenges abound, we have come to a new historical crossroad." 
Still, challenges can also be turned into opportunities, Mr Wang said. 
For instance, the development of emerging economies has presented new markets for the world economy, while population evolution and migration have promoted the redistribution of global resources and industrial chains. 
Meanwhile, climate change governance is creating new investment opportunities, and the progress of medicine and science have helped to break new grounds in medical services and public health. 
"Identifying problems is aimed at resolving problems. By doing so, one should not lose sight of progress that has been made. In a world of uncertainty, one thing that is certain is the trend of economic globalization and multilateralism," he said.

Mr Wang's keynote speech and earlier, opening remarks by American tycoon Michael Bloomberg, marked the start of the two-day New Economy Forum which was originally scheduled to be held in Beijing. It was relocated to Singapore following scheduling conflicts with a highly significant import fair backed by the Chinese government. 
About 400 big names in politics and business are gathered in Singapore. They include US statesman Henry Kissinger, former chair of US Federal Reserve Janet Yellen, International Monetary Fund's managing director Christine Lagarde, former US Treasury Secretary Henry Paulson, as well as top corporate leaders such as Infosys co-founder and chairman Nandan Nilekani and Blackrock chairman-CEO Laurence Fink.
Mr Wang will be hosted to lunch by Prime Minister Lee Hsien Loong on Tuesday at around noon. As part of his three-day official visit to Singapore, he also called on President Halimah Yacob at the Istana on Monday.