China bans chipmaker Micron from key industries, reviving US trade tensions
"We firmly oppose restrictions that have no basis in fact," says a spokesperson from the US Commerce Department.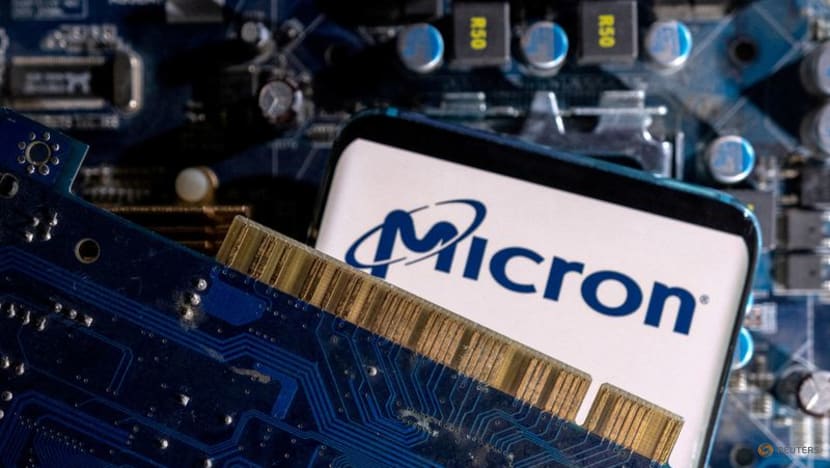 SHANGHAI: A move by Beijing to bar US firm Micron Technology Inc from selling memory chips to key domestic industries has ramped up tensions in an ongoing trade spat with Washington and lifted shares of firms that could benefit from the move.
China's cyberspace regulator said late on Sunday that Micron had failed its network security review and that it would block operators of key infrastructure from buying from the company.
"The review found that Micron's products have serious network security risks, which pose significant security risks to China's critical information infrastructure supply chain, affecting China's national security," the Cyberspace Administration of China (CAC) said in a statement.
It did not provide details on what risks it had found or what products from the company would be affected.
The move met opposition from Washington but also helped stocks of Micron's rivals in China and elsewhere, which are seen benefiting as mainland firms seek memory products from other sources.
"We firmly oppose restrictions that have no basis in fact," a spokesperson from the US Commerce Department said in a statement on Sunday.
"This action, along with recent raids and targeting of other American firms, is inconsistent with (China's) assertions that it is opening its markets and committed to a transparent regulatory framework."
Tensions between Washington and Beijing have grown in recent months following raids and visits Chinese authorities made to US corporate due diligence firm Mintz Group and management consultancy Bain.
Micron said on Sunday it had received the regulator's review and looked "forward to continuing to engage in discussions with Chinese authorities".
The company is the first US chipmaker to be targeted by Beijing after a series of export controls by Washington on certain American components and chip-making tools to block them from being used to advance China's military capabilities.
China launched the review in late March amid a dispute over chip technology and worsening relations between Washington and Beijing.
The move also comes shortly after Group of Seven nations agreed to "de-risk, not decouple" economic engagement with China and as US President Joe Biden called for an "open hotline" between Washington and Beijing.
The US Commerce Department said it would speak directly with authorities in Beijing to clarify their actions.
"We also will engage with key allies and partners to ensure we are closely coordinated to address distortions of the memory chip market caused by China's actions," the department said.
LIMITED IMPACT
China's announcement on its Micron review helped boost shares in some local chipmaking-related firms on Monday, as state media reported that domestic players could benefit from the move.
Shares in companies including Gigadevice Semiconductors, Ingenic Semiconductor and Shenzhen Kaifa technology opened up between 3 per cent and 8 per cent.
Micron's major rivals also saw their shares gain, with South Korea's Samsung Electronics and SK Hynix rising 0.7 per cent and 2 per cent, respectively, versus a 0.9 per cent rise in the broader market.
"As China's domestic memory suppliers are not competitive in technologies and capacity, China would need to resort to Samsung, SK Hynix, Kioxia, Western Digital or other foreign suppliers as the alternative to Micron," Bernstein analysts said in a note.
It said Samsung and SK Hynix, which have chip factories in China, may gain more traction with Chinese customers. Both Samsung and SK Hynix had no comment.
However, Jefferies analysts expected limited impact on Micron as its major customers in China are consumer electronics firms such as smartphone and computer manufacturers, not infrastructure suppliers.
"Since Micron's DRAM and NAND products are much less in servers, we believe most of its revenue in China is not generated from telcos and the government. Therefore, the ultimate impact on Micron will be quite limited," they said in a note.
It generated US$5.2 billion of revenue from China including US$1.7 billion from Hong Kong last year, about 16 per cent of its total revenue, according to Jefferies.
Bernstein said a 2 per cent hit to sales was the most realistic estimate given Micron's exposure to the enterprise and cloud server segment is relatively small.
Beijing has broadly defined industries it considers "critical" as ones such as public communication and transport but has not specified just what type of business these apply to.
China, the world's biggest semiconductor buyer, has gradually reduced its reliance on foreign-made chips in a multi-year campaign to boost its self-sufficiency.
Its DRAM chip output accounted for 15 per cent of global supplies last year, up from 10 per cent in 2018, according to research firm TrendForce.