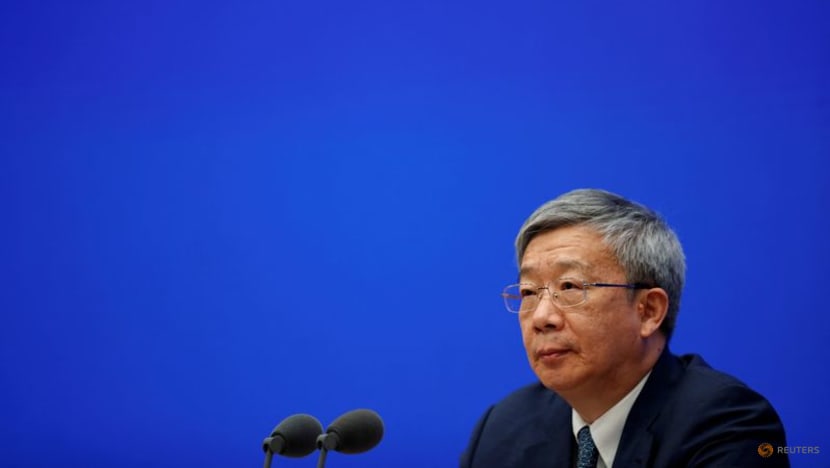 WASHINGTON: China's central bank governor on Friday (Apr 14) took a swipe at efforts by Western economies to trade more with allies and rely less on the world's largest goods-exporting country, saying that such "friend-shoring" attempts could prevent global supply chain tension from easing.
Reducing their deep dependence on supply chains with China at their centre has become a top priority among Western economies as Beijing's threats to Taiwan heighten geopolitical risks in Asia.
The trade disruptions of the COVID-19 pandemic years have also added urgency to the desire to limit their dependence on China.
"The global economy is facing increasing downward pressures," Yi Gang, governor of the People's Bank of China, said in a statement to the International Monetary Fund's (IMF) steering committee.
"Despite an overall easing of supply chain tensions, they continue to be challenged by protectionist measures such as onshoring, nearshoring and friend-shoring," Yi said.
United States Treasury Secretary Janet Yellen has recently encouraged "friend-shoring", or the diversification of supply chains away from China to market-oriented democracies such as India.
Group of Seven (G7) finance leaders on Wednesday pledged to support low- and middle-income countries playing bigger roles in supply chains, a move that would allow advanced economies to whittle down their reliance on China for strategic goods.
The fragmentation of global trade has drawn warnings from international institutions including the IMF.
IMF Managing Director Kristalina Georgieva has warned policymakers of the danger of a new Cold War as they ramp up efforts to secure their industrial supply chains amid geopolitical tensions between major powers.
On the IMF's quota reform, Yi also called for quota increases that "reflect the relative share of members in the global economy" and strengthen the voice and representation of emerging market and developing economies.