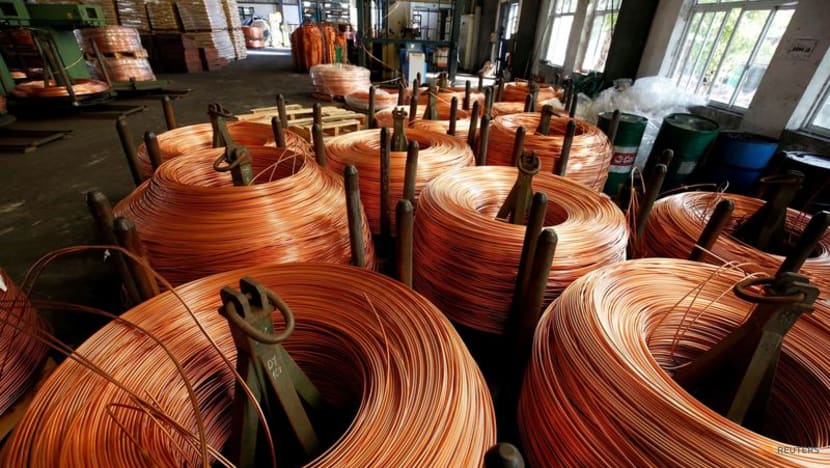 LONDON/BEIJING : Benchmark global copper prices face further losses for several months after a sharp drop from record levels, as government stimulus has yet to address the country's property sector, a major consumer of the industrial metal.
Prices of copper, currently at around $7,300 a tonne, have plummeted 30 per cent since a record $10,845 in March, and are at their lowest since November 2020 due to weak demand in top consumer China where COVID lockdowns have stalled activity.
GRAPHIC: Copper price- https://fingfx.thomsonreuters.com/gfx/ce/lbpgnejngvq/aaaper cent20copperper cent20price.PNG
Further undermining copper and other industrial metals - often seen as barometers of manufacturing health - are interest rates hikes to rein in inflation, which have hit economic growth in the United States, Europe and Asia.
China's overall exports are still climbing, up at the fastest pace in five months in June as factories revved up after COVID restrictions were lifted and supply chain disruptions and port congestion eased.
But the global slowdown is expected to see those slide, triggering stimulus that could match the 4 trillion yuan ($593.25 billion) package implemented after the 2008 financial crash, said Citi analyst Max Layton.
China's cash-starved property sector accounts for a quarter of the economy.
"Easing so far is not large enough or commodity-intensive enough to make you bullish on metals. The growth shock from the United States and Europe is when we will see China fire the big stimulus bullet," said Max Layton.
"There probably aren't enough infrastructure projects. They will have to target property, but it won't happen in the next six months," Layton said, adding that he expects the copper market to effectively be balanced this year.
GRAPHIC: Copper market balance- https://fingfx.thomsonreuters.com/gfx/ce/byprjwmjjpe/aaaper cent20copperper cent20marketper cent20balance.PNG
The United States and Europe account for around 20-25 per cent of global copper demand, while China consumes about half of global supplies, estimated at around 25 million tonnes this year.
"Until greater evidence emerges on China's recovery momentum over the next 1-2 quarters, as an offset to developed market headwinds, we are likely to remain in an environment where prices need to signal some supply-rationing pressures via margin pressures on miners," Goldman Sachs analysts said.
Property connects to the power grid, which needs copper. When people buy property, they buy air conditioners, fridges and washing machines, which all use copper.
"Property provides broad-based support for economic activity, unlike infrastructure," said Liberum analyst Tom Price, who is sceptical about whether stimulating the property market will boost industrial metals demand.
"China has been using property to stimulate growth for 20-25 years."
China's plans to boost infrastructure investment were quickly shrugged off by metals markets because the amounts involved are small and it takes time for projects to be approved and started.
"Actual demand (for) metals usually comes (at a) later stage of infrastructure projects," said Tianyu He, analyst at metals consultancy CRU.
GRAPHIC: Copper end-use by sector- https://fingfx.thomsonreuters.com/gfx/ce/lgpdwzjwlvo/aaaacopperper cent20endper cent20use.PNG
($1 = 6.7425 Chinese yuan renminbi)