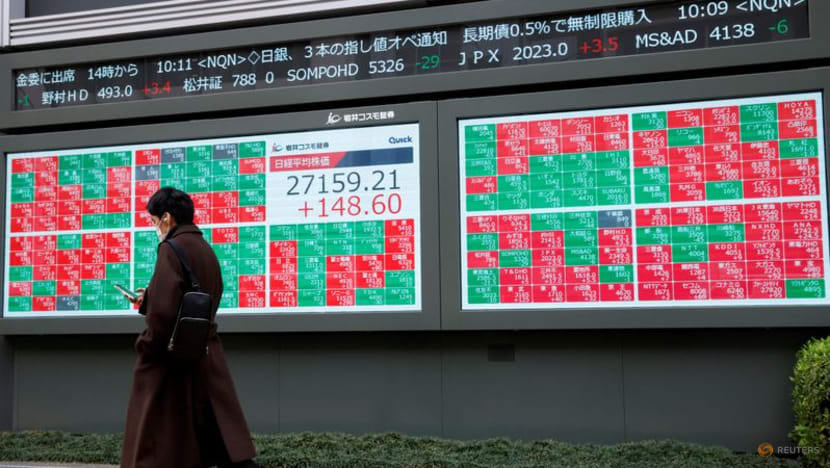 SINGAPORE: Asian stock markets sank on Monday (Mar 20) after Swiss authorities arranged the takeover of troubled Credit Suisse, amid fears of a global banking crisis ahead of a Federal Reserve meeting to decide on more possible interest rate hikes.
Switzerland's share benchmark was down 1.8 per cent, while Credit Suisse's shares opened 63 per cent lower and rival UBS, which is acquiring it, sank 16 per cent.
Hong Kong's Hang Seng Index slid 2.7 per cent after being down 3.3 per cent at one point. It closed at 19,000.71.
The Nikkei 225 in Tokyo shed 1.4 per cent to 26,945.67.
The Shanghai Composite Index lost 0.5 per cent to 3,234.91 after the Chinese central bank on Friday freed up more money for lending by reducing the amount of their deposits commercial lenders are required to hold in reserve.
The Kospi in Seoul retreated 0.7 per cent to 2,379.20 and Sydney's S&P-ASX 200 lost 1.4 per cent to 6,898.50.
India's Sensex lost 1.3 per cent to 57,241.45. New Zealand and Southeast Asian markets also declined.
Wall Street futures were off 1 per cent and oil prices plunged more than US$2 per barrel.
Over the weekend, UBS said it would buy Credit Suisse for 3 billion francs (US$3.2 billion). The Federal Reserve, European Central Bank and Bank of Japan pledged to make it even easier to buy dollars, upping the frequency of supply operations.
But with some Credit Suisse bondholders in line to be left with nothing, and nerves running high after a week where concerns mushroomed regional US lenders to large systemic bank in the heart of Europe, investors do not feel like taking risks.
"This time last week, when we were talking about SVB and Signature, it was very different in that we were talking about just the depositors and not the quality of the assets," said Steven Major, global head of fixed income research at HSBC.
"This week we've moved over to Europe and we're looking at assets ... anyone who said last week you can't compare sub-prime mortgages and sub-prime bonds with this crisis - well, actually it's moved on."
One positive on Monday was that nobody drew on the Bank of Japan's dollar supply. Yen cross-currency swaps, another gauge of demand for dollars, also shrank to half the levels of last week in another hint of respite.
But broader foreign exchange markets shuffled sideways after an early knee-jerk move out of safe-haven currencies fizzled.
US Treasuries also wound back a small selloff. The Fed meets on Wednesday, but investors are focused on the hours ahead first. "It's pretty wild and there's a lot of volatility probably still to come," said Jason Wong, strategist at BNZ.
"We've still got a few more days to get through."
"STABILITY RISKS"
Several nagging issues are in focus as Europe's day begins.
One is that despite liquidity support, deposit guarantees and - in the case of Credit Suisse direct borrowing from the central bank - have not been enough to cauterise the situation.
Another is that some junior bondholders appear to be left with nothing at all after Credit Suisse said such debts will be written down to zero - spooking holders of similar paper at other banks and raising the spectre of bank funding stress.
"Investors are trying to price out stability risks, but also having to process having their assets written down to save depositors," said Damien Boey, chief equity strategist at Sydney-based investment bank Barrenjoey.
"The key question is whether solvency or liquidity concerns are sufficiently addressed by bailout/merger attempts to make deposit runs stop. The answer isn't clear yet."
Rates pricing is also likely to remain volatile while there is concern over regional banks in the United States.
A US official said on Sunday that deposit outflows had slowed and in some cases reversed. But first First Republic also had its credit rating pushed deeper into junk status by S&P Global and elsewhere efforts to raise capital were hitting difficulties.
Benchmark 10-year Treasury yields were back at 3.43 per cent after rising as far as 3.52 per cent. Two-year yields, which fell back to 3.87 per cent are a long way below the current Fed funds rate of 4.6%, suggesting investors see rates falling soon.
Futures markets were volatile and were last pricing about a 60 per cent chance of a 25 bp Fed rate hike on Wednesday, before it embarks on a series of steady cuts as early as June.