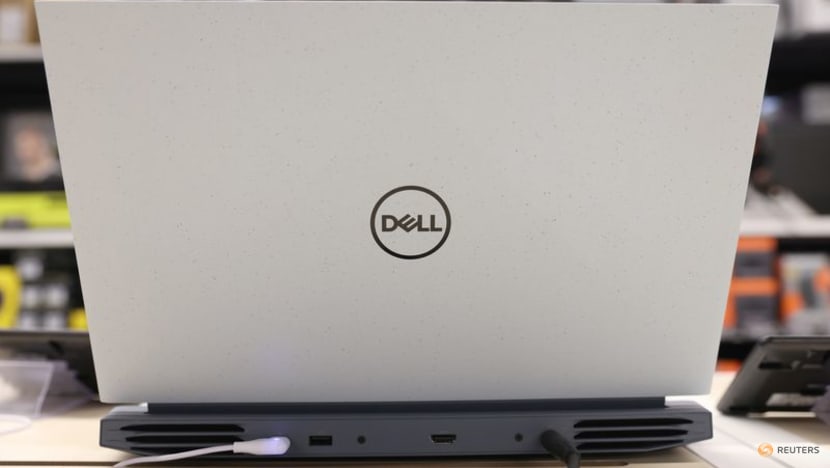 Dell Technologies Inc forecast current-quarter revenue and profit below Wall Street estimates on Thursday (Mar 2), hit by an ongoing demand slump in its PC business due to consumers and businesses delaying system upgrades.
The PC maker's shares fell about 3 per cent in extended trading after the forecast, reversing course from a 6 per cent rise on estimate-beating fourth-quarter results.
Dell, which makes most of its revenue from PC sales, has seen demand wane off from pandemic highs in its enterprise and consumer businesses although that has somewhat been offset by strong storage and server demand.
Revenue in the company's infrastructure solutions group, which includes servers, storage devices and networking hardware, rose 7 per cent in the fourth quarter ended Feb 3. Meanwhile, revenue from the commercial and consumer units, which indicate PC demand, was down 17 per cent and 40 per cent, respectively.
Dell forecast first-quarter revenue to decline between 17 per cent and 21 per cent. Analysts on average were expecting it to be down by 17.4 per cent, according to Refinitiv data.
The company also expects quarterly earnings per share of 80 cents, plus or minus 15 cents, below expectations of US$1.25.
"Underlying demand in PCs and servers remains weak and we are seeing signs of changing customer behavior in storage," said Chuck Whitten, Dell's co-chief operating officer.
"We saw lengthening sales cycles and more cautious storage spending with strength in very large customers offset by declines in medium and small business."
Dell's full-year profit and revenue forecast also disappointed Wall Street even as the lifting of lockdowns in China was expected to ease supply chain pressures and reduce component and freight costs.
Smaller rival HP Inc forecast current-quarter adjusted profit above estimates earlier this week.
Separately, Dell said Chief Financial Officer Tom Sweet would retire by the end of its fiscal second quarter, and named company veteran Yvonne McGill as his successor.