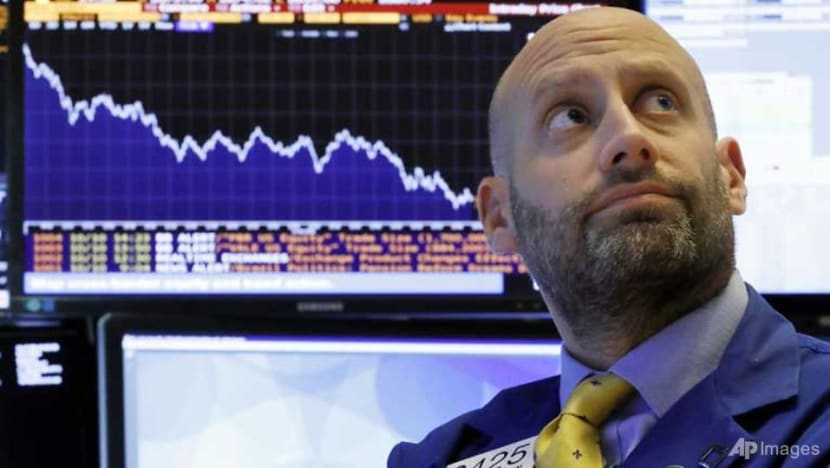 NEW YORK: Wall Street stocks plunged on Wednesday (Oct 10), with major indices losing more than three per cent in a selloff prompted by the sudden jump in US interest rates.
When all the dust settled after a brutal session, the Dow Jones Industrial Average had lost 831.83 points, or 3.15 per cent, to 25,598.74, in the biggest fall since February.

The broad-based S&P 500 slumped 94.66 points (3.29 per cent) to 2,785.68, while the tech-rich Nasdaq Composite Index plummeted 315.96 points (4.08 per cent) to 7,422.05
Losses were fairly broad-based, with tech companies Amazon and Microsoft 6.2 per cent and 5.4 per cent respectfully. Apple, Boeing, Nike and Visa all tumbled more than four per cent, while Caterpillar and 3M lost almost four per cent.

US stocks notched solid gains in the third quarter as investors brushed aside worries about trade wars and focused on strong corporate earnings and solid US economic data.
But stocks have been under pressure since the yield on 10-year US Treasury bonds jumped above three per cent last week, a sudden move that raised fears of an overheating economy, speeding inflation and more aggressive Federal Reserve interest rate increases.
"It's shifting the tectonic plates," said Jack Ablin, chief investment officer at Cresset Wealth Advisors. "Equity markets have enjoyed capital flows because bond yields have been so paltry. As rates move back towards fair value, capital is going to flow eventually out of equity risk taking."
The turmoil came a day after the International Monetary Fund slashed its global growth forecast on worries about trade wars and weakness in emerging markets.
Tom Cahill of Ventura Wealth Management said investors were unnerved by remarks from luxury company LVMH of a crackdown on some goods in China amid the country's bitter dispute with the United States.
"Two weeks ago this kind of news would not have affected the market," he said. "But since we are now in a corrective phase, any bad news accelerates the decline."
LVMH's travails also raised worries about whether the prospects of luxury brands are fading as the global economic outlook weakens. Among American brands, Tiffany slumped 10.2 per cent and Michael Kors Holdings fell 7.1 per cent.
US airlines were another big loser, with American Airlines sliding 5.8 per cent and Southwest Airlines 3.6 per cent as a major US hurricane caused flight cancellations in Florida.