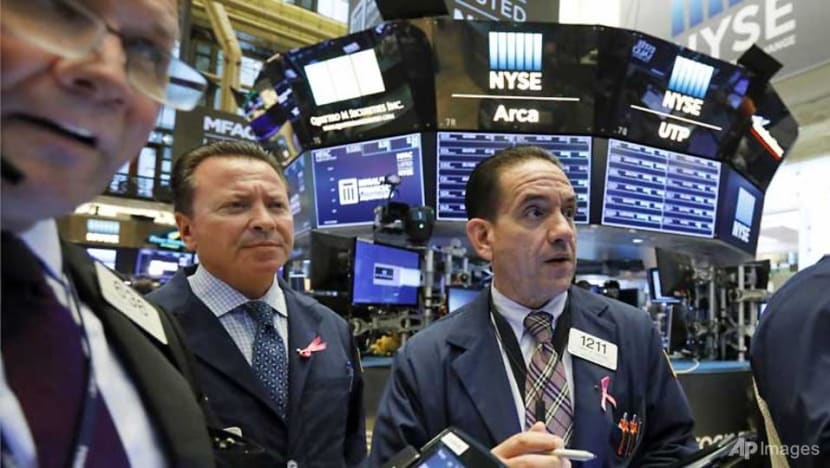 NEW YORK: A trove of strong US economic data on Wednesday (Oct 3) elevated the Dow to a second straight all-time high and lifted 10-year US Treasury yields to a seven-year peak.
The Dow Jones Industrial Average rose 54.45 points (0.20 per cent) to 26,828.39.
The broad-based S&P 500 added 2.08 points (0.07 per cent) at 2,925.51, while the tech-rich Nasdaq Composite Index advanced 25.54 points (0.32 per cent) to 8,025.09.
Wall Street's latest record came as European equities moved higher after Italy sent a more conciliatory message to Brussels over its budget plans, easing worries somewhat about a revived eurozone crisis.

Yields on the 10-year US Treasury bond got as high as 3.18, a record since July 2011, and the latest indication of continuing US economic momentum.
Higher bond yields can at times prompt Wall Street sell-offs because they are accompanied by higher lending costs for mortgages, business loans and credit card rates.
But Wall Street stayed in positive territory throughout Wednesday's session as US data continued to surprise to the upside.
US private-sector hiring came in at 230,000 in September, much higher than expected and based largely on strong growth in the services sector.
A report by Institute for Supply Management also outlined robust conditions for the services industry, with activity hitting an all-time high.
"I thought we might slowdown and move a little sideways from last month," said Anthony Nieves, chair of ISM's survey committee for the non-manufacturing sector. But "all indications are we will continue to see growth in this sector."
The outlook is also positive for US shoppers, with the National Retail Federation predicting holiday shopping gains of 4.3-4.8 per cent this winter compared with last year, citing such factors as strong employment levels and robust consumer sentiment.
"While there is concern about the impacts of an escalating trade war, we are optimistic that the pace of economic activity will continue to increase through the end of the year," said NRF Chief Executive Matthew Shay.
SOFTER MESSAGE FROM ROME
In Europe, bourses in Paris and Milan rose after Italian officials sent a more benign message on their spending plans after earlier projections of a steep increase in the debt sparked criticism from Brussels. Frankfurt was closed.
Italy's Finance Minister Giovanni Tria told a public meeting of the Confindustria industry association Wednesday the deficit would be squeezed "after 2019."
He said "we see confronting the reduction of public debt as fundamental," quite apart from restrictions of European spending rules.
The budget drafted last week raises spending and pushes the public deficit to around 2.4 per cent of gross domestic product.
Although Tria did not give figures, Italian media said Rome's populist government would shave budget deficit targets for 2020 and 2021 to 2.2 per cent and 2.0 per cent, respectively.
Oil prices shot up to four-year highs following comments by US Secretary of State Mike Pompeo and White House National Security adviser John Bolten on Iran that exacerbated worries about a supply hit from the region.
Among individual companies, General Motors jumped 2.1 per cent after announcing that Honda Motors agreed to invest US$2.75 billion in GM's Cruise autonomous driving venture. US-listed shares of Honda fell 3.6 per cent.
James Bond's favorite car manufacturer Aston Martin stalled after making a glitzy £4.3-billion (US$5.6-billion) debut on the London stock market.
Aston Martin shares made a flat start before ending the day down 4.8 per cent.

Key figures around 2100 GMT:
New York - Dow Jones: UP 0.2 per cent at 26,828.39 (close)
New York - S&P 500: UP 0.1 per cent at 2,925.51 (close)
New York - Nasdaq: UP 0.3 per cent at 8,025.09 (close)
London - FTSE 100: UP 0.5 per cent at 7,510.28 (close)
Paris - CAC 40: UP 0.4 per cent at 5,491.40 (close)
Milan - FTSE MIB - UP 0.8 per cent at 20,736.01 (close)
EURO STOXX 50: UP 0.5 per cent at 3,405.48 (close)
Frankfurt - DAX 30: CLOSED
Tokyo - Nikkei 225: DOWN 0.7 per cent at 24,110.96 (close)
Hong Kong - Hang Seng: DOWN 0.1 per cent at 27,091.26 (close)
Shanghai - Composite: CLOSED
Euro/dollar: DOWN at US$1.1505 from US$1.1548 at 2100 GMT
Pound/dollar: DOWN at US$1.2966 from US$1.2979
Dollar/yen: UP at 114.46 from 113.65 yen
Oil - Brent Crude: UP US$1.49 at US$86.29 per barrel
Oil - West Texas Intermediate: UP US$1.18 at US$76.41 per barrel