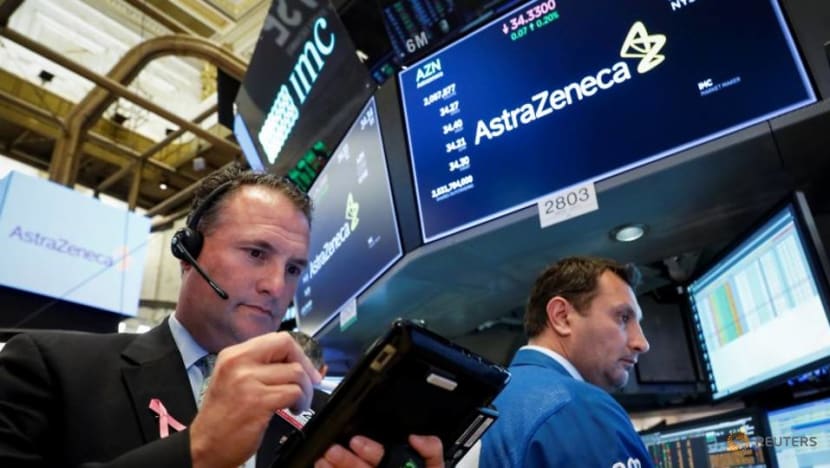 NEW YORK: The latest escalation in the US-China trade row weighed on industrial stocks on Monday (Sep 24), pushing the Dow and S&P 500 lower.
The Dow Jones Industrial Average finished down 181.45 points (0.68 per cent) at 26,562.05.
The broad-based S&P 500 dropped 10.30 points (0.35 per cent) to 2,919.37, while the tech-rich Nasdaq Composite Index gained 6.29 points (0.08 per cent) to 7,993.25.
New US tariffs on another US$200 billion of Chinese imports took effect Monday, a move that prompted retaliatory tariffs from Beijing on US$60 billion in American goods.
China has also reportedly scotched negotiations that had been expected later this week in another twist that was likely to dent investor hopes for a speedy resolution to the impasse.
Industrial companies generally lagged the broader market, with Caterpillar losing 1.5 per cent, Arconic 5.5 per cent and Stanley Black & Decker 1.9 per cent. 
Analysts are also watching for Wednesday's Federal Reserve decision, which is expected to result in an interest rate increase.
In deal news, Comcast won a weekend bidding contest with Fox for British broadcaster Sky for £30.6 billion pounds (US$40 billion). Comcast shares sank 6.0 per cent, while Fox rose 1.7 per cent.
Pandora Media shed 1.2 per cent after agreeing to be acquired by SiriusXM for US$3.5 billion. Sirius sank 10.3 per cent.
US-traded shares of Barrick Gold of Canada jumped 5.4 per cent after it agreed to buy Africa-focused rival Randgold Resources to create a global industry champion worth US$18.3 billion. Randgold rose 6.6 per cent in New York.
Clothing and accessories company Michael Kors dropped 8.2 per cent following reports it is close to a deal to buy Versace for US$2 billion or more, its latest push into luxury.
Shares of oil giants Exxon Mobil and Chevron both climbed more than one per cent as oil prices rallied from a decision by major oil producers over the weekend not to increase output.