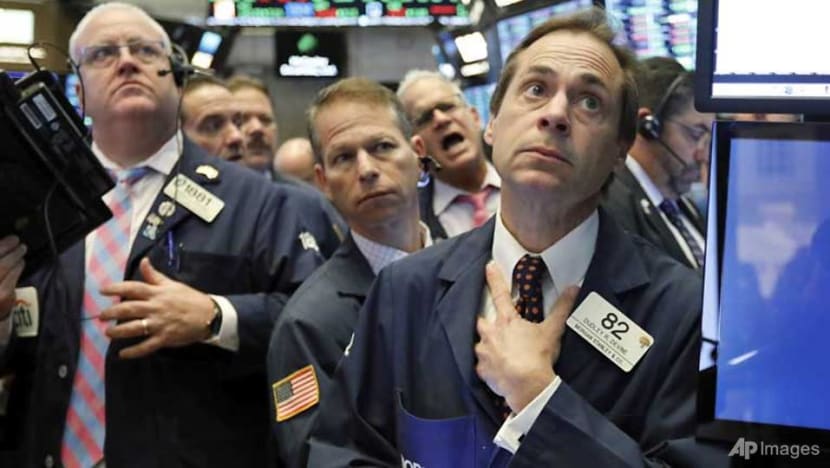 WASHINGTON: Another attempted Wall Street comeback fizzled on Wednesday (Nov 14), with an early rally losing momentum and sending the major indices lower for the fourth session in a row.
Soft inflation numbers at the start of the day had given traders hope but shares in Apple, a pacesetter for the tech industry, fell after another set of analyst downgrades.
In a day of choppy trading, fragile markets were also bumped lower following forceful remarks from a senior Democratic lawmaker in Washington, who vowed to halt further easing of post-crisis banking regulations.
Negative economic data from Japan and Germany and turmoil surrounding the conclusion of Brexit added to volatility.
The close marked the fourth straight negative finish for the Dow, its longest losing streak in three months, and set all the major indices back to their lowest levels since the end of October.
The Dow Jones Industrial Average fell 205.99 points (0.81 per cent) to 25,080.50, the broader S&P 500 lost 20.60 points (0.76 per cent) to 2,701.58, and the tech-heavy Nasdaq dropped 64.48 points (0.90 per cent) to 7,136.40.
"What is really bothering the market is the worry we are in the late stages of the economy's growth and that you are doing that at a time when international growth is slowing," Karl Haeling of LBBW told AFP.
Worries over what Trump will do next in the US-China trade war are also dampening investor appetite, he added.
The Consumer Price Index, a closely watched gauge of inflation, showed US prices rising for the month as expected but an underlying measure slowing, possibly lessening pressure on the Federal Reserve to raise interest rates aggressively.
Elsewhere in Washington, Maxine Waters, a senior Democrat slated to take over leadership of the House Financial Services Committee in January, vowed that easing of banking regulations "will come to an end."
Goldman Sachs, already damaged by criminal charges tied to an allegedly fraudulent investment scheme in Malaysia, fell another 1.3 per cent, adding to losses in the financial sector.
Meanwhile, Guggenheim and UBS both released downcast assessments of iPhone sales for Apple, which fell 2.8 per cent, extending prior losses.
Utility PG&E plunged 22 per cent after revealing that possible liabilities, if it is held responsible for a sprawling fire in northern California, could exceed its insurance coverage.
Long suffering WTI crude oil prices climbed, offering some relief in the current bear market, but Dow member Exxon Mobil fell nevertheless.