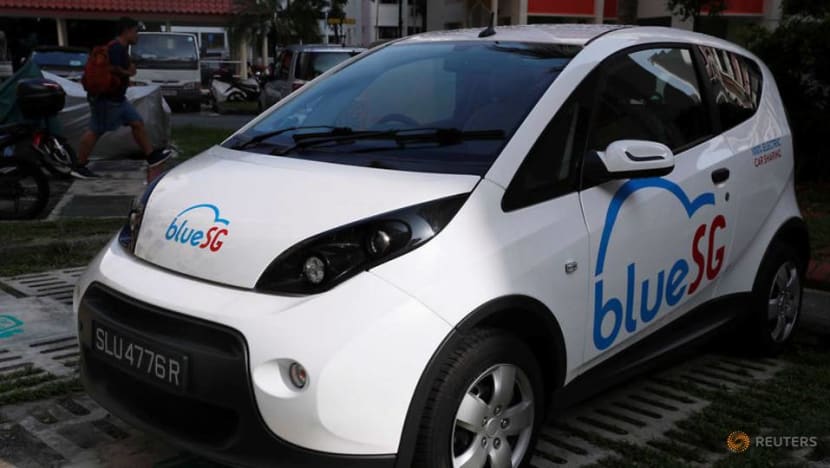 SINGAPORE: Electric car-sharing firm BlueSG has opened its 100th charging station in Singapore, with the company saying there has been strong demand for its services - although it has yet to make a profit.

The new station, located at the Pinnacle@Duxton at 1 Cantonment Road, will help service the 230 BlueSG electric vehicles that ply Singapore's roads. The company currently has 393 charging points.
In an update on Wednesday (Oct 3), BlueSG said it has more than 17,000 registered members and 70,000 rentals as at end-September.
The company said it has received more than 6,000 requests for new stations, and is working with the authorities and private landlords to expand its network.
"Shopping malls, universities and the airport - there is a very strong demand," BlueSG managing director Franck Vitte told Channel NewsAsia. 
"So we are working with the different stakeholders, some of them are very enthusiastic, such as the shopping malls. And with some of them, it is taking more time depending on their willingness to have our service within their premises."
The company started with 80 cars and 32 charging stations, and aims to roll out 1,000 cars and 2,000 charging points by 2020.
Close to 10 months after launching its electric car-sharing programme, Mr Vitte said the company has yet to turn a profit. 
"But again, of course we never anticipated to make a profit right from the beginning because there's a lot of investments, but we hope to be able to break even much faster than we hope for in the coming years," he said.
Associate Professor Nitin Pangarkar from the National University of Singapore's School of Business said this was not surprising for a new company. 
"It's okay not to make profits in the start-up stage because there are a whole lot of costs and uncertainties that a start-up gets burdened with that get resolved over time," he said.
"To me, one of BlueSG's stumbling blocks is that they are creating their own infrastructure and they are paying for it. And that hurts, especially when you have a small base," he added.
"So when the petrol kiosks start offering charging stations, I think that is when BlueSG will have a real shot at taking off."

To further enhance user experience, the firm announced updates to its mobile application for a new function that allows users to register for the next available parking lot or car and to be informed when they are next in line. This will enable members to plan better, said BlueSG.
It has also entered into a partnership with Sembcorp Power, the electricity retail arm of Sembcorp Industries, for the supply of electricity to its charging stations.