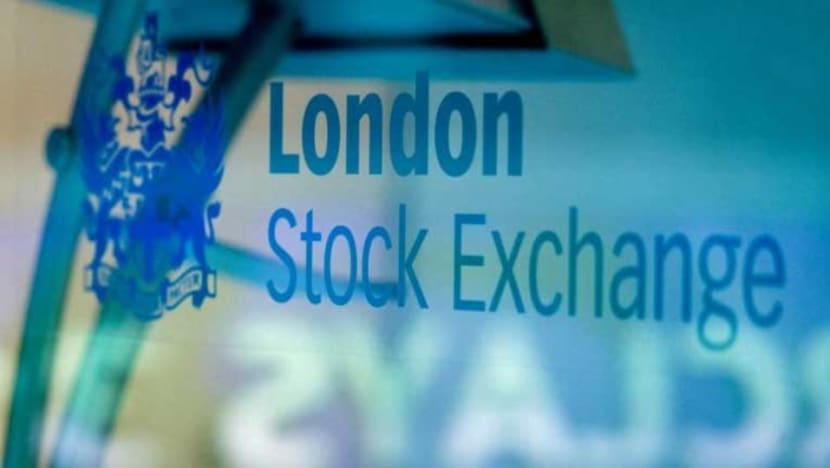 LONDON: European stocks went into recovery mode on Thursday (Oct 25), clawing back some of the previous day's dramatic losses that had finished wiping out all of the year's gains in some markets.
In Europe, all key markets closed solidly in the black, but London's FTSE index underperformed, held back by a steady pound and a weak sales outlook from advertiser WPP.
Wall Street extended opening gains, helped by optimism on corporate earnings, a day after geopolitical worries and trade fears slashed billions off US stock valuations.
The tech-heavy Nasdaq was well over two percent higher approaching midday in New York, having fallen a whopping 4.4 per cent on Wednesday.
"US stocks are rebounding in early action from yesterday's sharp drop, with a host of relatively favourable earnings reports helping counter a flood of global headwinds that have pressured the markets and kept volatility elevated as of late," said analysts at the Charles Schwab brokerage.
But Capital Economics analyst Oliver Jones said that the rebound in US markets was unlikely to last.
"We think that the bounce in the S&P 500 today after its slump on Wednesday will prove temporary, as investors become even more worried about the outlook for the US economy in the next few quarters," he said.
'NOT SEXY, BUT EFFECTIVE'
Earlier, the European Central Bank's monthly monetary policy meeting contained no surprises, with the bank leaving interest rates and its exit calendar from mass bond-buying untouched.
ECB chief Mario Draghi said risks to the eurozone growth outlook were "broadly balanced", citing protectionism, vulnerabilities in emerging markets and financial market volatility as prominent downside risks.
"Not sexy, but highly effective," is how Carsten Brzeski, chief economist at ING Germany, described the ECB's determination to end the bond purchases, also known as quantitative easing (QE).
The ECB, he said, was on "autopilot" as far as the policy's implementation was concerned.
"It would require a severe downturn of the economy, not only weaker momentum, in the coming six weeks for the ECB to alter its course," Brzeski said.
Earlier, the closely-watched Ifo survey of businesses in Germany showed falling confidence, as the eurozone's largest economy faces gathering clouds over the single currency area.
BAD DAY IN ASIA
Shares in AB InBev slumped after the Belgian-Brazilian beer giant slashed its dividend following a slide in quarterly profits for the brewer of Budweiser.
Earlier Thursday, Asian stock markets closed sharply lower, tracking Wednesday's plunge on Wall Street, with trading floors awash with negativity on geopolitical concerns and following weak US economic and earnings data.
Global equities have been pummelled this year by a wave of problems led by the China-US trade war and rising Federal Reserve interest rates.
Among the strongest headwinds in recent weeks has been a brewing nuclear standoff between the US and Russia, the high-profile killing of a Saudi journalist, Brexit and Italy's budget row with the European Union.
Tokyo witnessed a 3.7-per cent drop on Thursday and Sydney sank 2.8 per cent to its weakest level in a year.
Hong Kong lost one percent, with Cathay Pacific shares shedding 3.8 per cent after it admitted to suffering a major data leak that affected up to 9.4 million passengers worldwide.

Key figures around 1540 GMT:
London - FTSE 100: UP 0.6 per cent at 7,004.10 points (close)
Frankfurt - DAX 30: UP 1.0 per cent at 11,307.12 (close)
Paris - CAC 40: UP 1.6 per cent at 5,032.30 (close)
Milan - FTSE MIB: UP 1.8 per cent at 18.815,32 (close)
EURO STOXX 50: UP 1.1 per cent at 3,164.80
New York - Dow: UP 1.6 per cent at 24,976.69
New York - S&P 500: UP 1.8 per cent at 2,702.91
New York - Nasdaq: UP 2.6 per cent at 7,293.46
Tokyo - Nikkei 225: DOWN 3.7 per cent at 21,268.73 (close)
Hong Kong - Hang Seng: DOWN 1.0 per cent at 24,994.46 (close)
Shanghai - Composite: FLAT at 2,603.80 (close)
Euro/dollar: DOWN at US$1.1369 from US$1.1393 at 2100 GMT
Pound/dollar: DOWN at US$1.2815 from US$1.2881
Dollar/yen: UP at 112.53 from 112.19 yen
Oil - Brent Crude: UP 29 cents at US$76.46 per barrel
Oil - West Texas Intermediate: UP 25 cents at US$67.07