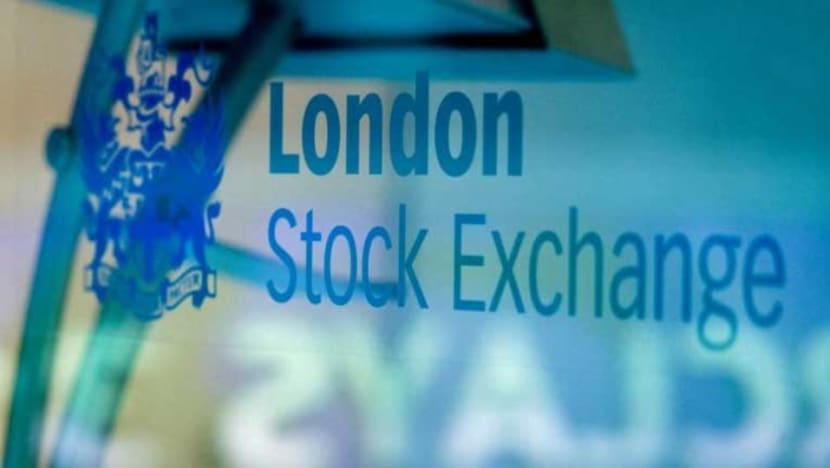 LONDON: Stock markets and the pound slid on Monday (Dec 10) after British Prime Minister Theresa May said she was delaying a parliamentary vote on her deal to leave the EU after conceding it would not win sufficient support.
Traders took fright after May's move added to an unappetising menu of high risks to the global economy, including the China-US trade row, signs of weakness in the Chinese and US economies and volatile oil prices.
More gloom descended after a Chinese court ruling ordering a ban in the country on iPhone sales in a patent dispute between US chip manufacturer Qualcomm and Apple, according to a Qualcomm statement.
Apple shares fell 2.1 two per cent mid-session, taking the fall in its price since early October to more than 30 per cent.
Qualcomm shares jumped 2.9 per cent.
Wall Street's broad-based S&P 500 dropped 1.8 per cent while the tech-rich Nasdaq Composite Index shed 1.3 per cent.
But the main focus was on Britain's struggle with Brexit as the pound hit an 18-month low with May's decision to delay a crucial parliamentary vote on an issue that has riven the country since the June 2016 referendum vote to leave.
Britain was already digesting official data showing sluggish growth in October on a stalling car sector before May told parliament she would defer a vote scheduled for Tuesday evening, acknowledging it would be defeated.
GRAWING UNCERTAINTY
"Political uncertainly continues to gnaw away at the nerves of investors pushing the pound to just above the US$1.25 level," said Rabobank analyst Jane Foley.
"Anxiety may have been triggered by Brexit - but the future and functioning of the government is now also a threat for the pound," which lost more than 1.5 per cent to strike US$1.2507 - the lowest level since April 2017.
"This is yet another blow for companies desperate for clarity," said Carolyn Fairbairn, head of the Confederation of British Industry big business lobby as May insisted her deal "is the right one" while promising to seek "additional reassurance" from Brussels over a controversial provision on Northern Ireland.
Earlier, the European Court of Justice had ruled that Britain was free to halt withdrawal from the bloc unilaterally in response to a suit from a group of Scottish politicians.
'INCREASINGLY UNTENABLE'
David Cheetham, chief market analyst at XTB UK, said a vote delay would only deepen uncertainty.
"The move may have spared an embarrassing parliamentary defeat for the PM but it will no doubt see those calls for her to be replaced grow ever more vociferous," Cheetham said, adding that May's position is looking "increasingly untenable."
London's FTSE-100 index briefly edged into positive territory before closing down almost one per cent.
Elsewhere on Monday, oil prices slid on profit-taking, having surged ahead of the weekend as OPEC and other key crude producers including Russia agreed to cut output by 1.2 million barrels a day.
Russian Energy Minister Alexander Novak said the agreement "should help the market reach a balance" after prices plunged by about a third from their four-year highs seen at the start of October.
"Oil's future rests on trade wars and weakening data, and whether either or both of these factors will start to ease in coming months, boosting demand expectations," noted Chris Beauchamp, chief market analyst at IG.
In Asia, China on Monday ratcheted up its protest over the arrest of an executive of telecom giant Huawei on a US warrant in Canada, calling reports of her treatment "inhumane" as she seeks her release on bail for health reasons.

Key figures around 1700 GMT:
New York - Dow Jones: DOWN 1.5 per cent at 24,039.86 points
London - FTSE 100: DOWN 0.8 per cent at 6,721.54 (close)
Frankfurt - DAX 30: DOWN 1.5 per cent at 10,622.07 (close)
Paris - CAC 40: DOWN 1.5 per cent at 4,742.38 (close)
EURO STOXX 50: DOWN 1.5 per cent at 3,012.14
Tokyo - Nikkei 225: DOWN 2.1 per cent at 21,219.50 (close)
Hong Kong - Hang Seng: DOWN 1.2 per cent at 25,752.38 (close)
Shanghai - Composite: DOWN 0.8 per cent at 2,584.58 (close)
Pound/dollar: DOWN at US$1.2567 from US$1.2742 at 2200 GMT Friday
Euro/dollar: UP at US$1.1407 from US$1.1406
Dollar/yen: UP at 112.71 yen from 112.68 yen
Oil - Brent Crude: DOWN 78 cents at US$60.89 per barrel
Oil - West Texas Intermediate DOWN US$1.00 cents at US$51.61 per barrel