'Future of telco industry is not telcos': Circles.Life's co-founder shares how AI, data will shape its strategy
The virtual operator is now doubling down on how it uses customer data to offer non-telco services like events recommendation, with plans to expand this to areas such as payments and financial technology, says Mr Rameez Ansar.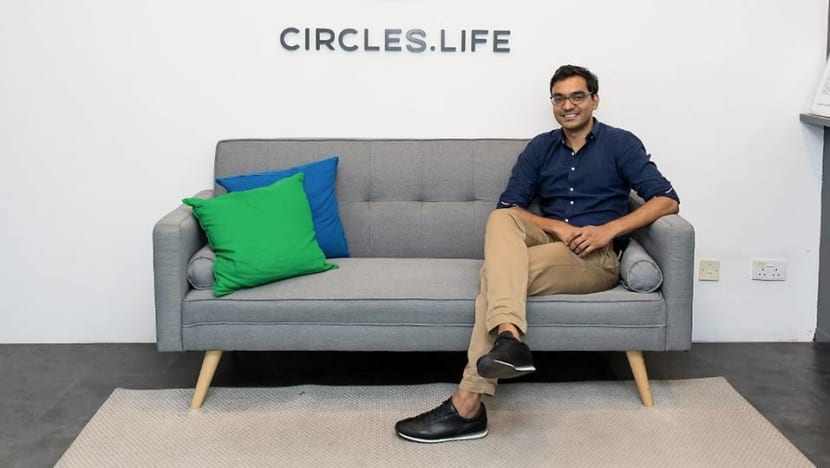 SINGAPORE: "The future of the telco (industry) is not telcos (as we know them)… but data-driven technology companies offering digital services that are yet imagined today," said Circles.Life co-founder Rameez Ansar.
In a wide-ranging interview with Channel NewsAsia on Tuesday (Dec 4), Mr Rameez outlined how the industry could look like in the future, as well as how the three-year-old Mobile Virtual Network Operator (MVNO) intends to branch out into non-telco services. 
These services, he added, are being developed through the start-up's investments into technologies such as machine learning, artificial intelligence (AI) and predictive analytics. 
Mr Rameez explained that the company's move away from telco services does not mean it will neglect its primary MVNO business. 
Rather, a shift towards services like events recommendation through a recently introduced feature called Discover is a natural outcome and progression from its current role, he said, adding that the company has created relationships through know-your-customer processes when people sign up with them as well as when they set up their billing methods. 
He cited how telcos - not just local incumbents Singtel, StarHub or M1 with whom Circles.Life leases mobile network capacity from, but those globally - have shown that the "backwardness of their technology" means attempts to introduce digital services have not taken off or were not well received by people.
"Execution (of new services) is challenging when your infrastructure is from 10 years ago and are not agile," the 36-year-old said. 

He cited Google and Apple as examples of how technology companies, through for instance the introduction of e-SIM, are actually the ones innovating in the industry instead of telcos.  
E-SIMs are digital SIMs that allows users to activate their cellular plan from telcos without needing to slot in a physical SIM card. Apple included this technology with its latest slate of iPhones, while Google actually takes on the role of an MVNO with its Project Fi - now renamed Google Fi - project.
DOUBLING DOWN ON DATA
Mr Rameez did point out that the roll-out of any digital service by Circles.Life will not be done just for the sake of doing so. After all, it is not a publicly listed company or heavily backed by investors such that it needs to constantly show growth. 
The company, which has cornered nearly 5 per cent of the overall Singapore market, is mindful that any additional product will have to boost, not compromise, its profile, he added. 
Citing the Discover feature as an example, he said it is an "interesting value proposition" for its user base as "people are still going around randomly trying to find new things". 
And it is being powered by machine learning and AI developed internally. Mr Rameez said Circles.Life had built a research and development (R&D) team in Bangalore, India, specifically looking at how to make sense of the large amounts of data being generated by its customers. The company has committed S$25 million to this team for long-term growth, which includes acquiring companies like Fratics and Klassify this year. 

The Bangalore R&D team, led by former Yahoo engineering director Amitava Ghosh, was started in August this year. Its work will be used to refine Discover and how it recommends events, services and products according to customer preferences. There are 25 employees but this is expected to double by the next quarter.
Asked why Circles.Life decided to base its R&D team in Bangalore instead of Singapore where it is headquartered, Mr Rameez explained that it wanted to go where the talent is.
He said that particularly for machine learning and deep engineering, Singapore "is not quite there yet". 
Circles.Life considered five possible cities - Silicon Valley, Bangalore, Shenzhen, Beijing and Shanghai - but eventually settled on the Indian city where there is a "density of tech unicorns" which attracts the necessary talent. 
He added it was "not a cost decision" to base the team in Bangalore, given that talent is at a premium there with companies like Google and Amazon setting up shop and willing to pay top dollar for people with the necessary skills.
Besides introducing Discover last month, Mr Rameez disclosed that the company will be extending its partnership with EZ-Link this month and more details will be available soon.
Earlier in May, both parties signed a deal allowing the telco's subscribers to earn 50MB of data for every 10 rides they take per week and this can be added to their monthly limits. 
Circles.Life will also move into the financial technology space next year. When asked for details, the co-founder said it is unlikely to launch a digital wallet, but possibly payment options for the events and services being recommended through Discover.
STAYING PLUCKY, LEARNING FROM MISTAKES
Yet, even as the company continues to grow and evolve from its days as plucky upstart in a seemingly stale telco space, it is not without its flaws. 
The start-up had recently been in the headlines, and for not-so-positive reasons. Its Epic Invite promotion drew flak from former Nominated Member of Parliament Eunice Olsen, who labelled the ad as "sexist, derogatory, disrespectful, distasteful" and a "cheap shot at a publicity stunt".
She even lodged a police report against the advertisement. 
The MVNO later removed the ad and said it will "learn from this experience". 
Circles.Life said in a separate statement on Tuesday that it met with Ms Olsen and her manager on Monday.
It added: "The insightful discussion brought both parties to a common understanding that none of the parties intended to damage anyone's reputation. We both understood and respected each other's views and no legal action will be taken."
A company spokesperson added that there are plans to engage Ms Olsen to promote her views on women empowerment, although details have not been finalised. 
This is not the first time the start-up's marketing stunts have stirred controversy. Its cash vending machine promotion, with the hashtag #3DollarBaller, this February was cut short by the police due to security concerns. 
Mr Rameez said he takes full responsibility for the latest promotion and its fallout, saying these are consequences of him pushing his team to do things differently. 
"(In taking a different approach,) mistakes will be made," the co-founder conceded, adding that this does not excuse his company from avoiding such mistakes in the first place. 
That said, he does not believe the company needs to shed its "upstart-y ways" even as it grows and become more established. If taken positively, it is a trait commonly seen in companies that are innovative, he stated.