Huawei zooms in on camera innovations during P20, P20 Pro launch
The Chinese tech giant is hoping to stand out from the crowded mobile market through its close partnership with camera maker Leica, and artificial intelligence features from its Kirin 970 chipset.
PARIS: Chinese tech giant Huawei on Tuesday (Mar 27) launched its latest P series handsets - the P20 and P20 Pro - in the hope of attracting on-the-go shutterbugs by offering top-notch camera features.
Mr Richard Yu, chief executive of Huawei's Consumer Business Group, unveiled the company's flagship products during the launch event held at Grand Palais in Paris.
It was the camera features and functions that took centre stage, in particular, the P20 Pro with its three-camera setup - which was teased in the company's invite to media attending the event.
The Leica triple camera feature was touted as the first of its kind. It has an 8-megapixel (MP) telephoto lens and a 40MP RGB lens positioned together, while a third 20MP monochrome lens is housed below them.
MORE NOT NECESSARILY BETTER
According to Huawei, this allows users to have a 5x hybrid zoom, which combines both optical and digital zoom, while the phone's artificial intelligence (AI) capabilities (derived from its Kirin 970 chipset first unveiled in its Mate 10 handsets last October) will help enhance the picture's pixel quality.
Another camera innovation is predictive focus, whereby the phone will suggest the type of camera settings to switch to depending on what the user is shooting. For instance, if the user points a phone close to someone's face, this will trigger the close-up setting automatically.
This, Huawei said, is down to the phone's AI function. It will also proactively offer suggestions on photo composition.
The improved camera technology and AI also helped the Chinese company fire a shot across the bow towards rivals Apple and Samsung, as the company touted its facial recognition function and how users can unlock the phone within 0.5 seconds - even in the dark.
The P20, meanwhile, will sport the traditional two-camera setup - 12MP RGB and 20MP mono lenses - as well as a 24MP front-facing "selfie" camera, it said. 
Commenting ahead of the launch, Ms Kiranjeet Kaur, senior research manager of client devices at IDC Asia-Pacific, told Channel NewsAsia that a "great camera in a flagship smartphone is a must-have".
Ms Kaur said the three rear cameras take the megapixel count to a "whole new level", but warned that while more be considered better, it may not always be right - and this is a fact consumers understand too. She cited the example of Google Pixel 2 smartphones as devices with good single-camera setups.
AI BENEFITS STILL UNCLEAR
Another analyst, Gartner research director CK Lu, said in a separate email that it does not see AI as a "key differentiator" for smartphones yet.
"We are still in a very early stage in exploring AI on smartphones and see what would benefit users," Mr Lu told Channel NewsAsia.
He added that there are "many challenges and limitations" to implement AI on smartphones, particularly in battery consumption, data transmission, latency and efficiency, while phone makers such as Huawei will also have to make sure the developer ecosystem is tapping on this capability.
"They need to build an open strategy for developers to encourage and stimulate use of AI on smartphones," the analyst said.  
PHONE SPECIFICATIONS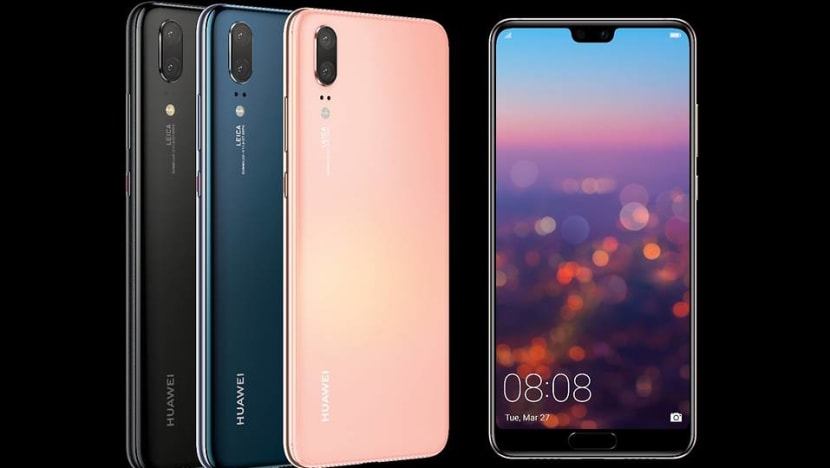 As for the general specifications for the latest Huawei devices, Mr Yu said the P20 has a 5.8-inch LCD screen and battery capacity of 3,400 mAh. Globally, it will come in five colours - Black, Midnight Blue, Pink Gold, Champagne Rose and Twilight - although availability of these models differs across the markets, the company said.
The higher-end P20 Pro comes with a 6.1-inch OLED screen and 4,000 mAh battery, with all the above-mentioned colours except Champagne Rose.
According to Huawei, this is the first time it is introducing what it called a "gradient colour finish" for its Twilight model, where different shades of dark blue span the back of the phone's body. Both will run on Android 8.1, and while the company's Emotion UI remains, it said this and future phones will move towards a stock Android look and feel. 
The P20 Pro will also offer IP67 level water and dust resistance, which means it is protected against dust and can be immersed in water of less than 1m for up to 30 minutes. The P20 will only have IPX3 level protection, which is water resistant up to a point but not waterproof.
For those looking to go crazy with photo and video taking, given the camera technology made available, you'd be advised to note that both models will not support microSD card slots - breaking from prior offerings.
Information on pricing, models available and other details will only be revealed closer to the local launch for individual markets. For Singapore, more details will be given in early April, the Chinese company said.