Hyflux assessing bid submitted by one of two pre-qualified potential buyers for Tuaspring
Two out of eight interested parties were approved by authorities, but only one submitted a bid for the Tuaspring plant in the end, according to a SGX filing by Hyflux on Friday.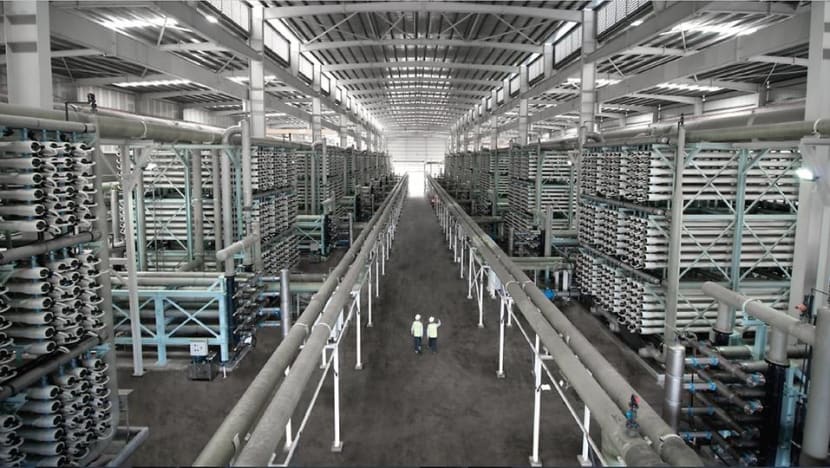 SINGAPORE: With the clock ticking down to an Oct 15 deadline by which it has to sign a binding deal for its biggest water and power plant, Hyflux said it is assessing a bid submitted by one of the two interested buyers that have been approved by relevant authorities.
In the SGX filing on Friday (Oct 12), the troubled water treatment firm, which is undergoing a court-supervised reorganisation, said there were eight parties interested in its Tuaspring Integrated Water and Power Plant but only two received pre-qualification to access confidential information about the asset. 
Hyflux said it is required to submit the names of potential investors to the authorities as part of the divestment process. Given Tuaspring's value as a strategic water asset in Singapore, founder-CEO Olivia Lum had previously said that approval from the national water agency PUB is required "every step of the way". 
Of the two pre-qualified parties, one submitted a bid for the integrated plant. Hyflux said the bid is being assessed by the company and remains subject to approvals from the relevant authorities.
The SGX filing, however, did not reveal any more details, citing confidentiality requirements and the need to protect the company's interests in ongoing negotiations. 
Hyflux reiterated that it remains in negotiations for strategic investments in the overall business, with or without Tuaspring.
It also repeated that it has not committed itself to any particular option or any of the proposals received at this point in time, and remains open to considering various opportunities. 
The release follows a status conference in the Singapore High Court earlier this week when the company's legal advisors said Hyflux is in advanced talks with at least two potential strategic investors. 
But they did not provide updates about the Tuaspring divestment process. Neither did the lawyers comment on an Oct 2 report by Bloomberg, which said Sembcorp Industries was the only party that submitted a bid.
Citing unnamed sources, the report said the bid from Sembcorp was below Tuaspring's book value of S$1.3 billion and will not be enough to fully pay back loans. Keppel Corp was the other pre-qualified party but the company did not submit a binding bid in the end. 
As part of an agreement with Maybank, Hyflux has until Oct 15, which is next Monday, to ink a binding deal with a successful bidder. Maybank is Tuaspring's only secured creditor.
Analysts have said the sale of the integrated plant, which is Hyflux's single largest asset, will be crucial in trimming the company's "humongous" debt load. 
The home-grown firm is now racing against time to get its restructuring plan in place before its six-month moratorium expires in mid-December.