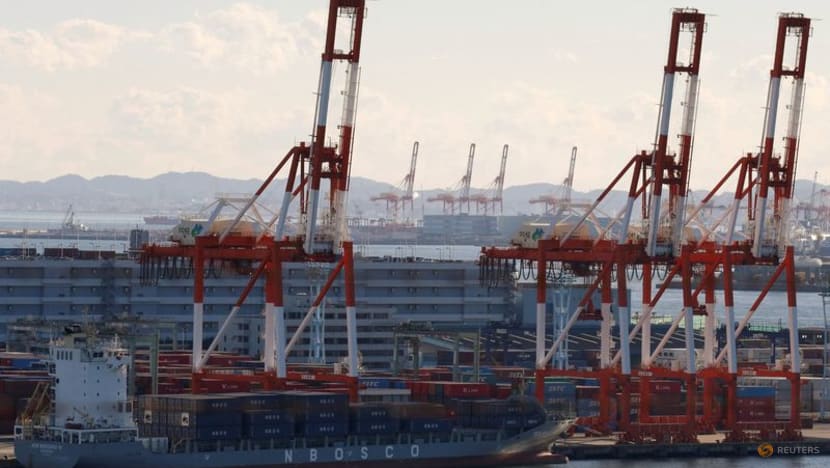 TOKYO : Growth in Japan's merchandise exports slowed sharply in January amid weakening Chinese demand for cars and chipmaking machinery, stoking concern about a global slowdown and creating the country's largest trade deficit on record.
Trade figures issued on Thursday followed weaker-than-expected gross domestic product data, underscoring the challenge for the Bank of Japan in achieving growth led by private demand while stably sustaining inflation above 2 per cent.
Aggressive interest rate rises in other advanced economies have cooled demand for Japanese products, which came under more downward pressure in January as China celebrated the lunar New Year holiday.
"In a nutshell, exports are weakening," said Taro Saito, chief economist at NLI Research Institute. "The United States and Europe are not in a complete recession yet, but I think the world economy is probably going to get a little worse, so it will be even tougher in terms of exports."
The lifting of China's zero-COVID policy late last year, however, might somewhat brighten the outlook for a global economy teetering on the brink of a recession, he added.
The value of Japan's merchandise exports in January was 3.5 per cent higher than a year earlier, Ministry of Finance (MOF) data showed, slowing sharply from the previous month's annual gain of 11.5 per cent but beating economists' median estimate for a 0.8 per cent rise.
Imports of goods were up 17.8 per cent, compared with the rise of 20.7 per cent in the previous month and a median forecast for 18.4 per cent.
The result was a 3.49 trillion yen ($26.07 billion) deficit in merchandise trade in January, the biggest in records going back to 1979, the data showed. Imports of coal, liquefied natural gas and crude oil drove up overall import bills.
"With commodity inflation peaking and the yen unlikely to weaken further, import prices are likely to decline from now on, but exports are still trending downward, so trade deficits will persist," said Kenta Maruyama, economist at Mitsubishi UFJ Research and Consulting.
By region, January exports of goods to China, Japan's largest trading partner, fell 17.1 per cent from a year earlier, dragged down by shipments of cars, car parts and chip-making equipment, the data showed.
U.S.-bound shipments were 10.2 per cent higher, led by demand for cars, mining machinery and metal processing machinery.
Separate data showed core machinery orders, a highly volatile data series regarded as an indicator of capital spending in the coming six to nine months, was 1.6 per cent higher in December, compared with a 3.0 per cent rise expected by economists.
Data issued on Monday showed Japan's economy, the world's third largest, had grown at an annualised rate of only 0.6 in the fourth quarter as business investment slumped.
Japan reports trade in services separately, in its current account data.
($1 = 133.8600 yen)