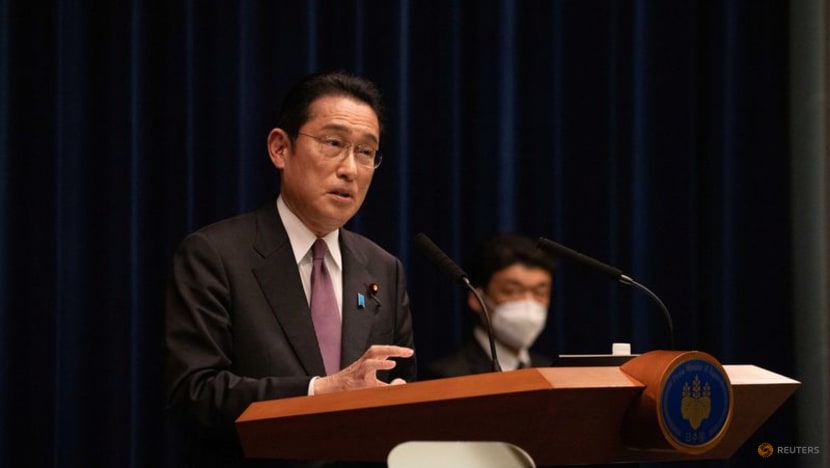 TOKYO: Japanese Prime Minister Fumio Kishida said on Friday (Mar 10) he has instructed the ruling coalition to propose a package of measures to beat rising prices next week, in a move aimed at shoring up a fragile economic recovery from pandemic-induced doldrums.
The instruction was made during a meeting between government officials and senior ruling party lawmakers one day after revised data showed the world's third-biggest economy narrowly averted a recession in the final quarter of last year.
Last week, Kishida urged the ruling Liberal Democratic Party (LDP) and small coalition ally Komeito to come up with measures to cushion the blow of price hikes on households.
"Prices are rising mainly with energy and food," Kishida told the meeting on Friday. "We will take additional steps to counter price hikes to protect livelihoods and business activity."
Komeito chief Natsuo Yamaguchi called for the inclusion of his party's proposals in a package of measures, including special grants aimed at curbing gas charges for households.
As part of measures against price hikes, which will be compiled later this month, Japan is considering providing further cash payouts worth 50,000 yen (US$367) to low-income households with children, NHK reported.
Demands from politicians will keep Kishida's government under pressure to spend even more - which could eventually add to an already huge public debt burden - particularly ahead of elections such as local polls scheduled nationwide in April.
Komeito aims to draft its own proposals next week before the government compiles measures including a repeat of the 50,000 yen payouts that were first adopted last year.
The payout per child will target single-parent households with low incomes and those exempted from resident tax, NHK said.
Japanese households are grappling with intensifying cost-of-living pressure amid elevated inflation for energy and food.
Rounds of heavy stimulus spending have aggravated the industrial world's heaviest public debt.
For now, the government is widely expected to tap emergency reserves already earmarked for the next fiscal year's budget. But further spending could strain Japan's debt woe.
The national debt is already more than twice as big as the annual economic output, making Japan an outlier when it comes to the global trend of ending crisis-mode fiscal stimulus.
A main opposition party will also submit legislation to parliament, offering cash handouts worth the same amount as the ruling coalition.