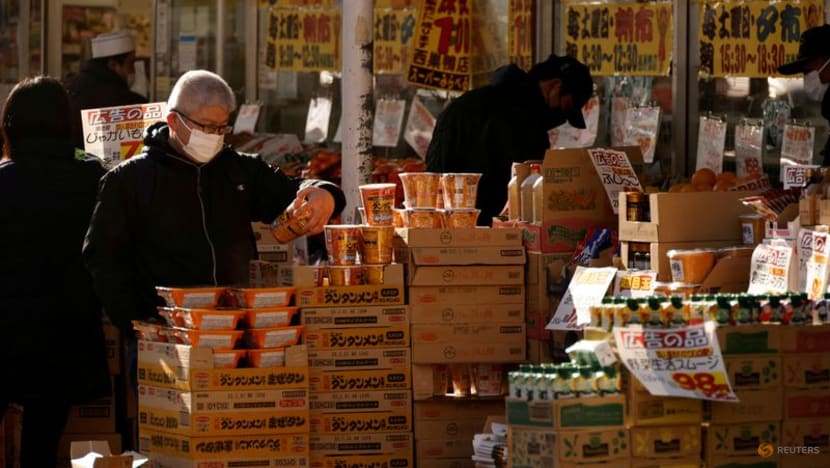 TOKYO: Japan's economy narrowly averted a recession in the final months of 2022, barely growing on frail consumption after shrinking in the third quarter, revised data showed, underscoring the challenge for policymakers trying to shore up a wobbly recovery.
Record high inflation and slowing global growth amid sweeping monetary tightening across many countries have undermined the world's third-biggest economy's post-pandemic revival, despite relaxation of COVID-19 curbs, energy subsidies and ultra-easy monetary policy.
Businesses, under government pressure to increase wages to boost household consumption, are struggling to motor on in the face of muted demand at a time of crucial spring labour talks.
Japan's gross domestic product (GDP) expanded by an annualised 0.1 per cent in October-December, against a preliminary estimate of a 0.6 per cent expansion and much lower than economists' median forecast for a 0.8 per cent rise in a Reuters poll. That followed a revised 1.1 per cent contraction in July-September.
The expansion translates into an almost flat 0.02 per cent quarter-on-quarter change, data released by the Cabinet Office showed, against a preliminary reading and economists' estimate for 0.2 per cent growth.
"There was a less strong recovery in services (spending), while rising inflation likely curbed consumption as well," said Wakaba Kobayashi, an economist at Daiwa Institute of Research.
Private consumption, which makes up more than half of the country's GDP, grew 0.3 per cent, the data showed, downgraded from an initial estimate of a 0.5 per cent increase.
Spending on services such as restaurants and hotels, as well as goods, were less solid than previously estimated, the data showed.
Capital spending fell 0.5 per cent, unchanged from a preliminary estimate and compared with a median market forecast for a 0.4 per cent contraction, even as Ministry of Finance data last week showed an uptick in manufacturers' output capacity in the fourth quarter.
Domestic demand as a whole knocked 0.3 percentage points from revised GDP growth, slightly more than initially estimated, while net exports added 0.4 percentage points.
BUMPY RECOVERY
Japan's economy is being buffeted by slowing overseas demand due to deteriorating global growth, resulting in a record trade deficit and the largest factory output contraction in eight months in January.
Domestic demand is providing some support to the economy thanks to Japan's relaxation of COVID-19 measures, including a border control easing for international tourists in October, but four-decade-high inflation is undercutting the prospects of a consumption-driven recovery.
In an effort to boost households' purchasing power, the government and the Bank of Japan (BOJ) are urging firms to hike workers' wages at the annual "shunto" spring wage negotiations wrapping up this month.
Major companies are set to deliver the largest pay rise in 26 years, but it will likely include just a 1 per cent increase in base pay, casting doubt on whether Japan can achieve the kind of sustained wage gains the central bank sees as key to stably hitting its 2 per cent inflation target.
The BOJ is set to maintain its ultra-easy policy at the two-day rate review concluding on Friday, the last for governor Haruhiko Kuroda's 10-year tenure.
The government is looking at additional measures to counter inflation, following a $285 billion fiscal package unveiled in October that has subsidised gasoline and utility costs.
But the weak GDP data, and challenges overseas, point to a bumpy road to recovery for Japan, analysts say.
"Japan's October-December ended up as a zero-growth, bashing the hopes for a rebound from the July-September contraction," said Takeshi Minami, chief economist at Norinchukin Research Institute.
"The economy remains in a tough position from April onward with the heightening risk of stalling growth in Europe and North America on relentless monetary tightening."