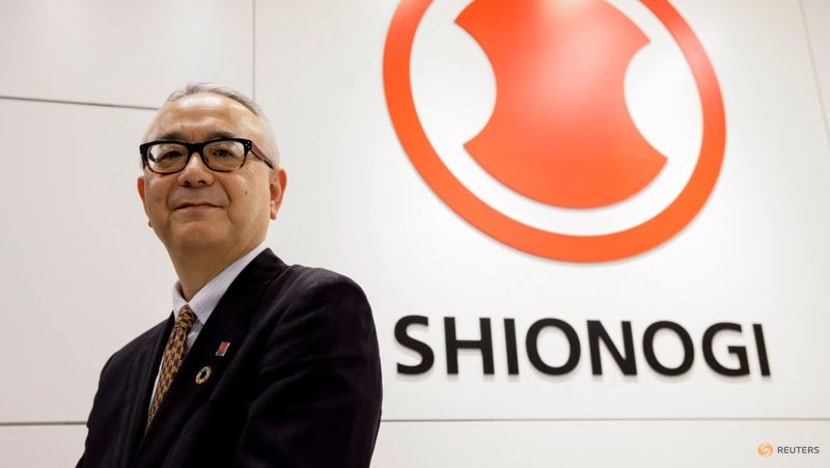 TOKYO: Japan's Shionogi & Co believes its COVID-19 pill will easily garner US$2 billion in annual sales if it secures US approval, which the company expects to receive in late 2024, its chief executive said.
Xocova, a protease inhibitor like the COVID-19 treatments developed by Pfizer and Merck & Co, was granted emergency approval by Japanese regulators in November, making it the nation's first domestically produced oral treatment for COVID-19.
CEO Isao Teshirogi told Reuters that the drug - seen as the biggest of heavy bets by Shionogi on pandemic-related treatments - could be approved in South Korea and China as early as next month.
While Xocova came later to the market than Shionogi initially hoped for after Japanese regulators twice requested more data, the company says interim results of a study suggest taking the pill could lessen a patient's chances of developing long COVID.
"If you kill the virus fast enough and sharp enough, the lower the probability of long COVID. That's our hypothesis, but we need to prove that," Teshirogi said in an interview.
Competing drugs are also under the microscope for their potential to deliver similar outcomes. According to one study by the Veterans Affairs St Louis Health Care System, Pfizer's antiviral drug Paxlovid cuts the risk of developing many long COVID symptoms.
Shionogi sold 2 million courses of Xocova, taken once daily for five days, to the Japanese government last year for 100 billion yen (US$740 million).
Jefferies analyst Stephen Barker estimates, however, that only about 11,000 courses of Xocova are being consumed each month in Japan.
Shionogi is hoping for Xocova sales of around US$1 billion to US$1.5 billion this year.
Teshirogi said he expects US approval of the drug could also come by the winter of 2024, pending a Phase III trial funded in part by the National Institutes of Health.
"I think US$2 billion out of the COVID-19 market is not very difficult," he said, basing his estimate on Pfizer's forecast for more than US$20 billion in COVID-related sales in 2023.
Shionogi, a specialist drugmaker for infectious diseases like HIV and influenza, has ploughed about 80 per cent of its research and development budget on coronavirus treatments in recent years.
A recombinant protein-based COVID-19 vaccine has been submitted for approval in Japan. The shot is being retooled for the Omicron variant and a nasally inhaled version is also in the works.
But nearly all COVID-19 inoculations in Japan have been with mRNA-type vaccines. The government has cancelled orders for tens of millions of shots developed by AstraZeneca Plc and Novavax Inc, clouding prospects for non-mRNA shots like Shionogi's.
The company's heavy investment in COVID-19 projects has led to concern among some analysts that its mainline drug pipeline is stagnating.
"I have no regrets," Teshirogi said, adding that expectations among shareholders and the public had demanded that Shionogi devote its resources to fighting COVID-19.