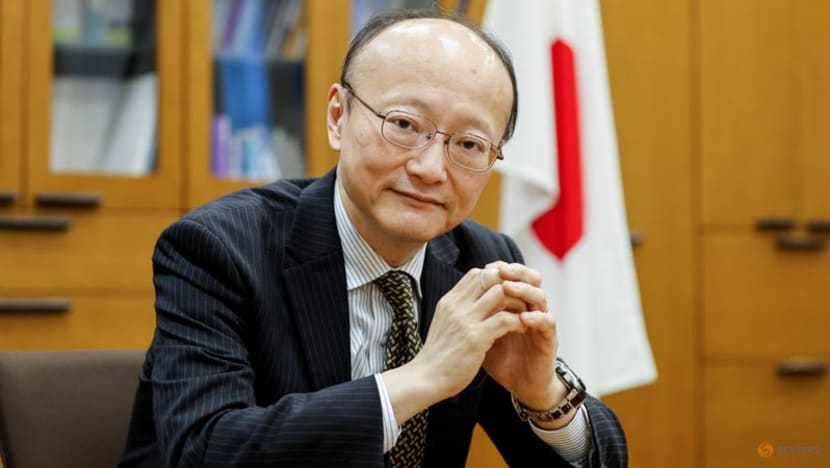 TOKYO: Sharp one-sided currency moves cannot be tolerated, Japan's top finance diplomat Masato Kanda told Reuters, reaffirming Tokyo's determination to intervene in the foreign exchange market to curb any speculative or significant yen moves.
"Sharp, one-sided moves as seen last year are not desirable or cannot be tolerated from the viewpoints of the people's livelihood and corporate activity," Kanda said on Wednesday (Jan 25), referring to Japan's first yen-buying intervention in 24 years last year.
Kanda oversaw Japan's currency intervention conducted last year to prop up the yen after it fell about 30 per cent to 32-year lows near 152 to the dollar. The yen has rebounded since then and it is now trading around 130 to the dollar.
"There's no change to this thinking from now on as well," Kanda, who is vice finance minister for international affairs, said in an interview, when asked whether sharp yen rises warrant action.
Kanda emphasised that the government aims to keep currency moves stable, while the Bank of Japan (BOJ) has independence in guiding monetary policy and focuses on achieving price stability.
"Generally speaking, the BOJ targets price stability, while we aim for currency stability," he said.
"We are communicating firmly with the BOJ as well as other central banks. But policy itself is independent," Kanda said of the central bank's monetary policy.
The BOJ's ultra-loose monetary policy has drawn criticism from some analysts as having triggered an unwelcome yen plunge last year that inflated the cost of raw material imports.
Separately, Tokyo plans to spearhead discussions on ramping up a regional multilateral currency swaps arrangement called Chiang-Mai Initiative Multilateralisation (CMIM), to prepare against future financial crises and natural disasters, Kanda said.