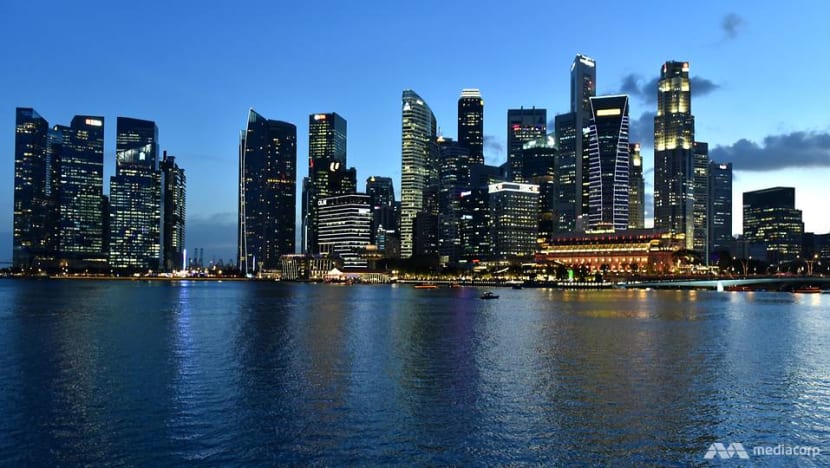 SINGAPORE: Singapore narrowed its annual growth forecast to a range of 0.5 per cent to 1 per cent on Thursday (Nov 21), as official data showed the economy picking up pace slightly in the third quarter.
This marks the third revision in the country's 2019 growth forecast, which was previously penciled in as between 0 to 1 per cent.
The Ministry of Trade and Industry (MTI) also said it expects growth to come in between 0.5 to 2.5 per cent next year. 
For the third quarter, the economy grew 0.5 per cent year on year, slightly higher from the revised 0.2 per cent growth in the previous quarter and an earlier official estimate of 0.1 per cent.
On a quarter-on-quarter seasonally adjusted annualised basis, Singapore's gross domestic product (GDP) expanded by 2.1 per cent during the July to October period. This is a reversal from the previous quarter's 2.7 per cent drop and much more than the Government's advance estimate of 0.6 per cent.
MTI noted that while growth around the world remains weak, there are "signs of stabilisation" in the global economy since its last quarterly report in August.
Growth in the third quarter was supported by the finance and insurance, other services and information and communications sectors, said its permanent secretary Gabriel Lim at a media briefing.
The finance and insurance sector grew 4.3 per cent year on year, extending the 5.1 per cent expansion in the second quarter, largely on the back of robust demand for payment processing services.
The information and communications sector logged 3.4 per cent growth compared to a year ago, coming off from the previous quarter's 4.1 per cent. Growth mainly came from the IT and information services segment on the back of healthy demand for IT solutions.
Year-on-year growth for the "other services industries" was at 2.8 per cent, slightly higher than the 2.7 per cent in the second quarter, with support from the education, health and social services segment.
External-oriented sectors remained weak in the third quarter, though manufacturing performed better than expected despite continued contraction in the electronics cluster, MTI's quarterly report showed.
The manufacturing sector, which makes up about one fifth of the economy, shrank by 1.7 per cent on a year-on-year basis, moderating from the 3.3 per cent decline in the second quarter.
This is due to stronger-than-expected growth in the biomedical manufacturing cluster and the aerospace engineering segment within the transport engineering cluster. 
Taking into account the latest growth numbers, Singapore's economy grew by 0.6 per cent year on year in the first three quarters, Mr Lim said.
For the remaining three months of 2019, MTI expects the manufacturing sector and trade-related services sectors, such as wholesale trade, to remain subdued given the ongoing downswing in the global electronics cycle.
But sectors, such as construction, information and communications, finance and insurance, and education, health and social services, are expected to continue seeing steady growth.
MODEST PICK UP IN GROWTH IN 2020
Giving an outlook for next year, MTI said global growth is projected to see a "modest pick-up" led by an improvement in the growth outlook for emerging market and developing economies.
However, growth in several of Singapore's key final demand markets, such as the United States and China, is expected to ease. 
There also remains lingering uncertainties in the global economy, such as the protracted trade rift between the United States and China.
"Notwithstanding the resumption of trade talks and the announcement of a phase-one deal, US-China trade tensions remain a source of risk," said Mr Lim, adding that the risk of tensions escalating remains given unresolved issues between both countries.
Other uncertainties include a steeper-than-expected slowdown of the Chinese economy and the issue of Brexit.
Ongoing protests in Hong Kong and geopolitical tensions in the Middle East could also lead to financial market volatility and negative spillover effects on the region and Singapore, MTI cautioned.
Given the growth outlook for Singapore's key final demand markets and the projected recovery in the global electronics cycle, MTI said growth in the Singapore economy is expected to "pick up modestly" in 2020, as compared to 2019. 
Asked about next year's growth forecast of 0.5 per cent to 2.5 per cent, Mr Lim described it as a "reasonable forecast" given how a few of the "shocks and unexpected surprises" in the macroeconomy this year will likely persist into 2020, posing potential downside risks. 
However, gradual recovery is to be expected in sectors like manufacturing, he said.
Manufacturing is poised to return to positive growth, led by a gradual recovery in the electronics and precision engineering clusters. This will in turn support growth in related sectors, such as wholesale trade. 
Economic Development Board's assistant managing director Kelvin Wong explained: "The electronics sector is expected to see a gradual pick-up because there's a normalisation of inventory in the electronics supply chain. There is also an expected pick-up in 5G technology and smartphones, which will also help to drive recovery." 
In other parts of the economy, growth in the information and communications, and finance and insurance sectors is expected to remain healthy.
The education, health and social services segment should remain resilient, as operations in healthcare facilities continue to ramp up.
The construction sector is also projected to see sustained growth in the coming year, with more than half of the construction demand coming from the public sector, said MTI economics division director Yong Yik Wei. 
Mr Edward Robinson, deputy managing director of the Monetary Authority of Singapore (MAS), said the central bank's monetary policy stance "remains appropriate". 
Last month, MAS "slightly" reduced the rate of appreciation of the Singapore dollar's policy band, with no change to the width and level at which it is centred.
"We have always remained vigilant in monitoring developments," Mr Robinson told reporters. 
"The next policy review remains as scheduled in April 2020. The monetary stance then will depend on how the economy evolves and our updated assessments of inflation."
Separately on Thursday, Enterprise Singapore cut its 2019 forecast for non-oil domestic exports (NODX) to between -10 per cent and -9.5 per cent, a further downward revision from -9 per cent to -8 per cent range previously.
For the third quarter, NODX contracted by 9.6 per cent from a year ago, after a 14.7 per cent decline in the previous quarter, due to lower shipments of both electronic and non-electronic products. 
For 2020, Enterprise Singapore expects NODX growth of zero to 2.0 per cent.