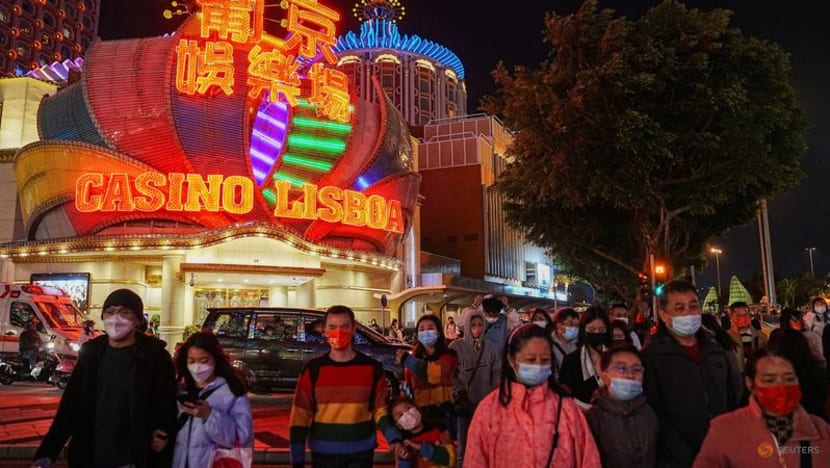 HONG KONG: Chinese tourists are returning to Macao in hordes after Beijing lifted its restrictions on travel to the world's biggest gambling hub, lifting stocks and bonds of casino operators as investors bet on a boom in their revenues.
Hong Kong-listed shares of MGM China, Sands China and Melco International Development have climbed 11.4 per cent, 6.4 per cent and 12.6 per cent so far this year, respectively, outperforming the broader Hong Kong market's 3.25 per cent.  
Gaming revenue accounted for over half of Macao's gross domestic product before the pandemic. Macao gambling revenue surged 82.5 per cent year-on-year to 11.6 billion patacas (US$1.4 billion) in January, after it had nearly half a million visitor arrivals over the week-long Chinese New Year holiday.
The outlook could improve further, analysts said, given the surge of visitors had raised the "table drop" - the money exchanged for chips at each gaming table - back to 2019 levels before COVID-19 hit China.
The award of new 10-year licences to incumbent operators in November also removed a major risk that had concerned investors, said Christy Lee, Asian credit portfolio manager at AXA Investment Managers.
"We have turned positive on the sector around late last year to early 2023," she said. "Their bonds are good for holding for a return."
Some of the beaten down bonds are heading close to their US$1 par value.
Wynn Macau's US$1 billion high-yield bond that pays 5.125 per cent and matures in 2029, had fallen to 52 cents to the dollar in October and is now at 79 cents.
Spreads over comparable US Treasuries have narrowed to 526 basis points (bps) from a record high of 1,127 (bps) in October, reflecting the decline in risk premium.
That compares with a wider spread of 1,352 bps on the ICE BofA Asian dollar high yield corporate China issuers index.
The casino operators' bonds are in demand as investors look for exposure to Chinese junk debt but seek to avoid property developers' bonds. Those bonds account for a large chunk of the high-yield market and the developers' fortunes remain under a cloud after a crackdown by Beijing.
"We do expect some additional spread compression as Macao demonstrates a sustained ability to return to positive and healthy earnings generation amid a revival of visitation," said James Goldstein, a senior analyst at CreditSights.
Among the three US casino groups that operate in Macao, CreditSights has an "outperform" rating on Wynn Macau bonds due to higher yields.
Sands China's 10-year bond, rated at investment grade by Moody's Investors Service and Fitch, trades at a yield of 6.59 per cent, compared with 9.3 per cent on Wynn Macau's bond of the same maturity.