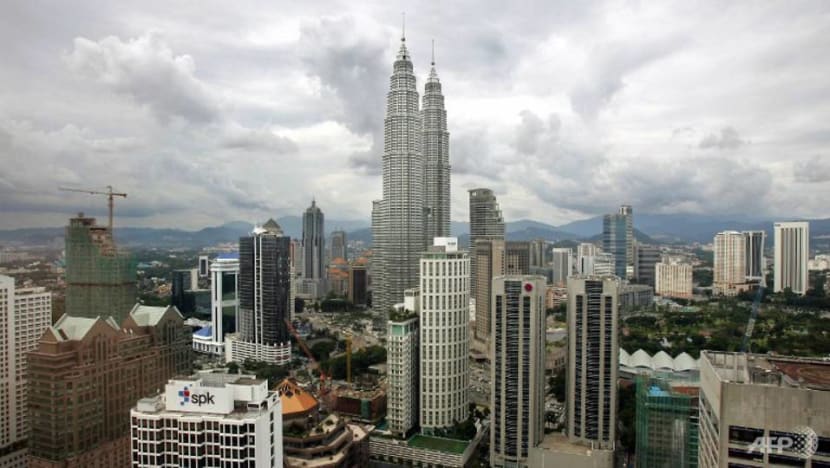 KUALA LUMPUR: Malaysia's economy expanded at a much slower annual pace of 4.5 per cent in the April to June period, hit by commodity production "shocks", leading the central bank to cut its full-year growth forecast for Southeast Asia's third-largest economy.

The rate was well below the 5.2 per cent median forecast in a Reuters poll, but the central bank remains cautiously optimistic about the second half of the year.
The quarter had the slowest growth since October to December 2016.

"Growth in the mining sector contracted due mainly to unplanned supply outages, while the agriculture sector was affected by production constraints and adverse weather conditions," Bank Negara Malaysia said in a statement on Friday (Aug 17). 

The bank brought down its 2018 full year growth projection to 5.0 per cent from the earlier 5.5 to 6.0 per cent range.
Friday's GDP announcement was Governor Nor Shamsiah Mohd Yunus' first since taking over as governor in late June as part of a high-level management shakeup by Prime Minister Mahathir Mohamad, who led his political coalition to a shock general election victory in May.
"The second quarter of 2018 was an eventful quarter," she said at a news conference to announce the GDP figures.
"For some, it will be remembered for the 14th general election, the beginning of a one-off tax holiday and significant improvement in consumer and business sentiments," she said.
IS THE WORST OVER?
Since taking over, Mahathir has pushed to review major infrastructure projects launched by the past administration and cracked down on corruption. He also repealed an unpopular goods and services tax introduced by the previous administration.
"It's a disappointing GDP figure but a lot of that is due to the uncertainty over the elections," said Trinh Nguyen, a senior economist at Natixis Asia Ltd based in Hong Kong.
"I think the worst is over for Malaysia - the Q2 figure can even be taken as a sign of strength as the government is trying to take difficult steps. The message coming out of Malaysia is that the focus is on fiscal consolidation."
Nor Shamsiah said monetary policy will remain "accommodative" and the economy is on a steady growth path this year and in 2019.
She also relaxed some rules introduced in 2016 to support the ringgit currency, thereby allowing greater flexibility for exporters in management of their export proceeds.

Meanwhile, Malaysia's current account surplus narrowed to RM3.9 billion (US$950.76 million) in the second quarter from RM15 billion in the previous three months, the government said.
Portfolio investment saw a net outflow of RM38.3 billion, compared with an outflow of RM2.6 billion ringgit in the first quarter of 2018.