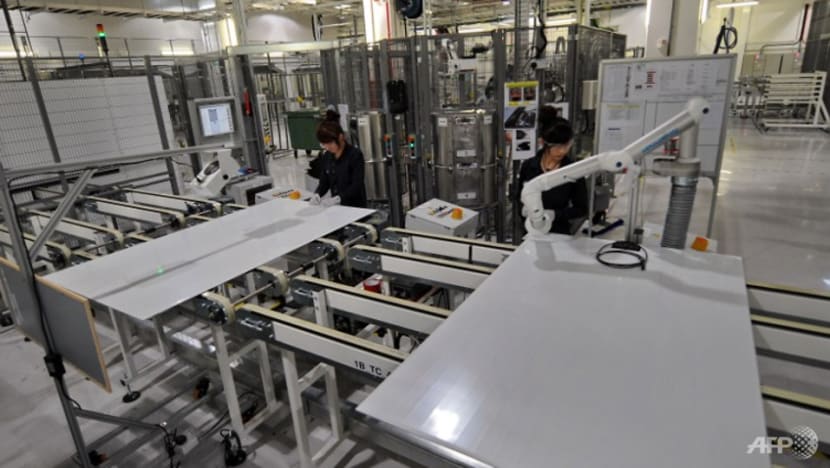 SINGAPORE: Singapore's manufacturing output fell 8 per cent year-on-year in August on the back of sharp falls in electronics and precision engineering output, as the sector continued to reel from trade tensions between China and the United States.
"This is the worst on-year print since December 2015 (-11.9 per cent year-on-year) and also a deterioration from the upwardly revised -0.1 revised year-on-year reading in July," noted Ms Selena Ling, head of treasury research and strategy at OCBC Bank.
"Given that the US-China trade war remains at a stalemate between hope and gloom, partly depending on Trump's tweets, even the prospect of a mini trade deal pending the early October trade talks may not suffice to lift the domestic manufacturing sector for now," she added.
On a seasonally adjusted month-on-month basis, manufacturing output decreased 7.5 per cent, data from the Economic Development Board (EDB) showed on Thursday (Sep 26). Excluding biomedical manufacturing, output fell 12.4 per cent year-on-year.
The significant decline indicates that Singapore is still caught in a "downward swing" in terms of its manufacturing performance, said Dr Tan Khay Boon, senior lecturer at SIM Global Education.
He added that the weak external demand was exacerbated by the trade dispute between US and China, the tension in the Midde East and Brexit.
The electronics cluster saw the largest decline in August, contracting 24.4 per cent year-on-year.
The data storage and infocomms and consumer electronics segments grew 25 per cent and 6.3 per cent respectively, while the rest of the electronic segments recorded a contraction in output. 
Precision engineering output fell 13.6 per cent, with both segments recording lower output. The machinery and systems segment contracted 11.9 per cent with lower output of refrigeration systems and semiconductor equipment, EDB said. 
The precision modules and components segment declined 15.9 per cent on the back of lower production of optical products and metal precision components.
Meanwhile, transport engineering, general manufacturing, chemicals and biomedical manufacturing all registered year-on-year growth.
Biomedical manufacturing output expanded 10.6 per cent in August, with the pharmaceutical segment growing 13.3 per cent with higher production of active pharmaceutical ingredients, while the medical technology segment rose 2.3 per cent on the back of higher export demand for medical devices.
General manufacturing output increased 5.8 per cent in August, with the food, beverages and tobacco segment expanding 10.5 per cent, on account of higher output of milk powder and beverage products.
The miscellaneous industries segment grew 2.6 per cent with higher production of metal tanks and containers as well as wearing apparel. However printing output declined 4.9 per cent.
Chemicals output increased 2.7 per cent year-on-year. The other chemicals segments expanded 19.1 per cent, on account of higher output in fragrances. 
The petrochemicals, specialties and petroleum segments contracted 0.7 per cent, 4.7 per cent and 13 per cent respectively, with the petroleum throughput affected by maintenance shutdowns in some plants. 
Transport engineering output was 0.5 per cent higher in August compared to a year ago.
The land and aerospace segments grew 10.9 per cent and 10.5 per cent respectively, with the latter registering more repair and maintenance jobs from commercial airlines, EDB said.
On the other hand, the marine and offshore engineering segment fell 11.5 per cent, on account of lower levels of offshore and shipbuilding and repairing activities.
The latest manufacturing output figures come as private sector economists and analysts lowered their forecast for Singapore's economic growth in 2019.
The economy is now expected to expand by 0.6 per cent this year, down from an earlier estimate of 2.1 per cent in June, according to the survey report released by the Monetary Authority of Singapore this month.
Analysts said they expect the slump in manufacturing to continue into the fourth quarter, citing weakness in forward-looking indicators such as the Purchasing Managers' Index.
"We had originally forecast manufacturing growth of -1.6 per cent year-on-year in the third quarter, but given that the July-August average is already -3.9 per cent, the September industrial production print will be critical in that it may tip the balance as to whether a technical recession eventually materialises in the third quarter," said Ms Selena Ling, head of Treasury Research and Strategy at OCBC Bank. 
"For now, our view remains that the Singapore economy may still narrowly escape a technical recession, assuming that September manufacturing output does not deteriorate further to a double-digit year-on-year decline."