Labour market for tech professionals 'resilient', says Microsoft CEO Satya Nadella
In an interview with CNA, Microsoft CEO Satya Nadella talks about the recent layoffs in tech, the future of work and how tech can be harnessed for productivity.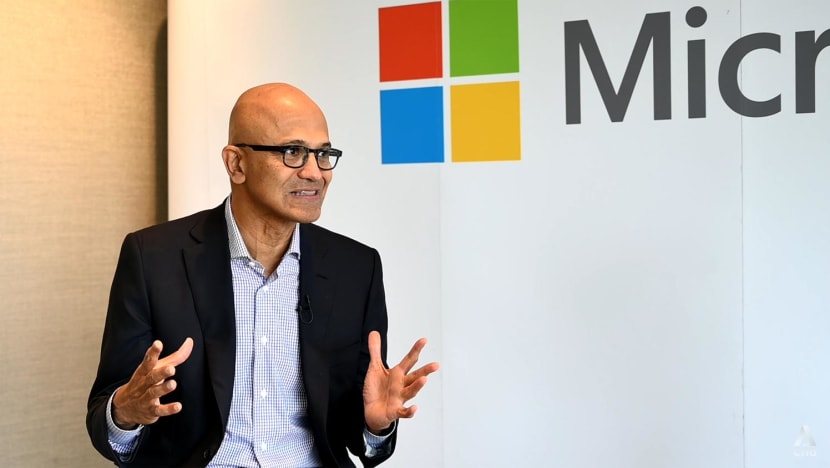 SINGAPORE: Outside the ecosystem of tech companies, demand for software engineers and other tech professionals remains resilient in the eyes of Microsoft CEO Satya Nadella.
In an interview with CNA on Thursday (Nov 17), Mr Nadella said the post-pandemic economy still has the capacity to hire more software engineers despite recent layoffs from tech companies.
"None of us in the tech industry are immune from our own business cycles and demand cycles," said Mr Nadella.
But he pointed to findings from LinkedIn, the Microsoft-owned professional social network, showing that there were more tech jobs outside of the tech industry for software engineers.
"So to some degree, you could say the labour market is going to be resilient, where people are going to be more evenly distributed.
"In fact, I'd say it's healthy," he said. "If we want to be a digital society, it's not just about the tech industry and its fortunes. It's about tech in every industry."
He added that tech companies also have to manage their growth and keep expenses in line, with "good old-fashioned management" being an imperative.
"DO MORE WITH LESS"
Mr Nadella was in Singapore for the Microsoft APAC Innovators Forum, where he delivered a keynote speech about using technology to help companies "do more with less".
With technology and innovation already in the lifeblood of most organisations, Mr Nadella said the next step was harnessing technology to drive growth while staying in line with goals like the energy transition.
"This next era has to be about taking digital technology, which is the most valuable resource that we have, and using it to drive the next level of economic growth and productivity," he said.
"(Technology has) got to bring out efficiencies in everything we do, whether it's a retailer or whether it's an energy company, whether it's an industrial company.
"I think digital technology is an input to drive a more efficient output. It's going to be critical."
He cited the recent announcement of Microsoft's supply chain platform. It equips businesses with systems for decision support, insights, automation and workflow, to manage supply and demand.
PRODUCTIVITY AT WORK
"Work as we know it has been upended, it's structurally changed" after the COVID-19 pandemic, said Mr Nadella, adding that questions about measuring productivity have surfaced.
He said "more data, less dogma" was needed to drive what would be the new way of working going forward.
"Our goal is to build the digital fabric that helps us build new managerial capability to deal with what is going to be a more complicated, but I think a more fruitful way for people to work.
"One of the big issues in hybrid work is: 'How do you keep that connection back to the culture and the company's mission, between frontline and headquarters?'" he said.
"We can use data to drive decisions around who needs to come into work or how is work really getting done or not getting done."
This would help to tackle the "productivity paranoia" experienced in workplaces by managers and employees who feel burnt out, said Mr Nadella.
TECH SPENDING
The use of Microsoft's tools surged during the pandemic, said Mr Nadella, giving the example of Microsoft Teams going from "basically existent to really an at-scale platform".
But Microsoft last month posted its lowest quarterly revenue growth in five years and projected second-quarter revenue below Wall Street targets across its business units.
"Cycles happen everywhere," said Mr Nadella when asked about the slower pace of post-pandemic growth. "But the most interesting thing for me though is if you think about tech spending as a percentage of GDP, it's going to go up.
"I can't imagine a next-generation retailer who is not going to be great at omni-channel, or a next-generation financial company that's not going to think about fintech as core to their business, or a manufacturer who doesn't think about industrial metaverse and digital twins as a core part of how they drive efficiency. So if you buy that, then tech spend as a percentage of GDP goes up.
"But the question in the immediate term though, is to be there for our customers to help them do more with less because right now, every customer is facing the same macroeconomic headwinds," he said.
On Thursday, Microsoft Singapore also announced two new partnerships with the Infocomm Media Development Authority (IMDA) and the Institute of Technical Education (ITE) focusing on sustainability and talent development respectively.
More than 86,000 new jobs in Singapore will be created by Microsoft, its ecosystem of partners and customers in Singapore by 2026, of which more than 50,000 will be skilled IT jobs, the company said.
Addressing the tech talent that Microsoft wants, Mr Nadella said: "Particularly, I want people to join Microsoft not to be cool, but to make others cool. That's kind of my calling card for hiring anybody."
You may also be interested in: