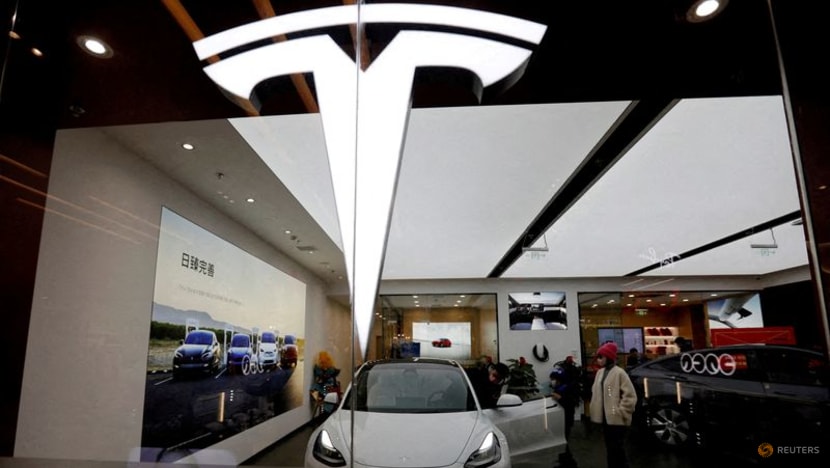 Tesla boss Elon Musk on Wednesday (Apr 19) doubled down on the price war he started at the end of last year, saying the electric vehicle (EV) maker would prioritise sales growth ahead of profit in a weak economy.
The company posted its lowest quarterly gross margin in two years, missing market estimates, and did not disclose another key margin metric to investors as it slashed prices aggressively in markets including the United States and China to spur demand and fend off rising competition.
Shares in the Austin, Texas-based automaker were down 6 per cent in after-hours trading.
"It's better to shift a large number of cars at lower margin and harvest that margin in the future as we perfect autonomy," Musk told analysts on a conference call. He said although the economy remained uncertain, the EV maker's orders exceeded production.
Musk, who had said earlier that he would have liked to achieve 2 million vehicle deliveries this year, declined to reaffirm that on Wednesday but stood by the company's official target of 1.8 million deliveries.
Tesla also did not report automotive gross margin, a figure closely watched by investors, with Musk citing the weak economy as the reason for the lack of disclosure.
Musk had previously said the company could sacrifice its industry-leading margins to drive volume growth during a recession and to keep pace with rising competition in China, where it is facing stiff competition from local favourite BYD Co Ltd.
Car sales growth in China was flat in March, according to the China Passenger Car Association.
"Tesla's worrying China sales figures indicate demand for its vehicles is slowing more than expected in the face of rising competition from local EV companies," said Jesse Cohen, senior analyst at Investing.com.
Tesla said in a statement it still believed its operating margin would remain the highest among big carmakers.
The company reported total gross margin of 19.3 per cent, short of market expectations of 22.4 per cent, according to 14 analysts polled by Refinitiv.
Finance chief Zachary Kirkhorn promised in January that Tesla would not go below an automotive gross margin of 20 per cent and an average selling price (ASP) of US$47,000 across models.
On Wednesday, Tesla said its ASP declined in the first quarter from a year earlier, but it did not elaborate.
The company did say that deliveries of higher-priced Model S and Model X vehicles slumped from the previous quarter.
Analysts say the EV maker may need to slash prices further, pressured by a price war especially in China even as its new factories in Berlin and Texas churn out cars.
"There are companies in Asia, Europe and North America that have the engineering capability to do exactly what Tesla has done," said Craig Irwin, a senior research analyst at investment bank Roth Capital.
"There is nothing that Musk has in the battery world that's not available in China, Japan or South Korea. Some of them will be highly compelling and we probably will see more price cuts (at Tesla) if Musk wants to get close to his growth target for the year," Irwin told CNA's Asia First on Thursday.
"Musk's got some real competition out there ... as far as affordability goes. It's a tricky setup for Tesla. That's why we're bearish."
Tesla in the first quarter reported record inventory of US$14.38 billion, up from US$6.69 billion a year earlier.
It burned US$154 million in cash during the quarter, and would have consumed more but for a US$1.6 billion gain attributed to "proceeds from maturities of investments".
NEW MODELS
Musk in 2020 announced plans to produce a new battery cell to halve the cost of the most expensive part of an EV, but admitted at Tesla's investor day last month that the company was still struggling to ramp up production for those cells.
Musk is looking to lower battery costs to deliver on his promise of making a car priced at US$25,000, and fans have long hankered for Tesla to refresh its aging model line-up.
"Our experts say Tesla is over-reliant on its Model 3 and Model Y for growth ... investors are keen to see new product launches soon," said Orwa Mohamad, analyst at Third Bridge. "In particular, they need a full-size SUV to replace the Model X and a smaller, cheaper Model 3 to drive volume."
In January, Musk said Tesla expected to start production of Cybertruck this summer, but that volume production would not occur until next year.
Musk said on Wednesday's call that he expected a delivery event for Cybertruck in the third quarter.
Tesla reiterated that it expected to achieve deliveries of around 1.8 million vehicles this year.
Tesla's net profit fell by nearly a quarter to $2.51 billion from a year earlier, hurt by higher raw-materials, logistics and warranty costs as well as the production ramp-up of its 4680 battery cells.
Income adjusted for one-time items and revenue was in line with estimates from Refinitiv.