New initiative with workshops, link-ups with technology firms to help manufacturers transform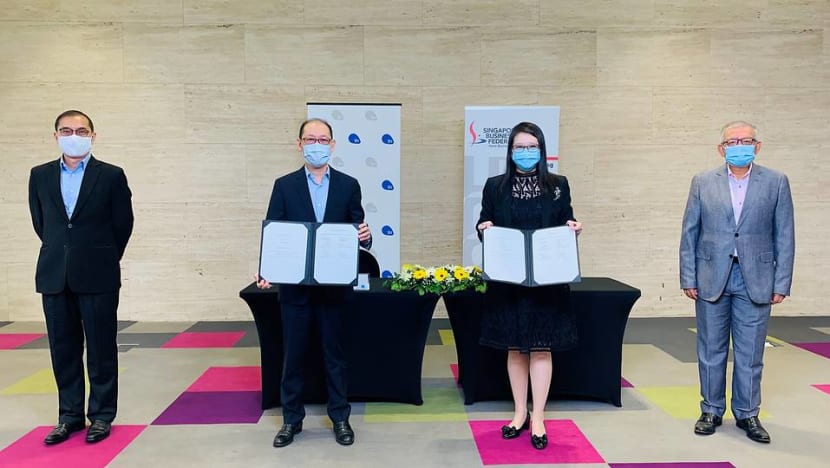 SINGAPORE: Manufacturers in Singapore, especially small and medium-sized enterprises (SMEs), will get more help in adopting digital technologies under a memorandum of understanding (MOU) signed between JTC and the Singapore Business Federation (SBF) on Wednesday (Oct 21).
The new JTC-SBF Industry Transformation Initiative is expected to support more than 300 companies in kickstarting or accelerating their transformation journey in Industry 4.0, or otherwise known as the Fourth Industrial Revolution, in the next two years by providing them with access to relevant resources.
These include curated training workshops and capability building initiatives that are tailored to a company's level of digital readiness.
Companies will also be linked up with a larger pool of technology partners, such as Siemens, Bosch Rexroth, Konica Minolta, as well as Singapore Precision Engineering & Technology Association and its consortiums, for "solution matching".

This will help companies develop the expertise to implement and scale Industry 4.0 solutions in their operations, JTC and SBF said in a joint announcement made at the Industrial Transformation Asia-Pacific (ITAP) 2020 trade show.

"(Companies) will gain access to successful case studies and embark on learning journeys at Factories of the Future, giving them greater exposure to Industry 4.0 solutions in real production facilities," the news release added.
"This will further encourage companies to transform and remain competitive amidst the pandemic."
"KEY PILLAR"
Speaking at the MOU signing, Trade and Industry Minister Chan Chun Sing described manufacturing as a "key pillar" of the Singapore economy that has remained resilient amid the pandemic-induced recession, thanks to "bright spots" such as electronics, precision engineering and biomedical manufacturing.
In the first half of the year, the sector accounted for more than 22 per cent of Singapore's nominal gross domestic product. 
With the rise of new technology in Industry 4.0, manufacturing is evolving rapidly by becoming more automated, data-driven and environmentally sustainable.

He said: "For our manufacturing sector to remain globally competitive and continue creating quality jobs, businesses must be able to integrate these technologies into their innovation and production processes. 
"Those that have been able to do so can have greater visibility and control over their operations, allowing them to respond more nimbly to any changes."

Mr Chan noted ongoing efforts to develop the sector, such as the development of the Jurong Innovation District and the launch of the Industry Connect initiative earlier this year.

The former is an advanced manufacturing hub developed by JTC, while the latter helps businesses across JTC's estates to raise their game through technology adoption and in areas such as talent development.
To date, more than 1,000 businesses in JTC's estates have been engaged through the various industry outreach initiatives, with around 200 of them embarking on Industry 4.0 transformations, said the minister. 
With leading players in the business community also sharing relevant technologies and experience, this has helped to create many opportunities for local businesses and their workers, he added.

3D-PRINTED BONE IMPLANTS
For instance, Osteopore – a local SME that manufactures 3D-printed bone regenerating implants – managed to redesign its workflow to improve productivity after being introduced by JTC to a programme by consulting firm McKinsey.
As a result, the medical technology company was able to double its output despite operating at half of its manpower strength during the "circuit breaker" period.
Encouraged by the results, Osteopore plans to further automate its production process to allow 24/7 operations by early next year.
It also continues to hire and train new workers of all ages to perform higher value-add roles, including a 56-year-old former hairdresser who has successfully upskilled and now operates 3D printers, said Mr Chan.
He also said that supporting enterprises in their transformation efforts is not the role of the Government alone, and that industry partners such as trade associations play a critical role.

The latest initiative announced on Wednesday will allow JTC and SBF's combined network of companies to "more easily access relevant Industry 4.0 resources".

Mr Chan added: "By working together, I am confident that the manufacturing sector can emerge stronger and harness new opportunities in Singapore and beyond."
SBF CEO Ho Meng Kit said the economic disruptions of the COVID-19 pandemic have "led to an accelerated need for a better understanding and adoption of Industry 4.0 to help local enterprises emerge stronger from the pandemic".

"With the present downturn expected to be protracted, we hope that through this JTC-SBF partnership, we can further encourage more companies to take a holistic view at how Industry 4.0 solutions can help their businesses transform and thrive in the future economy."

JTC CEO Tan Boon Khai said: "SBF is an instrumental partner to drive the next phase of Industry 4.0 transformation by companies. With our large base of customers, strong network of partners, and robust advanced manufacturing ecosystem in Jurong Innovation District, more companies can become the forerunner in Industry 4.0."

Download our app or subscribe to our Telegram channel for the latest updates on the coronavirus outbreak: https://cna.asia/telegram