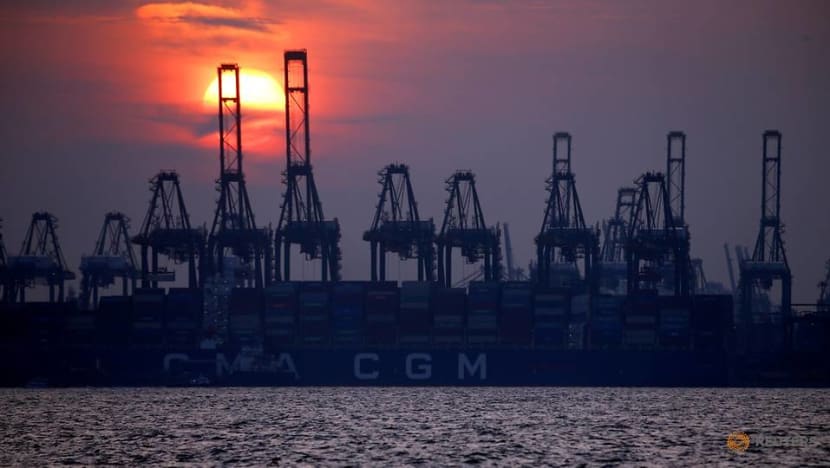 SINGAPORE: Singapore's exports fell more than expected in June, marking their biggest decline in six years, as it struggles against tepid global demand and the Sino-US trade war.
The grim trade numbers add to a slew of weak economic data and reinforce economists' expectations that the central bank could ease monetary policy at its October meeting.

Non-oil domestic exports (NODX) fell 17.3 per cent in June, marking the fourth straight month of year-on-year decline, data from trade agency Enterprise Singapore showed on Wednesday (Jul 17).
This was worse than the 9.9 per cent contraction predicted by 10 economists in a Reuters poll, and the biggest decline since February 2013 when exports fell 33.2 per cent from the year before, Refinitiv Eikon data show.

"It's everything bad coming together. You have a global economic slowdown, a trade war and a Chinese slowdown," said OCBC economist Selena Ling.

On a month-on-month seasonally adjusted basis, exports contracted 7.6 per cent, after growing a revised 5.8 per cent in May. The poll called for a 3.9 per cent contraction from the month before.
"The outlook (for Singapore's economy) is definitely more pessimistic now," said Maybank Kim Eng economist Lee Ju Ye.

Electronic exports slumped 31.9 per cent in June, following a similar 31.6 per cent decline in the previous month.
Integrated circuits, PCs and disk media products contracted by 33 per cent, 44.6 per cent and 41.7 per cent respectively, contributing the most to the decline in electronic shipments.
Non-electronic exports declined by 12.4 per cent, following the 11.1 per cent decline in the previous month.
Non-monetary gold (-50.2 per cent), petrochemicals (-16.7 per cent) and pharmaceuticals (-11.3 per cent) contributed the most to the decline in non-electronic shipments.
Overall, exports to the majority of Singapore's top markets, including China and Europe, fell sharply during the month, although those to the United States posted a small rise.

The largest contributors to the decline were Hong Kong (-38.2 per cent), China (-15.8 per cent) and the EU 28 (-22.1 per cent).
June's export figures come in the wake of the latest GDP data which came in well below economist estimates.
Singapore's economy grew just 0.1 per cent in the second quarter, its slowest annual pace in a decade, according to official estimates released last Friday.
The latest growth number reflects heightened uncertainties and risks in the global economy, especially with US-China trade tensions, said Deputy Prime Minister Heng Swee Keat after the GDP data was released.
However he said the Government was not expecting a full-year recession for the Singapore economy, pointing to areas of strength such as the information and communications and construction sectors.
On Tuesday, the International Monetary Fund trimmed its 2019 economic growth forecast for the country to 2 per cent from 2.3 per cent, citing global trade tensions.
Singapore's central bank forecasts growth this year to be between 1.5 per cent and 2.5 per cent, down from 3.2 per cent in 2018.
OCBC's Ms Ling said the outlook for Singapore's economy is bleak and she has cut her growth forecast three times this year.
"It doesn't look like there's light at the end of the tunnel yet," she added.
Source: CNA/agencies/nc(rw)/jt