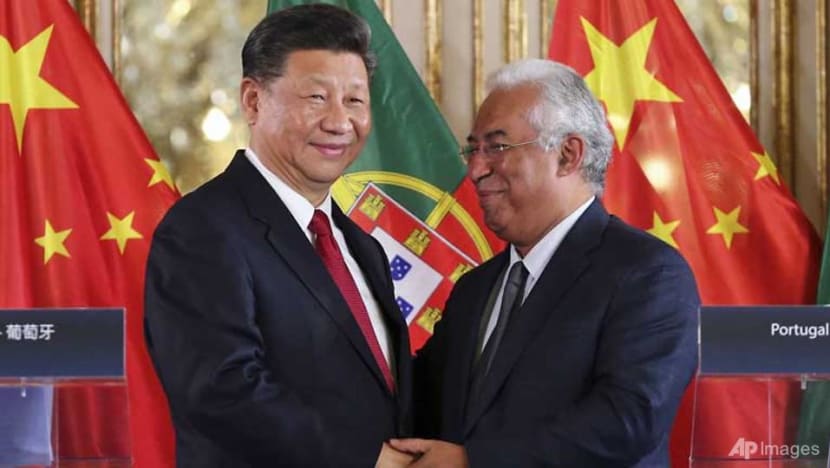 LISBON: Portugal's government on Wednesday (Dec 5) said it would cooperate with China in the hope of creating "new Silk Roads" of trade without necessarily becoming an extension of Beijing's "Belt and Road" initiative.
Lisbon and Beijing used a two-day state visit by Chinese President Xi Jinping to ink 17 bilateral cooperation memoranda of understanding, including one relating to China's ensemble of investment in infrastructure designed to link Asia, Africa and Europe.
"We are going to pursue (the initiative) in a spirit of openness and mutual gain to create further synergies between our development strategies and underpin the construction of new silk roads," Xi told a news conference.
The Portuguese government welcomed the move on deepening in "a vast range of sectors."
In contrast with Britain, where largest mobile provider BT said on Wednesday it was shutting out equipment from China's telecoms giant Huawei ahead of the rollout of next-generation 5G internet networks owing to security concerns, Portugal said its door remained open.
Telecoms operator MEO, subsidy of France's Altice, revealed it has agreed to cooperate with Huawei in order to "accelerate the development of the 5G network in Portugal."
Portuguese Prime Minister Antonio Costa recently announced his intention of giving the green light to a plan for integrating Portugal's southwestern deepwater port of Sines into the "new silk roads" roadmap.
Costa on Wednesday simply underlined "the importance of Portugal's strategic role in linking silk roads with the ensemble of connections between Europe and Asia."
Several EU countries, including Greece and several eastern European states, have rushed to embrace the silk roads idea and the investment it promises - but others are wary of growing Chinese influence on the continent.
Portugal and neighbouring Spain, which Xi visited last week, are both moderately enthusiastic in their backing for China's multibillion ambition.
Madrid notably said ahead of Xi's visit it not sign on to the One Belt, One Road initiative but preferred to work within the framework of an existing "connectivity initiative" with Asia, which Madrid feels Europeans should work within.
That initiative entails EU states developing their own infrastructure network to link the continent with Asia while seeking "synergies" between the European and the Chinese projects.
Hard hit by the post-2008 economic crisis, Portugal has since received some US$8 billion in Chinese investment, notably in energy, banking and insurance, notably outstripping neighbouring Spain which received around US$6 billion, according to data compiled by the American Enterprise Institute (AEI).
China has invested around US$1.9 trillion since 2005 in global investment and construction projects, according to AEI data.