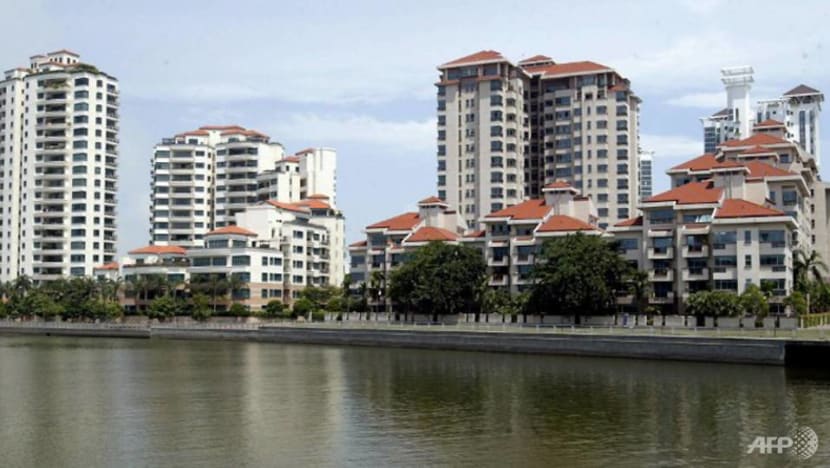 SINGAPORE: Private home prices in Singapore bounced to a five-year high in the second quarter after slipping in the prior two quarters in the face of property curbs, underlining the resilience of the country's real estate sector widely seen as a safe haven.
The private residential property index increased 1.3 per cent to 150.5 points in the second quarter, from 148.6 points in the first quarter, according to flash estimates from the Urban Redevelopment Authority (URA). The index was at its highest since the first quarter of 2014.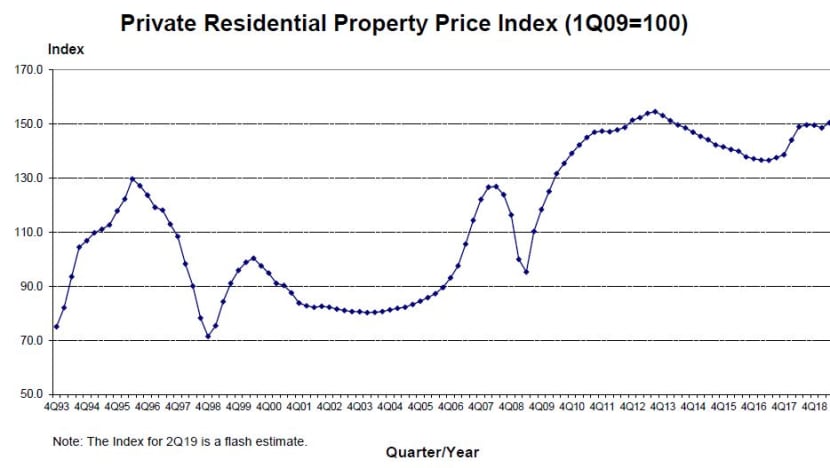 Private home prices had fallen 0.7 per cent in the first quarter, a second consecutive fall, following a 0.1 per cent decrease in the October to December period.

Prices for non-landed private homes saw increases across all regions.
In the Core Central Region (CCR), prices of non-landed private homes increased by 1.5 per cent compared to the 3 per cent decrease in the previous quarter.
Prices in the Rest of Central Region (RCR) increased by 3 per cent after registering a decrease of 0.7 per cent in the previous quarter, while prices in the Outside Central Region (OCR) increased by 0.5 per cent following a 0.2 per cent increase in the previous quarter.
In the landed property market, prices rose 0.2 per cent compared to the 1.1 per cent rise in the previous quarter.
The flash estimates are compiled based on transaction prices given in contracts submitted for stamp duty payment and data on units sold by developers up until mid-June. 
The statistics will be updated on Jul 26 when URA releases its full set of real estate statistics for the second quarter of the year.
DEMAND FOR PROPERTY "RESILIENT": ANALYST
"Underlying demand is still very resilient despite the cooling measures," said Ms Christine Li, head of Singapore and Southeast Asia research at Cushman and Wakefield.
Ms Li said the rebound in prices showed that investors remain positive on the long-term prospects of the residential market in Singapore, an international financial hub, despite the uncertainty caused by the US-China trade tensions.
Demand could also have been boosted by owners looking for replacement homes after selling their apartments to property companies for redevelopment.
Moreover, Ms Li said developers paid large premiums to acquire land in the previous two years, giving them less flexibility to lower prices.
The upturn for the second quarter was mainly due to higher value transactions of non-landed homes in the Core Central Region and Rest of Central Region, said Mr Ong Teck Hui, a senior director of research and consultancy at JLL.
"The key observation from the 2Q19 flash estimates is the firm demand for new high-end homes in CCR as well as attractive locations in RCR in spite of the cooling measures, which do not seem to deter buyers who are keen on such properties," he said.
"This should augur well for potential launches with such attributes as there is a fair chance of them achieving better sales take-up."
He cited high value launches such as Amber Park, Sky Everton and Riviere in the Rest of Central Region as well as Boulevard 88, 3 Cuscaden and South Beach Residences in the Core Central Region.
The Singapore government intensified property curbs last July, after a 9.1 per cent annual increase in home prices and as developers paid record amounts to buy land.
When asked last week about possible changes to housing market policies, Singapore's central bank managing director Ravi Menon said he did not see "a need to shift gears significantly" since existing policies were showing signs of tempering market enthusiasm without risking a sell-off. 
Source: Reuters/cna/nc(cy)