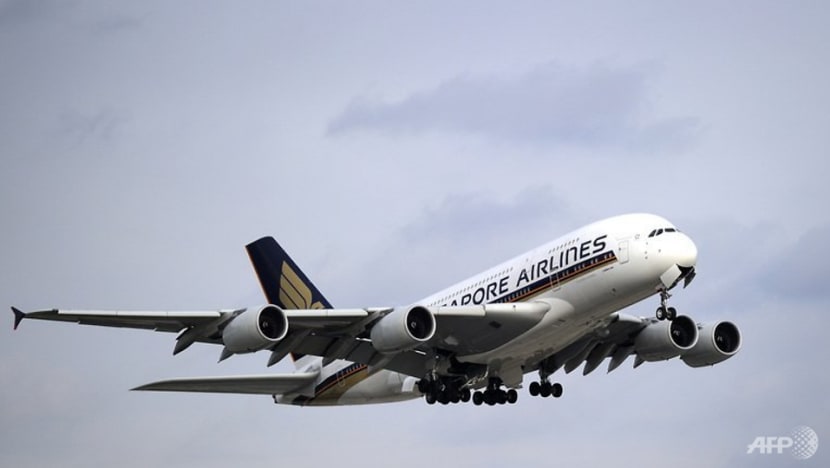 SINGAPORE: Four Airbus A380 planes from the Singapore Airlines (SIA) fleet "will require inspections", the airline said on Tuesday (Jul 9) in response to CNA's queries.
This comes after the European Union Aviation Safety Agency (EASA) proposed on Jul 5 to issue an airworthiness directive (AD) regarding reports of cracks found in a part of the wings of Airbus A380 planes manufactured between 2004 and 2006.
Airbus confirmed that small cracks have been found on the outer rear wing spars of early production A380 aircraft.
"We have identified the issue and designed an inspection and repair scheme," Airbus said in a statement, adding that the ongoing airworthiness of the A380 fleet was not affected.
Spars are the main components of the wing's internal structure and perform the function of supporting loads and parts of the plane that include the engine and fuselage.
According to EASA, if not detected and corrected, the cracks "could reduce the structural integrity of the wing". 
SIA said it was aware of the proposed airworthiness directive from EASA regarding the wing cracks.
"Four of our A380s will require inspections. The safety of our customers and crew is of utmost priority, and we will ensure that we are in full compliance with the inspection requirements," an SIA spokesperson added.
There are four SIA planes listed in EASA's airworthiness directive, with the following registration numbers: 9V-SKF, 9V-SKG, 9V-SKH and 9V-SKI.
This report had initially reported that six of the listed aircraft in EASA's directive belonged to SIA, citing website Plane Spotters, but the airline later clarified that two of the planes are no longer in its fleet.
Flight tracking websites showed that at least three of the planes were flown on Tuesday. 
The plane with the registration number 9V-SKG departed London's Heathrow on Monday and landed in Changi Airport as flight SQ305 on Tuesday morning, according to data on Flightradar24.
A plane registered as 9V-SKH was en route to Frankfurt Airport from New York's JFK on Tuesday afternoon as flight SQ25. It was due to leave Frankfurt for Singapore later in the day.
Another plane, 9V-SKI, was in the air on Tuesday afternoon, operating flight SQ26 from Frankfurt to New York's JFK.
According to Plane Finder, the aircraft bearing the registration number 9V-SKF was used to operate flight SQ25 from New York's JFK to Changi Airport on Jun 20. 
A total of 25 A380s are subject to this proposed directive. Other airlines which reportedly operate the aircraft in question include Air France, Lufthansa, Emirates and Qantas. 
EASA said the affected areas on the planes need to be inspected using "ultrasonic testing methods". 
The repairs, which must be carried out within 15 years of the initial wing box assembly, can be carried out during scheduled heavy maintenance visits, the Airbus spokesman said.
It is not the first time that the A380, the world's biggest passenger aircraft, has experienced such problems.
A wing-crack debacle in 2012 cost Airbus millions of euros in repair and service costs.
In an emailed statement, Airbus said that "airworthiness directives are standard in aviation and demonstrate the regulatory process working well. Aviation is one of the most regulated of any sectors. Safety is the top priority in aviation".
Airbus announced in February that it would stop building the A380, a double-decker jet which earned plaudits from passengers but failed to win over enough airlines to justify its massive costs.
US planemaker Boeing is still reeling from the grounding of its 737 MAX whose automatic flight handling software was seen as a factor in two crashes involving Ethiopian Airlines and Indonesia's Lion Air.
CNA has also contacted Emirates for a response on the proposed directive. 
Source: CNA/afp/hs/aa(mn/hm)