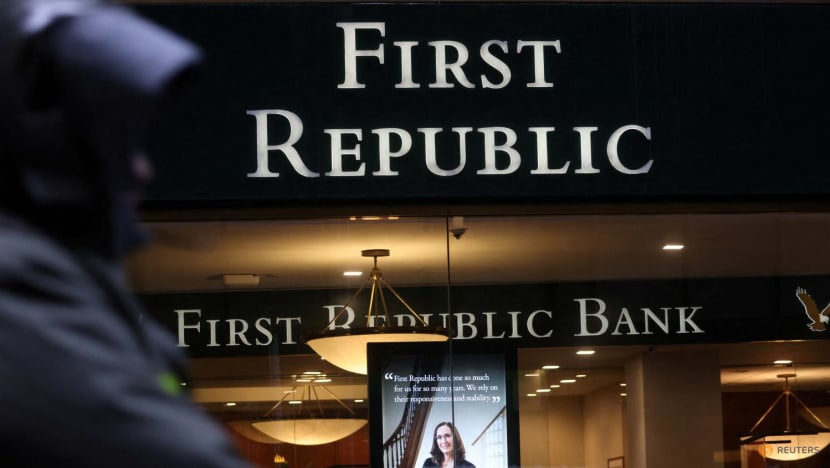 WASHINGTON: The White House is carefully monitoring developments at First Republic and other smaller banks after actions to protect depositors following the collapse of Silicon Valley Bank (SVB) last week, an official said on Tuesday (Mar 14).
Asked if there was still a danger of runs on other regional banks, the official said that the United States banking system was in "a vastly better position right now" than if the actions had not been taken, and depositors should have confidence their funds would be protected.
"We're dedicating a lot of time to making sure that we're navigating through this okay," said the official, adding that the White House was in close touch with the Treasury and the Federal Deposit Insurance Corporation about potential problems at other banks that were about the same size as SVB.
SVB's shutdown last Friday - followed two days later by the collapse of New York-based Signature Bank - has roiled global markets and forced US President Joe Biden to rush out assurances that the financial system is safe and prompted emergency US measures giving banks access to more funding.
"We're certainly monitoring what's going on at First Republic. They're one of the banks that has been under a little more stress, but we have no announcements at this time about any actions that we're taking," the official said.
The White House, which has railed against excessive concentration in other US sectors, is also keeping close watch to see if there are outflows of money to larger banks, and remains committed to ensuring robust competition in the banking sector, the official said.
US consumers have rushed to move deposits to banking giants, including JPMorgan Chase & Co, Bank of America and Citigroup since the collapse of SVB, Reuters reported on Tuesday, citing sources familiar with the matter.
The transfers, which one source said reached billions of dollars, came as investors fretted over the financial health of smaller regional lenders even after Biden's comments on Monday.
"The president has a robust competition agenda. We want there to be a thriving banking sector with lots of smaller banks, lots of community banks that can get in there and compete with the big guys," the official said.
"It's important to us that business model can survive."
The official said it was also possible that people that had moved funds to larger institutions would return to their smaller banks once they realised the system was functioning well.
The official said it was good to see that the market had calmed somewhat, but said government actions had been taken to protect depositors, consumers and small businesses, not investors.