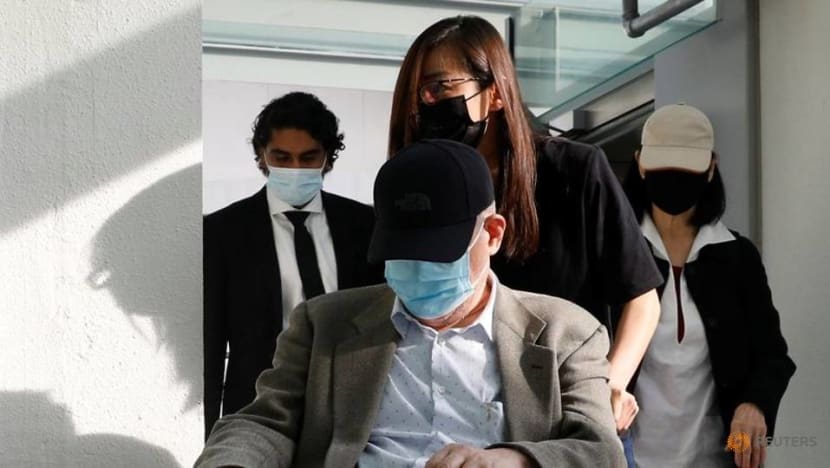 SINGAPORE: Another 105 charges were filed on Thursday (Jun 24) against Lim Oon Kuin, the founder of collapsed oil trading firm Hin Leong Trading. 
The new charges are on top of 25 forgery-related charges filed against the 79-year-old, who is better known as OK Lim, last year and in April this year. 
Lim now faces a total of 130 charges, including 68 for cheating, 47 for abetment of forgery, 14 for abetment for forgery for the purpose of cheating and one for abetment of forgery of a valuable security, the Singapore Police Force (SPF) said in a news release. 
Lim's bail amount has been raised to S$4 million, up from S$3 million, as the new charges against him "involve more financial institutions, larger sums disbursed and large sums outstanding," SPF said. 
Hin Leong, one of Asia's largest oil traders, was placed under so-called judicial management in April last year after banks demanded repayment of loans as oil prices crashed amid the coronavirus pandemic - a collapse that revealed earlier financial troubles.
An affidavit signed by Lim cited the dramatic collapse in global oil prices – brought about by the COVID-19 outbreak and a price war among the oil majors - and a lack of hedging policies among factors behind the company's financial distress.

The affidavit, which said Lim was resigning immediately as director of the family-held company, did not specify over how many years the losses were incurred.

Hin Leong, which means "prosperity" in Chinese, is now struggling to repay debts of US$3.85 billion.
The troubles at the firm are said to affect 23 banks, with HSBC reportedly having the biggest exposure at about US$600 million, followed by ABN Amro at US$300 million.
Of the new charges filed on Thursday, 35 relate to Lim "allegedly deceiving eight financial institutions into providing accounts receivable financing ... to Hin Leong on the basis that Hin Leong had loaded oil onto particular vessels pursuant to contracts for the sale of oil by Hin Leong to BP Singapore and Unipec Singapore," SPF said. 
The financial institutions disbursed about US$1.2 billion, S$55 million of which remains outstanding from Hin Leong to one financial institution, the police added. 
Another 33 charges involve nine financial institutions which Lim is accused of deceiving into providing letters of credit and making payment of about US$1 billion to Hin Leong. 
About US$180 million remains outstanding from Hin Leong to four of these financial institutions, according to the police. 
Lim is also accused of conspiring with an employee to forge a valuable security by falsifying a bill of lading, which stated that 501,350.875 US Barrels of Gasoil had been loaded onto the MT Chang Bai San on Mar 13, 2020 when no such thing had occurred. 
He also faces 36 charges for conspiring with an employee to forge 37 Certificates of Quality to fool BP Singapore into believing that independent testing had been carried out to certify the quality of oil that was allegedly sold to them by Hin Leong.

The oil trader, set up in 1973 and owned by Lim and his children Evan Lim and Lim Huey Ching, failed in a year-long effort to restructure debt of about US$3.5 billion.

A Singapore court in May approved a freeze on up to US$3.5 billion of Lim family assets, boosting the prospect of debt recovery from the former oil trading empire that counts some of the world's biggest banks among its creditors.

Source: CNA/reuters/ta/vc(rw)