Singapore's key exports fall 9.8% in April, steeper than forecast
This is the seventh straight month of year-on-year contraction in Singapore's non-oil domestic exports.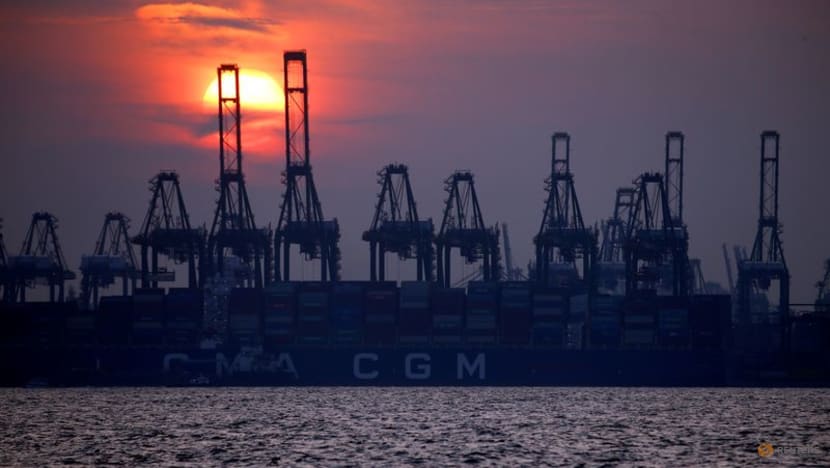 SINGAPORE: Singapore's key exports fell for the seventh consecutive month in April, weighed down by declines in both electronic and non-electronic products.
Non-oil domestic exports (NODX) fell 9.8 per cent in April from the same month a year earlier, data from Enterprise Singapore showed on Wednesday (May 17), extending the 8.3 per cent contraction in March.
The latest figure is worse than a Reuters poll forecast of a 9.4 per cent drop.
April's slump was led by a 23.3 per cent fall in electronic shipments following the 22.3 per cent decline in March.
Integrated circuits, personal computers and disk media products contributed the most to the decline, falling by 21.1 per cent, 50.3 per cent and 41.6 per cent respectively.
Non-electronic exports meanwhile dipped 5.8 per cent following the 4.7 per cent decrease in March.
The biggest declines were in primary chemicals, petrochemicals and food preparations - falling by 57.7 per cent, 32.8 per cent and 27 per cent respectively.
On a month-on-month seasonally adjusted basis, NODX rose 2.7 per cent in April, following March's 18.4 per cent growth. This was higher than analysts' predictions for a 3 per cent decline.
OCBC economist Selena Ling said trade was still showing weak momentum.
"The anticipated recovery for electronics in the second half of 2023 still looks elusive. In fact, the deep year-on-year contraction in integrated circuits, PCs, disk media et cetera, implies that demand conditions may still be searching for a trough. Even the pharmaceutical export surge is insufficient to offset the electronics slump," said Ms Ling.
NODX to Singapore's top 10 markets in April declined as a whole though exports to the US, the EU 27 and South Korea rose.
Exports to China fell 20.9 per cent on lower shipments of petrochemicals, pharmaceuticals and integrated circuits, while exports to Malaysia declined 35 per cent after drops in shipments of integrated circuits, primary chemicals and specialised machinery.
On a year-on-year basis, total trade declined by 18.8 per cent, following an 8.6 per cent decrease in March.
Both exports and imports fell, by 18.1 per cent and 19.5 per cent respectively.