Singapore economy expands 0.7% in 2019, slowest in a decade
This marks Singapore's slowest full-year growth since 2009, according to Bloomberg data.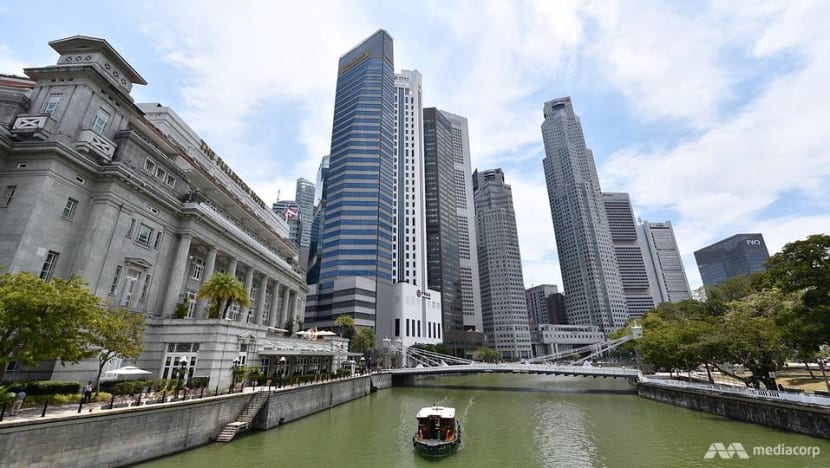 SINGAPORE: The Singapore economy expanded by 0.7 per cent last year, down from 2018's 3.1 per cent and its slowest in a decade, even as official flash estimates on Thursday (Jan 2) showed growth picking up pace slightly in the fourth quarter.
This is Singapore's slowest full-year growth since 2009, according to Bloomberg data.
For the last three months of 2019, gross domestic product (GDP) expanded by 0.8 per cent from the same period a year ago, a nudge up from the revised 0.7 per cent growth in the third quarter, the Ministry of Trade and Industry (MTI) said.
The fourth-quarter flash estimate, which is computed largely from data gathered in the first two months of the quarter, was in line with a Reuters forecast.
On a quarter-on-quarter seasonally adjusted annualised basis, the economy grew at a slower pace of 0.1 per cent. This is way below the 2.4 per cent expansion in the previous quarter and below economists' expectations of 0.4 per cent.
Manufacturing remained in the doldrums with its fourth consecutive quarter of contraction. The sector, which makes up about a fifth of Singapore's economy, shrank by 2.1 per cent on a year-on-year basis in the fourth quarter, widening from the third quarter's 0.9 per cent decline.
This was due to output declines in the electronics, chemicals and transport engineering clusters, which more than offset expansions in the other clusters such as precision engineering and biomedical manufacturing, MTI said in its press release.
Growth in other parts of the Singapore economy held up.
The services producing industries expanded by 1.4 per cent from a year ago, with support from the finance and insurance sector, the other services industries and the business services sector. This is quicker than the 0.9 per cent growth in the third quarter.
On the back of public sector construction activities, construction grew 2.1 per cent on a year-on-year basis in the fourth quarter, slightly slower than the 2.4 per cent expansion in the previous three months.
WEAK 2019, CAUTIOUS 2020
Singapore's export-oriented economy hit the brakes in 2019 amid a drawn-out trade war between the US and China as well as a cyclical downturn in the electronics sector.
Policymakers revised their full-year economic growth forecast three times and the flash estimate released on Thursday comes in within the forecast range of 0.5 to 1 per cent.
"This latest advance GDP growth release confirms that the Singapore economy bottomed in the second quarter of 2019," said OCBC's head of treasury research and strategy Selena Ling.
Growth in 2020 will largely hinge on the developments of global uncertainties, she said, but "stars are aligning towards a more supportive recovery story". 
The US and China are set to sign the first phase of a trade deal on Jan 15, and China is mulling more policy accommodation to support its growth.
"Our 2020 GDP growth forecast remains at 1 to 2 per cent year-on-year, assuming that the manufacturing recovery remains in 'fits and starts' pattern but with the services and construction sectors continuing to tread a firmer growth trajectory," added Ms Ling.
Barclays economist Brian Tan is expecting Singapore's GDP growth to "increase only modestly" by 0.9 per cent in 2020.
This would be closer to the lower end of the government's full-year growth forecast range of 0.5 to 2.5 per cent, and imply "only a slight improvement" that could still disappoint official expectations for a modest pick-up, he added.
"Our caution on the growth outlook stems from a continued divergence between the exports and production of electronics, which remained sizeable as of November 2019," wrote Mr Tan in a note. 
ALL EYES ON BUDGET 2020
Economists are also eyeing the upcoming Budget 2020, which will be delivered by Deputy Prime Minister and Finance Minister Heng Swee Keat on Feb 18. 
Describing the Budget as the "next milestone" to watch, Ms Ling said a more expansionary fiscal budget this year is likely to do the heavy-lifting needed for the economy in the interim, following the policy easing by the Monetary Authority of Singapore last October.
Then, the central bank "slightly" reduced the rate of appreciation of the Singapore dollar's policy band, with no change to the width and level at which it is centred. 
Standard Chartered economist Jonathan Koh similarly expects a "supportive" budget given the surplus accumulated thus far in this term of government. 
"We think that there's going to be fiscal stimulus. Fiscal spending will be a key growth driver for Singapore ahead," he said.
In his New Year message, Prime Minister Lee Hsien Loong said Singapore has been affected by the global economic slowdown. While the economy avoided a recession this year and is still growing, it is doing so "less vigorously than we would like".
The upcoming Budget will include support measures for businesses to raise productivity and workers to retrain, as well as help for households to cope with living costs.
In a separate New Year message, People's Action Party first assistant secretary-general Mr Heng also noted concerns about the economic slowdown and growing global uncertainty.
"We are looking at measures to tackle these, even as we build for the longer term," said Mr Heng.