Eurasian Economic Union-Singapore FTA shows resolve to resist tide of protectionism: PM Lee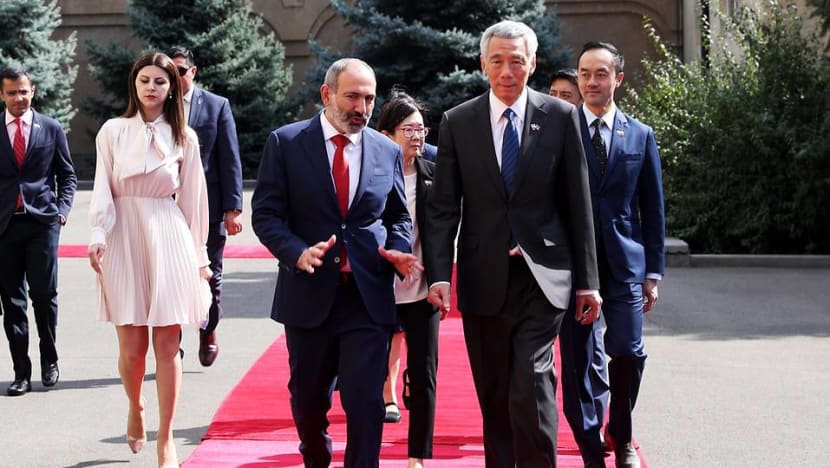 YEREVAN, Armenia: Singapore on Tuesday (Oct 1) signed several components of a free trade agreement (FTA) with the Russia-led Eurasian Economic Union (EAEU), paving the way for greater business links between Singapore and EAEU markets. 
The five-member Eurasian Economic Union comprises Armenia, Belarus, Kazakhstan, Kyrgyzstan and Russia. It represents a market of around US$183 million with a total gross domestic product of US$1.9 trillion.

The Framework Agreement, Non-Services and Investment Agreement, as well as the Armenia-Singapore Services and Investment Agreement, all form part of the EAEU-Singapore FTA.  
It is the first comprehensive free trade agreement signed by the EAEU since it was set up in 2015.  
At a news conference after the signing, Singapore Prime Minister Lee Hsien Loong said the FTA is significant as it shows resolve to resist the tide of protectionism.
"It's also a signal to the rest of the world that we are continuing to promote trade liberalisation, economic cooperation at a time when there are opposite pressures in many countries to go for nativism, self-sufficiency and protectionism," said Mr Lee. 
"We're going in an opposite direction. I think it's a significant move for us. I think it's also a significant move for the Eurasian Union," Mr Lee added.

The signing was held after a session of the Supreme Eurasian Economic Council, which Prime Minister Lee attended as an invited guest of Armenia.

Under the trade deal, EAEU member states will reduce tariffs on 90 per cent of goods exported by Singapore to their markets, and over a 10 year period, this will increase to 97 per cent. 

Goods that will benefit include chemical products, prepared foodstuff and mineral oils.

The FTA will also increase certainty for businesses and facilitate operations by protecting investments and intellectual property, and promoting e-commerce.

Besides promoting closer EAEU-Singapore ties, Mr Lee hopes the agreement will also serve as a pathfinder for an FTA between the EAEU and ASEAN.

"I think with ASEAN, it has not reached that stage yet. It has to be discussed with the ASEAN member states. I hope they will be supportive, I hope they will be able to get somewhere, but it is premature to say what the biggest dividends will be or how soon it can get," said Mr Lee. 

Senior Minister of State for Trade and Industry Koh Poh Koon was heavily involved in the FTA negotiations .

He said the agreement was concluded after just seven rounds of formal negotiations that began two years ago, a pace Mr Lee has described as breakneck speed.

Dr Koh said: "I think what is quite clear is that having a personal relationship, building face time together, is quite useful to this negotiation process, because I think people in this region still value face-to-face conversation. 
"And I think when we face some of these difficult challenges, it is often the face-to-face meetings that help us to unlock the differences at a technical level, so that at a political level we can set the correct direction and alignment for our technical people to begin to be flexible about doing some of the things."

FIRST SINGAPORE PM TO VISIT ARMENIA

The FTA was signed at the end of Mr Lee's four-day visit to Armenia - the first by a Singapore Prime Minister.

Besides calling on Armenian leaders, Mr Lee also met with Moldova President Igor Dodon, Iran President Hassan Rouhani and Kazahkstan President Kassym Jomart Tokayev.

Said Mr Lee: "I think there is very warm friendship and high regard for Singapore, they like to do more together, and we would like to do more together too, for example, in tourism."

At the meeting with President Dodon, both leaders reaffirmed the friendly ties between Singapore and Moldova, and welcomed more exchanges of visits at all levels to explore opportunities for collaboration.

During Mr Lee's meeting with President Tokayev, they discussed ways to further strengthen the good bilateral ties. 

Both leaders also welcomed the conclusion of the Eurasian Economic Union-Singapore Free Trade Agreement, which provides another platform for closer bilateral economic engagement. 

During Mr Lee's meeting with President Rouhani, they discussed regional and global developments as well as bilateral relations. 

Mr Lee noted that the situation in the Middle East was complex, and that there was a need to reduce tensions and create conditions for peace and stability.