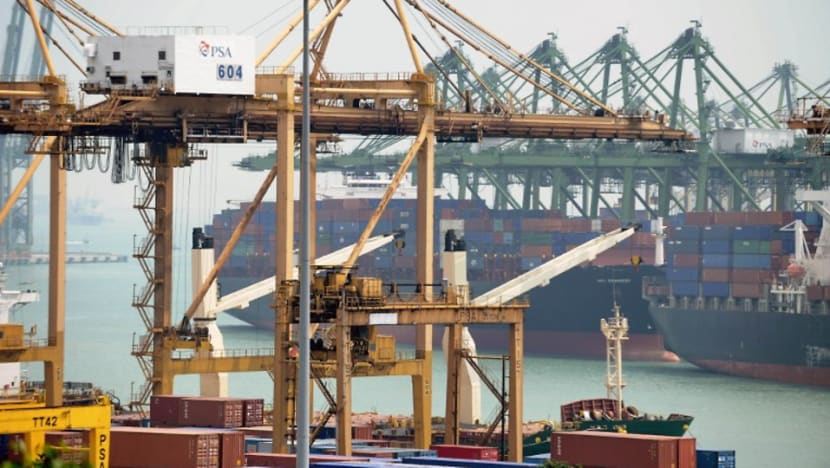 SINGAPORE: Singapore's exports declined 8.9 per cent in August, marking the sixth straight month of year-on-year decline.
This follows a revised 11.4 per cent decline in July, Enterprise Singapore said in a media release on Tuesday (Sep 17). 
A Reuters poll had forecast a 12.2 per cent contraction for August.

The numbers, which exclude oil, reflect a drop in exports to the majority of Singapore's top markets, except China to which it rose 38.5 per cent. 
Hong Kong (-32.0 per cent), United States (-15.0 per cent) and Malaysia (-19.7) were the largest contributors to the decline.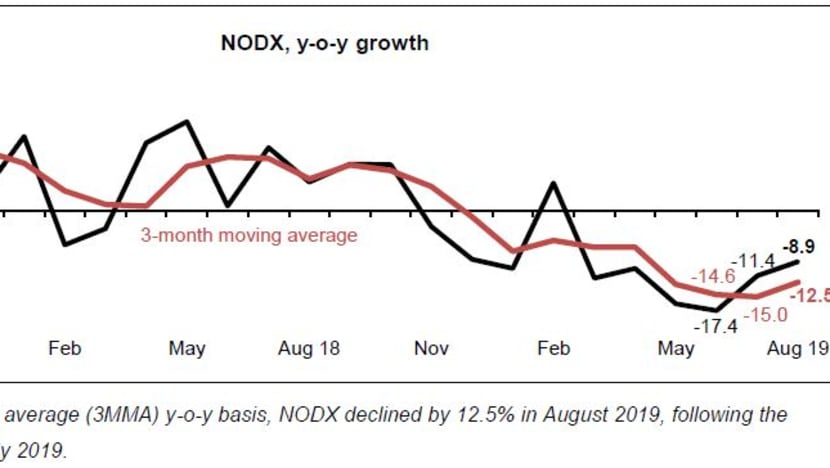 Total trade decreased by 8.6 per cent year-on-year in August - after a 6.2 per cent drop the previous month - reflecting declines in both exports and imports.

On a seasonally adjusted basis, non-oil domestic exports (NODX) rose 6.7 per cent month-on-month in August, after the previous 3.5 per cent increase. The growth is seen in both electronic and non-electronic exports.
Both electronic and non-electronic exports declined last month from the previous year.

Electronics recorded a 25.9 per cent drop, on the back of a 24.2 per cent decrease in July. The decline was most prominent in integrated circuits, personal computers and disk media products.
Non-electronic exports fell by 2.2 per cent, easing from the 6.7 per cent drop in July. Pharmaceuticals (-23.6 per cent), petrochemicals (-20.8 per cent) and primary chemicals (-29.3 per cent) contributed the most to the decline.

DECLINE "EXPECTED"
One analyst said the continued year-on-year decline in non-oil domestic exports was expected, given an increasingly challenging external trade environment.
"In fact, it is a saving grace that the decline was more moderated and that there was a slight rebound in the NODX month-on-month," said senior lecturer at SIM Global Education Tan Khay Boon.
He said it is too early to say that the worst is over, citing developments such as the US-China trade dispute being far from settled, an "increasing confrontational tendency" between the US and Iran, escalating oil prices, a messier Brexit and "anxiety in Hong Kong and Indonesia".
"Some depreciation of the Singapore dollar may help in external trade but overall, the weakness will persist until issues in the US, China, EU and Iran are resolved," he added.
Source: CNA/agencies/jt(rw)