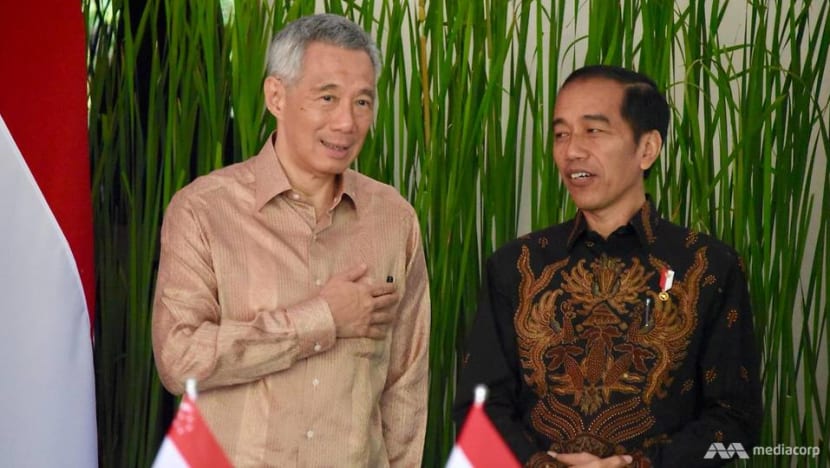 BALI: Singapore and Indonesia are set to sign a US$10 billion (S$13.8 billion) bilateral financial arrangement, Indonesian president Joko Widodo announced on Thursday (Oct 11), a move aimed at supporting monetary and financial stability in both countries. 
The arrangement comprises a local currency bilateral swap agreement (LCBSA) and a bilateral USD repurchase agreement.

In a joint press statement with Prime Minister Lee Hsien Loong after the signing of several bilateral agreements at the Singapore-Indonesia Leaders' Retreat, President Widodo said: "I welcome this collaboration between Bank Indonesia and the Monetary Authority of Singapore worth US$10 billion." 
"In the midst of this global economic uncertainty, economic cooperation was our focus," he added. 
The LCBSA is a common form of bilateral financial cooperation between central banks. There are currently at least 50 of such bilateral swap agreements around the world.
Such an agreement allows the two countries to ensure that trade between them can be settled in local currency, even in times of financial stress. This reduces the uncertainty and risk that can stem from exchange rate fluctuations in times of financial market volatility.

Speaking to the Singapore media after the retreat, MAS managing director Ravi Menon explained that the agreement is "a standby arrangement" that may be activated by either of the central banks. 
"What it means is that if one central bank agrees to activate, the two central banks exchange their local currencies with each other," he said. "In the case of Indonesia, we will give them Singapore dollars and they will give us Indonesian rupiah at the prevailing exchange rate."
"At the end of the period, the transaction will be reversed at the same exchange rate on a specified maturity date," he added.

"The swap maturity could be three months, six months, maybe even more. At the end of the period, it goes back. So that's a swap, it's literally a swap, an exchange of two currencies." 
For instance, if Indonesia needed to use the Singapore dollar for its monetary or financial stability, it could use it, Mr Menon said. 
"Likewise, if we need Indonesian rupiah for our monetary or financial stability we could use it," he added. 
The objectives for accessing such local currency liquidity could differ across agreements, depending on the economic and financial ties between the countries. Generally, the intent is to support monetary and financial stability, as well as to promote local currency usage in trade and investment.
According to MAS, Singapore has LCBSAs with the central banks of China and Japan for financial stability purposes, but Mr Menon said that these arrangements are rarely activated.

A USD repurchase agreement (USD repo) is also a common form of bilateral financial cooperation between central banks. 
The USD repo allows a central bank to provide USD to another central bank in exchange for government securities, with the agreement to reverse the transaction on a specified maturity date.
MAS has USD repos with various Asian central banks to enhance bilateral financial cooperation.

Mr Menon said that having arrangements like this "builds confidence" in the current climate of financial market turbulence.
"Secondly, we want to make sure that Indonesia is well placed to ride out this period because of Singapore's business and investment interests in Indonesia," he said.
"We have confidence in the Indonesian economy. Macro fundamentals are sound (and) policy responses have been judicious, and it's important that it remains so."
Mr Menon added that MAS officials are working with their BI counterparts to ensure the deal is ready "as soon as possible".