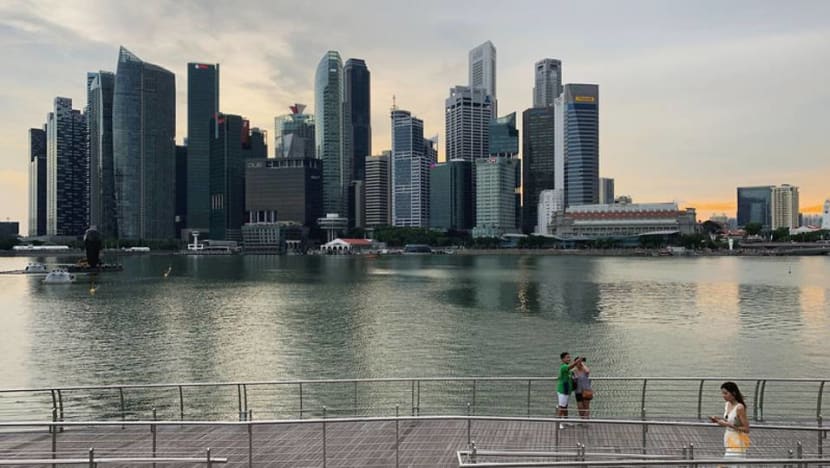 SINGAPORE: Singapore's core inflation gauge in January hit its lowest level in four years, data on Monday (Feb 24) showed, due to lower services and retail prices that authorities said would persist as the coronavirus outbreak takes a hit on the country's economy.
Core inflation rose 0.3 per cent from a year earlier, according to a joint release by the Monetary Authority of Singapore (MAS) and Ministry of Trade and Industry (MTI), well below analysts' expectations of 0.8 per cent in a Reuters poll.
It was also the lowest reading since December 2015.
Core inflation - a key policy consideration for the Monetary Authority of Singapore (MAS) - excludes the price of private transport and accommodation.
"In the quarters ahead ... economic uncertainty, including the effects of the COVID‐19 outbreak, will likely discourage firms from passing on any cost increases to consumers," the trade ministry and the Monetary Authority of Singapore said in a joint statement. 
Part of the fall in core inflation was also due to the impact of the rebasing of the Consumer Price Index (CPI) to 2019 as the base year, the authorities added.
The rebasing exercise is done once every five years. It includes changes to the weights, as well as the sample of items and outlets selected for the compilation of the CPI.
The headline consumer price index in January rose 0.8 per cent from a year earlier, slightly below poll expectations of 0.9 per cent.
Private transport inflation rose by 1.3 per cent year-on-year in January, up from the 3.3 per cent increase in the previous month. This was due to a steeper rise in car prices.
The cost of electricity and gas fell at a slower pace to -8.1 per cent year-on-year in January as regulated electricity tariffs increased, even as the Open Electricity Market (OEM) continued to have a dampening effect on overall electricity prices.
Accommodation costs increased to 0.3 per cent year-on-year in January, from the -0.1 per cent in December, in line with a pickup in housing rentals, which saw a turnaround in January after more than five years of decline.
Food inflation was unchanged however at 1.7 per cent as a larger increase in the prices of non‐cooked food was offset by a smaller increase in the prices of prepared meals.
The cost of retail and other goods fell to -1.4 per cent year-on-year in January from the -0.9 per cent in December. This was because the prices of medical products and clothing and footwear registered larger declines.
Lastly, services inflation was lower at 0.5 per cent year-on-year in January mainly on account of a decline in tuition & other fees. 
This reflected the effect of enhanced pre‐school subsidies. There was also a smaller increase in telecommunication services fees, as well as a larger fall in the cost of healthcare services.
The authorities kept their official 2020 forecast range for both core and headline inflation at 0.5 per cent to 1.5 per cent.
Apart from economic uncertainties, external sources of inflation are likely to "remain benign" in the quarters ahead, said MAS and MTI, citing weak demand conditions and generally well-supplied food and oil commodity markets.
Softening labour market conditions on the domestic front could lead to moderation in unit labour cost growth in 2020. 
They expect inflationary pressures to remain subdued in the near term and will be closely monitoring price trends in the coming months, including the impact of the rebasing of the CPI on inflation rates.
ECONOMISTS CUT INFLATION FORECASTS, PREDICT MAS EASING
On the back of the latest data release, economists from Maybank Kim Eng lowered their forecasts for headline and core inflation this year to 0.9 per cent and 0.7 per cent, from 1.2 per cent and 0.9 per cent respectively.
Similarly, UOB economist Barnabas Gan downgraded his full-year estimates for both inflation metrics by 0.2 percentage points each.
"We downgrade our full-year headline and core inflation to 1 per cent and 1.2 per cent, respectively in 2020," he wrote in a note.
"Economic growth is likely to stay subdued at 0.5 per cent for 2020, as Singapore reels from economic uncertainties, including the ongoing COVID-19 outbreak which will likely send negative rippling effects across Singapore's tourism, exports, and consumer confidence in the months ahead."
Mr Gan added that an an easing of monetary policy may be on the cards "in order to allow the (Singapore dollar nominal effective exchange rate) to weaken further in line with the softened economic outlook".
"The lack of inflation risk at the start of 2020 could fuel more impetus for policymakers to spur growth via a loosening of monetary policy," he said.
Barclays Bank economist Brian Tan, who expects the MAS to flatten its policy band at its next scheduled policy meeting in April, said: "The risk of a more aggressive easing, where the MAS not only flattens the band but also re-centres it lower, would be higher if the COVID-19 outbreak still appears to be worsening by the time of April policy decision."
On the other hand, Mr Chua Hak Bin and Ms Lee Ju Ye from Maybank Kim Eng expect the central bank to maintain its current policy stance.
This is on the back of hopes that Singapore's manufacturing sector and exports will see a "V-shaped recovery" as factories in China resume production by the second quarter, alongside an "elongated U-shaped recovery" for tourism and air transport.
Noting that they expect contraction of the Singapore economy to be limited to the first quarter, they wrote: "Our base case is for the MAS to maintain the current slight appreciation bias at the April policy meeting, unless the outbreak intensifies and a technical recession appears imminent in Q2 2020."
Source: CNA/reuters/ad/sk(mn)