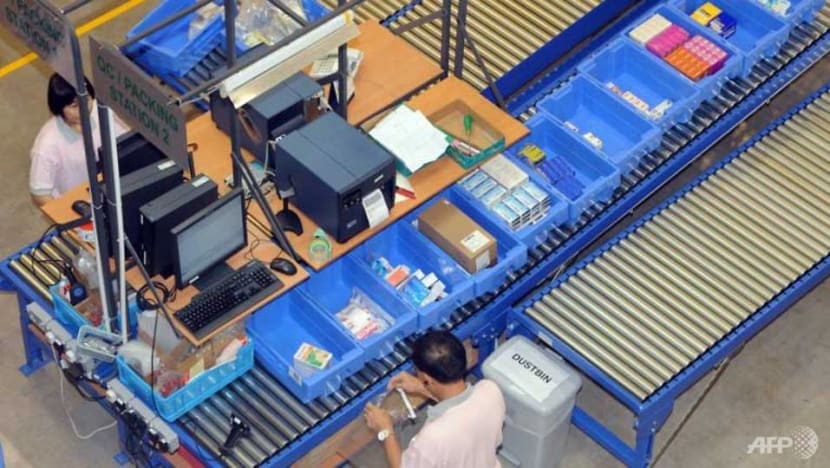 SINGAPORE: Singapore's factories had a stuttering start to the year as manufacturing output turned in its first negative print since December 2017, amid uncertainties in US-China trade tensions.
Industrial production declined 3.1 per cent in January from a year ago, mainly due to slumps in clusters such as electronics and precision engineering.
This is the worst year-on-year performance since July 2016, when manufacturing output contracted 3.3 per cent, and the first decline since December 2017's -2.4 per cent.
Excluding biomedical manufacturing, output fell 5.9 per cent, according to data released by the Economic Development Board (EDB) on Tuesday (Feb 26).
On a seasonally adjusted, month-on-month basis, manufacturing output increased 0.9 per cent, added EDB.
Analysts have raised concerns that the situation is unlikely to improve in the short term, and could weigh on Singapore's economic growth.
UOB economist Barnabas Gan said that the contraction was not surprising given the slowdown in manufacturing production seen across the region, and the ongoing uncertainties in the US-Sino trade tensions and the fading technology boom are likely to persist into the first half of the year.
"Barring a quick resolution to the US-China trade war, regional manufacturing and trade activities may remain lacklustre," added Ms Selena Ling, head of treasury research and strategy, OCBC Bank.
"With a weak start to the manufacturing momentum in January, 2019 manufacturing growth may remain soft in the coming months, which may weigh on GDP growth in the first quarter of 2019," she said.
The main drag came from the electronics cluster, where output contracted 13.7 per cent. All segments, except the other electronic modules and components segment, recorded a lower level of production.
In tandem, precision engineering output also fell 15.7 per cent, weighed down by the machinery and systems segment.
The machinery and systems segment fell 20.8 per cent due to lower production of semiconductor equipment while the precision modules and components segment also dropped 7.4 per cent.
The petrochemicals and specialties segment dipped 1.8 per cent and 3.2 per cent respectively.
There were several bright spots, with one being transport engineering. Output rose 20.2 per cent with all segments recording growth.
The marine and offshore engineering segment expanded 26.9 per cent, while the aerospace segment grew 17.4 per cent with more repair and maintenance activities from commercial airlines.
Biomedical manufacturing expanded 10 per cent, with pharmaceuticals output up 13.5 per cent on account of higher production of active pharmaceutical ingredients and biological products.
General manufacturing output also increased 3.2 per cent. The miscellaneous industries segment grew 5.8 per cent, while the food, beverages and tobacco segment rose 4.6 per cent on the back of festive demand.
In contrast, printing segment output fell by 11.5 per cent, said EDB.
The chemicals cluster's output rose by 2 per cent, with the "other chemicals" segment expanded 18.2 per cent due to the higher production of fragrances.
Earlier in February, Singapore reported that its slowest economic growth in two years in the October to December quarter in 2018, with year-on-year gross domestic product growth coming in below forecasts at 1.9 per cent.
The trade ministry cautioned then that the manufacturing sector could see a "significant moderation in growth" following two years of rapid expansion.
For the full year, Singapore's economy logged 3.2 per cent growth, missing initial estimates and easing from 3.9 per cent in 2017.