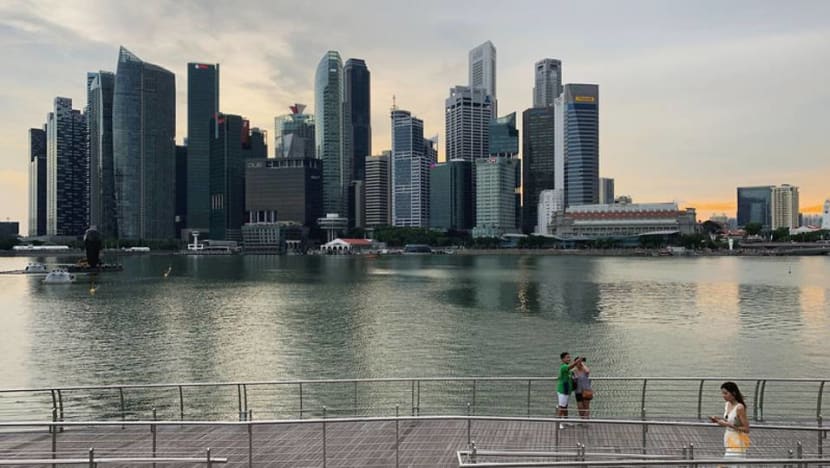 SINGAPORE: The 2019 Singapore growth forecast range of 1.5 per cent to 2.5 per cent is currently being reviewed by the Ministry of Trade and Industry (MTI) and the Monetary Authority of Singapore (MAS), said MAS managing director Ravi Menon on Thursday (Jun 27). 
Speaking at the press conference for the central bank's annual report, Mr Menon noted that Singapore's economy has been "clearly affected" by the global slowdown in manufacturing, trade and investment. 
"GDP growth for the year as a whole is likely to be weaker than earlier envisaged," he said.

Already, the economy grew by a slower pace of 1.2 per cent year-on-year in the first quarter of 2019 – its lowest growth in nearly a decade. 
Recent indicators, such as a 9.3 per cent contraction in non-oil domestic exports since the beginning of this year, suggest that growth in the second quarter "could be lower" than the first three months of 2019, added Mr Menon. 
With growth in the first half of the year "looking to be quite weak, particularly in the trade-related sectors", MTI and MAS are reviewing the 1.5 to 2.5 per cent forecast range for this year's GDP growth. 
Mr Menon said the current full-year growth forecast is premised on the economy stabilising in the third quarter of 2019 and seeing a modest pickup thereafter. 
"But the strength of this pick-up, given the softer external environment and the ongoing trade conflict, is unlikely to offset the weakness in the first half," he added.
When asked by reporters whether the revised GDP forecast could go below the current range, Mr Menon said it remains too early to tell. 
A new forecast will have to wait at least until economic data for the second quarter are fully collected through July, added MAS' chief economist Edward Robinson.
DOWNSIDE RISKS HAVE GROWN
Earlier in his speech, Mr Menon said the outlook for the global economy has deteriorated in recent months, with the International Monetary Fund downgrading its estimate for global GDP growth to 3.3 per cent. 
A downturn in the global electronics cycle, the lagged effects of deleveraging in China and a protracted trade conflict between the United States and China have all contributed to weakness in manufacturing, trade, and investment – which he dubbed the three engines of global growth. 
Of the three factors, the trade conflict between the world's two biggest economies poses the biggest risk to global growth outcomes, said Mr Menon. 
"If the trade impasse between the US and China drags on and further tariff measures are imposed, growth in the second half of 2019 is likely to be weaker than earlier envisaged," he said, while adding that the impact will be felt across Asia through disruptions in supply chains, a slowdown in China and firms potentially holding back their spending plans. 
Furthermore, the broadening of the trade dispute to the technology front has brought forth "a new and unknown risk", added Mr Menon. 
"We do not fully understand the dynamics of these value chains and technology dependencies, but it is not difficult to imagine how restrictions on the use of key technologies, like advanced semiconductors, can potentially disrupt activities ranging from data centres to communications between network devices." 
Disruptions to supply chains and economic activity could "potentially be even larger than from tariffs", he said. 
"A prolonged technology conflict could lead to a bifurcation of technology infrastructures globally," explained Mr Menon. 
"This could in turn significantly impair the process of knowledge creation and diffusion – and ultimately productivity and income growth." 
BE ALERT, BUT NO NEED TO BE ALARMED
Taken altogether, a weakened global economy is already having some impact on Singapore. Downside risks have also grown, with some of these risks possibly having prolonged effects, said Mr Menon. 
However, while Singapore needs to be alert, "there is no need to be alarmed". 
"The Singapore economy is in for a rougher ride but is well placed. Our economic fundamentals are robust and policy buffers are healthy," he added. 
"Asia's growth, digital transformation and the resilience in modern innovative services play to Singapore's strengths. 
"While external headwinds will slow Singapore's pace of growth in the short term, domestic economic restructuring is proceeding well and will enable the economy to emerge stronger."

For the year ahead, Singapore's trade-related cluster will continue to face the brunt of the maturing of global technology cycle and growing trade tensions between the United States and China.

The modern services cluster will be the main growth driver, supported by healthy regional demand and increased investments in digitalisation. 
Domestic industries will also make "modest positive contribution" to growth amid a turnaround in the local construction sector and as retail and food and beverage sector benefits from firm labour demand conditions and efforts to lift productivity.
Turning to inflation, he said inflation in Singapore remains subdued and within expectations. 
MAS core inflation this year is expected to come in near the mid-point of the forecast range of 1 to 2 per cent, while headline inflation for the year is projected to be between 0.5 and 1.5 per cent. 
As such, MAS' monetary policy stance "remains appropriate" against the backdrop of subdued inflation and weakening growth prospects, said Mr Menon. 
"Our current stance of a modest and gradual appreciation path of the S$NEER (Singapore dollar's nominal effective exchange rate) policy band will help to keep the economy close to potential and ensure medium-term price stability."