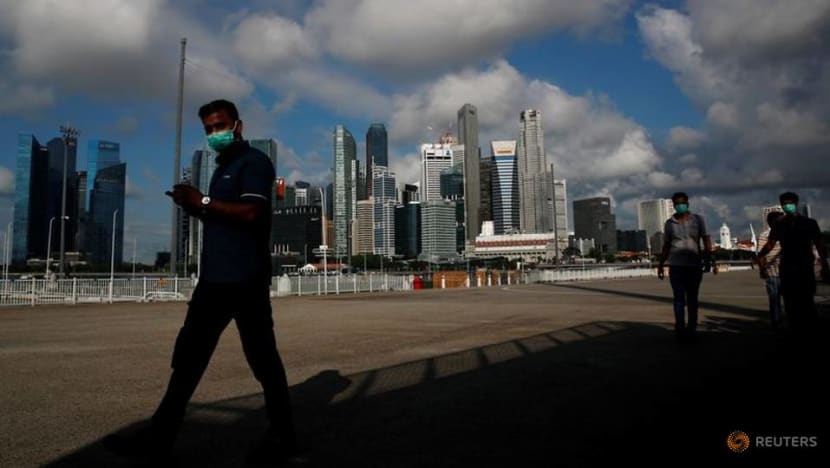 SINGAPORE: The Singapore economy is expected to shrink between 6 per cent and 6.5 per cent this year, said the Ministry of Trade and Industry (MTI) on Monday (Nov 23) in another revision to its 2020 outlook after growth data confirmed a smaller-than-expected contraction in the third quarter.
Its previous estimate, announced in August, was for the economy to contract between 5 per cent  and 7 per cent amid the blow from the COVID-19 pandemic.
Policymakers also offered for the first time a glimpse of their economic forecast for 2021 – a recovery into positive growth territory, with the economy envisaged to expand between 4 per cent and 6 per cent next year partly on the back of a low base.
For the third quarter, Singapore's gross domestic product (GDP) contracted by 5.8 per cent on a year-on-year basis, more than halving a record slump of 13.3 per cent in the previous quarter when the COVID-19 "circuit breaker" was in place.
Compared on a quarter-on-quarter seasonally adjusted basis, the economy rebounded by 9.2 per cent following a 13.2 per cent decline in the previous three months.
Both figures for the third quarter were better than the Government's advance estimates of a 7 per cent year-on-year contraction and a 7.9 per cent quarter-on-quarter expansion. 
Apart from a gradual reopening in June that allowed a reboot in local economic activities, other major economies also emerged from their lockdowns during the quarter, helping the performance of the Singapore economy, MTI said.
As most sectors remained in contraction, manufacturing was the bright spot with a year-on-year expansion of 10 per cent, reversing the previous quarter's dip of 0.8 per cent. The "robust" growth was driven largely by the electronics, biomedical manufacturing and precision engineering clusters. 
Other selected sectors that also registered growth include finance and insurance, and information and communications. These were propped up by healthy growth in the banking and insurance segments, as well as resilient demand for enterprise IT solutions, said MTI Permanent Secretary Gabriel Lim at a briefing. 
The economy contracted by 6.5 per cent on a year-on-year basis over the first three quarters of 2020, said MTI, noting that the global outlook remains subdued for the rest of 2020.
"While some economies like China are expected to see a sustained recovery for the rest of 2020 as their domestic COVID-19 outbreaks remain under control, others like the US and Eurozone are experiencing a resurgence in infections which may dampen their recovery as restrictions are reimposed to slow the spread of the virus," it explained.
"GRADUAL" RECOVERY IN 2021
MTI expects the Singapore economy to return to growth in 2021 but warned that the recovery would be "gradual".
The ministry, in its report, said the world's major economies are expected to recover from the pandemic-induced economic disruptions and see a rebound in GDP from this year's low base. 
But this is "expected to be slow and uneven", with many economies unlikely to return to pre-COVID-19 levels until the end of the year, it added.
Global risks also persist, according to MTI, which cited the periodic resurgence of infections around the world, a protracted nature of a global economic recovery, the possibility of a "miscalibration of policy settings" alongside tightening funding conditions, as well as geopolitical uncertainties.
Nevertheless, improvements in the external growth outlook in the year ahead are likely to help trade-related services sectors, such as wholesale trade.
Manufacturing, which makes up one-fifth of the Singapore economy, is set to continue its expansion as strong semiconductor demand is set to keep the electronics and precision engineering clusters going.
Growth in the information and communications, and finance and insurance sectors are also expected to remain healthy.
Hard-hit aviation and tourism-related sectors could see a gradual recovery in air passenger volumes and visitor arrivals, as global travel curbs are gradually eased. Improved visitor arrivals and consumer sentiment will also help consumer-facing sectors, such as retail trade and food services. 
"However, economic activity in these sectors is not likely to return to pre-COVID-19 levels even by end-2021," MTI said.
Over in construction, the sector is projected to recover from the low base this year although activity will continue to be dampened by the implementation of safe management measures. 
"While growth is expected to rebound from the low base this year, our economic recovery is expected to be gradual, with GDP not likely to return to pre-COVID levels until the end of 2021," Mr Lim said.
There remains uncertainty over how the pandemic will evolve globally, depending on vaccine development, production and distribution. This will, in turn, affect the global economy and Singapore's.
"Domestically, our economic recovery will also depend on whether we are able to keep the COVID-19 situation under control," he added. "MTI will continue to monitor developments closely."
Speaking at a press conference held after the briefing, Minister for Trade and Industry Chan Chun Sing said Singapore still had a long way to go in its economic recovery, even as it appeared to be turning the corner.
While the economy could see "quantitative" improvements next year, it is also important to note the "qualitative" changes in the economy brought on by the pandemic.
Singapore will have to adapt to the new reality, he added, noting that economic measures will help companies and workers to pivot to new areas.
UNEMPLOYMENT TO STAY ELEVATED
Amid the gradual recovery, the labour market is set to remain "challenging" and unemployment likely to stay at "elevated levels". 
Explaining the Ministry of Manpower's (MOM) "conservative view" of the labour market, Mr Kenny Tan, divisional director of manpower planning and policy division at MOM, said employers are set to remain cautious. 
"Some of the employers this year are holding on to excess manpower through various support schemes, and also because they also want to retain their capabilities. So going forward next year, they would use the existing manpower more intensively, rather than commit to expanding their workforce," he told reporters.
"Some will of course do so but we expect that they will take into account the uncertainty, and perhaps be also more conservative in hiring."
Asked about monetary policy, Mr Edward Robinson, the Monetary Authority of Singapore's (MAS) deputy managing director, said the central bank's stance remains unchanged. 
The central bank's decision last month to maintain a zero rate of appreciation for its exchange rate-based monetary policy has "already taken into account a plausible set of alternative scenarios or outcomes for further projections," he added.
The MAS will have its next monetary policy meeting and decision in April 2021 as scheduled. 
Separately, authorities also revised upwards the projections for trade this year amid better-than-expected performance for products such as non-monetary gold and specialised machinery, as well as electronics.
Government agency Enterprise Singapore now sees total merchandise trade for 2020 to contract at a slower pace of 7 to 7.5 per cent, compared to the previously expected decline of between 8 and 10 per cent.
Non-oil domestic exports (NODX) is projected to grow between 4 and 4.5 per cent, higher than the previous range of 3 to 5 per cent growth. 
For 2021, total merchandise trade is expected to grow by 1 to 3 per cent, while NODX will rise by 0 to 2 per cent.
Download our app or subscribe to our Telegram channel for the latest updates on the coronavirus outbreak: https://cna.asia/telegram